Illinois Football: Offensive MVP for the 2016 Season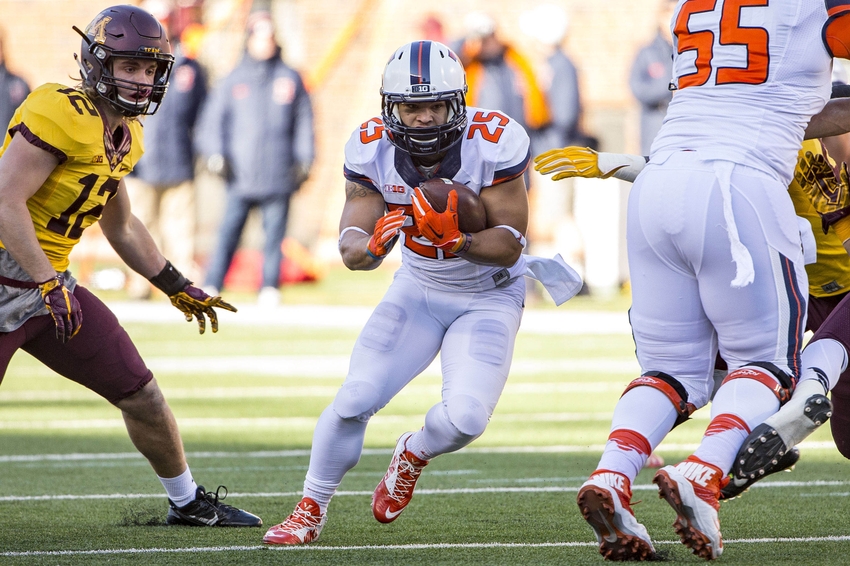 The Offensive MVP for the Illinois football team is someone who made an impact on the program, but also his production correlated into victories.
Illinois didn't have a ton of wins in 2016.  In fact, they only had three total victories on their way to a 3-9 record.
I had two players to select from for the Offensive MVP.  The two players are wide receiver Malik Turner and running back Kendrick Foster.
Turner had some pretty good numbers considering Illinois had three different quarterbacks behind center this season.
At the end of the year, Turner managed to total 48 receptions for 712 yards and 6 touchdowns.  His best game was the season finale against Northwestern where he went for 164 yards and 2 touchdowns.
Turner also had 9 receptions for 129 yards against Purdue and 9 receptions for 107 yards against Western Michigan.
Illinois Football: Good Luck Desmond Cain and Your Future In Football
You really can't dispute that Turner had a good season.  But, I am not going to give the Offensive MVP to him.  I am going to give it to Foster.
Foster had a great season at running back for the Illini.  He totaled 126 attempts for 720 yards and 7 touchdowns.  He also added 9 receptions for 54 yards and 2 touchdowns as well.
The story behind Foster is another layer that makes his season even more special for him and Illini fans.
Foster took his first snaps in the orange and blue in 2015 against Kent State.  Right before the season started, the Illini fired then head coach, Tim Beckman.
Illinois struggled throughout the year and failed to make a bowl game under interim head coach Bill Cubit.
Under Cubit, Foster only managed to receive 15 carries for 78 yards and 1 touchdown.  He didn't receive a lot of work and there was some serious turmoil within the program.
After the 2015 campaign, Foster announced he was going to transfer to another program for a fresh start.  I was sad about this decision but I couldn't blame him due to the circumstances.
Illinois then hired new head coach Lovie Smith and Foster decided to stick it out with the Illini even though Ke'Shawn Vaughn was going to be the starter heading into the 2016 season.
That was the backstory of Foster before the season started.
Foster then entered the 2016 campaign and became the main running back.
The first game of the season, Foster ran for 118 yards and 2 touchdowns on just 4 carries for the Illini.  This was a 52-3 victory over Murray State.
Foster proved to be an extremely valuable piece to this Illinois football team.  Every time he went over 100 yards rushing in a game the Illini won.
The Murray State game was huge for Foster and he followed that up with 21 carries for 108 yards and 1 touchdown against Rutgers in a 24-7 victory.
The other 100-yard rushing performance came against Michigan State.
In the 31-27 win over the Spartans, Foster ran the ball 17 times for 146 yards and 2 touchdowns.  This was his best game as a member of the Illini.
Foster ended up getting hurt against Northwestern, but before that game, he made a massive impact on this team.
The Offensive MVP for the Illini this season goes to Foster because as he went the team went.  We get to see Foster back in 2017 and I can't wait to see how he follows this season up.
This article originally appeared on