Illinois Football: Nelson Mbanasor to Announce Commitment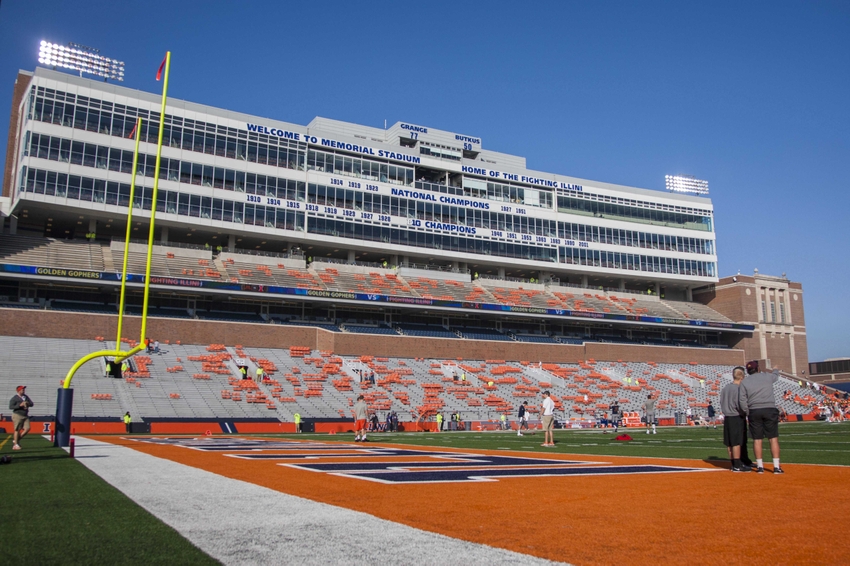 There is a silver lining to this past weekend, despite the Illinois football team losing to Minnesota in ugly fashion.
Illinois hosted a handful of recruits and some were actually on official visits to Champaign.  These recruits are going to be crucial to the future success of the program.
One of those recruits who visited this past weekend was Nelson Mbanasor.
Mbanasor had a great visit to the campus and now has announced he will make his commitment tomorrow.
When a recruit sets a commitment date after taking an official visit to a school, it usually turns out to be a pledge to that program.
This bodes well for the Illini if this trend holds true.
Mbanasor is a 6-foot-3, 250-pound, strong-side defensive end from Pflugerville, Texas.  He is rated as a 3-star recruit who is the No. 988 player in the class of 2017 and the No. 129 player in the state of Texas.
Illinois Football: Info, Betting Lines, and Prediction Against Minnesota
The recruitment for Mbanasor comes down to just three teams on Tuesday.  These three programs are Arkansas, Texas Tech and Illinois.
It is really hard to tell where Mbanasor will commit to tomorrow, though.  Back in May of this year, Mbanasor committed to Oklahoma State, but that commitment ended just a few weeks ago.
Mbanasor decided to open his recruitment back up after an official visit to Arkansas on October 7.
Prior to Mbanasor's visit to Arkansas, they were making a strong push for him anyways.  There are many outlets quoting him in saying that the SEC is a 'big dog league'.
These are signs that Mbanasor might commit to Arkansas tomorrow.  But, if he was really in love with the program, wouldn't he have committed there already?
Illinois might not be winning at Memorial Stadium right now, but they do have a lot going for them in other football realms.
The Illini have an NFL coaching staff that knows what it takes to get to the next level.  I really believe that is the main reason they are in the running for this talented defensive end.
There is also a history of Illinois defensive lineman in the NFL.  They can produce NFL talent and that is what a majority of high school football player's dream of.
Mbanasor also has the potential to start year one.  Illinois is losing all four starting defensive lineman after this season.
There are many reasons Mbanasor could choose the Illini.  Hopefully, Lovie can snag this talented defensive end and continue building for the future. We Will Win.
This article originally appeared on