Illinois Football: Illini Fall To Nebraska, But Shows Promise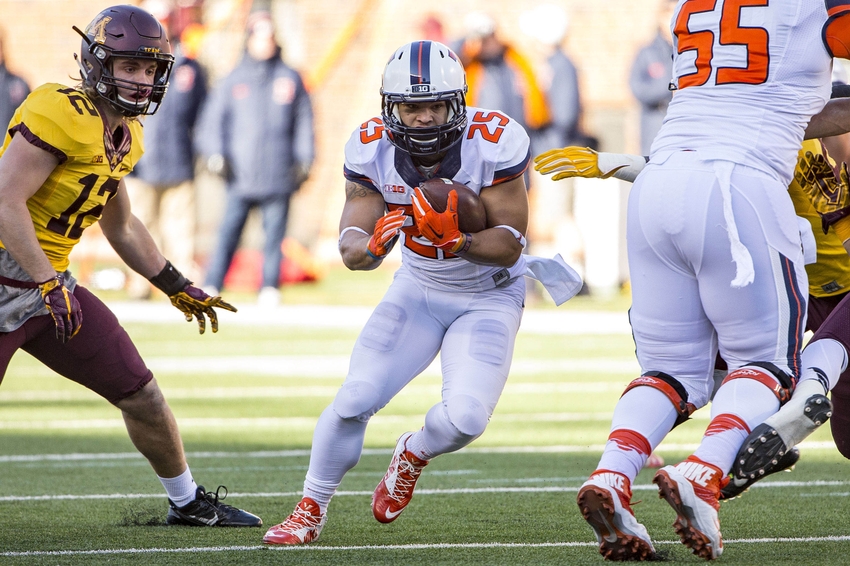 The Illinois football team fell to the Nebraska Cornhuskers 31-16.  But, there were a few areas that I thought Illinois did well in.
I loved how the Illini were committed to the running game early on against Nebraska.  They were running the ball as their main feature and then sprinkled in passes every once in a while.
Just in the first half alone, Illinois had 14 rushes.  That is only one less rush than they had in the entire Western Michigan game.
This enabled Illinois to get first downs and move the ball.  It also had the clock moving which kept the ball out of the Cornhuskers' hands.
Another area that I really liked was Illinois loading the box, making Tommy Armstrong Jr. beat us with his arm.
Illinois really did well with the Nebraska run and when Armstrong had to pass he ended up throwing a big interception at the end of the first half.
I found it interesting, and it ultimately ended up being a great move, that running back Reggie Corbin got the start for the Illini.
Corbin showed a burst of speed the Illini haven't seen in a long time.  This was extremely refreshing.  Former starting running back Ke'Shawn Vaughn only had one carry on the day.
There was also one area that I didn't care for as well.
Illinois had a few dumb penalties that killed them.  The one that keeps coming to mind was Chunky Clements horse collar tackle that gave Nebraska a first down.
This is inexcusable and cost us points and possibly the game.  Illinois needs to stop making dumb plays like this if they want to win on a consistent basis.
At the end of the day, a loss is a loss, but Illinois played well for a majority of the game.  They aren't a bad team and this game clearly showed that as a fact.
There is still long ways to go for this football team.  They have some pieces but like we have said for the other losses, this isn't about one game or even this season.
Lovie is putting a team together and figuring out what he has in the program.
There are a lot of positives you can take out of this game and moving forward we will get better and We Will Win.
This article originally appeared on