Illinois Football: Illini Best Case Scenario the Rest of 2016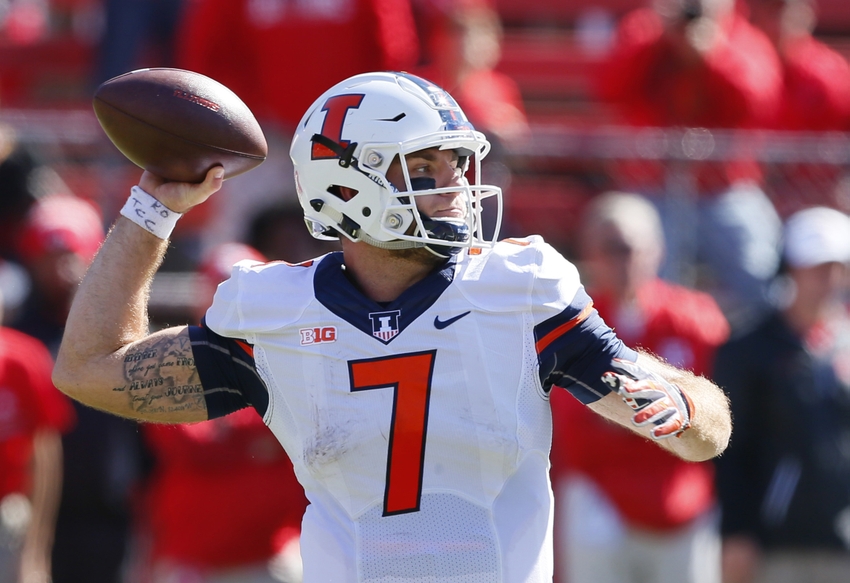 Yesterday, the Illinois football team beat the Rutgers Scarlet Knights in what was a building block victory.
What I mean by building block victory is that it helps build confidence and they had a chance to work on things with the team in live action.
This win isn't going to change the program or even make the Illini bowl-eligible, but it is a win and a Big Ten win.  That is huge for team morale.
So now that the Illini are halfway through the 2016 season what do they have the rest of the way?
Illinois is currently 2-4 on the season with only one bad loss in there and that was to Purdue.  But, the rest of the losses were understandable.
Illinois Football: Preview of the Rutgers Scarlet Knights Offense
Now, looking at the final six games of the season there might not be a ton of wins in this slate.  But, I am going to look at this with the best case scenario lens.
Let's knock off two games right now.
Next week Illinois takes on No. 4 Michigan in Ann Harbor.  That is likely a loss and Michigan will probably open up as 20-25 point favorites.
The other most likely loss is going to be No. 8 Wisconsin.
Wisconsin is a really good team this year.  They have lost two games this season but it was to No. 2 Ohio State and No.4 Michigan by a combined 14 points.
So, with Illinois losing these two games, I have them at 2-6.
The Illini also play Minnesota for homecoming and I am going to chalk that one up to the home team.  This would give them 3 wins.
Michigan State is really a tossup game because they are down this season.  Since it is at home the Illini have a shot at pulling this one off.
If Illinois can keep working out kinks in their offense and continue playing good defense then I think they can knock off the Spartans.
That moves Illinois to 4 wins.
Iowa and Northwestern finish off the year and both of these teams are beatable.  If I had to bet, I don't know if I would bet on Illinois in either game but they are winnable for the Illini.
So, if it is a winnable game I am going to mark it down as a win.  Illinois could come out with 'W's' in both of these games.
These two wins would bring the Illini record to 6-6 on the season and actually bowl eligible.  If this would happen it would be a huge feat and a successful season.
Lovie Smith has gone through some hard times 6 games into his tenure with the Illini.  Getting this season turned around would be amazing and there is a possibility it happens.
This article originally appeared on