Illinois Football: Depth Chart Against the Rutgers Scarlet Knights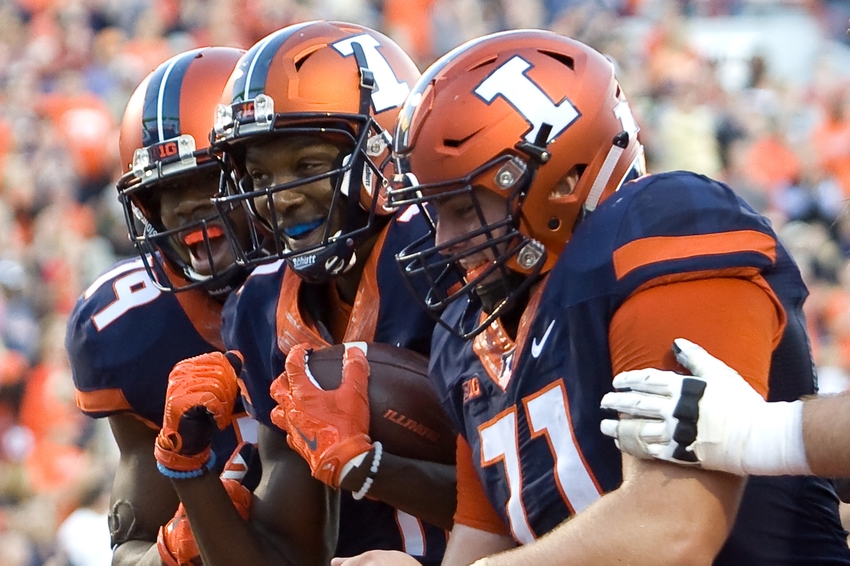 The Illinois football team heads into the game this weekend needing a win against the Rutgers Scarlet Knights.
Last week, Chayce Crouch made a good push for the starting job, but it looks like Wes Lunt will be the starter once again.
Here is the depth chart against Rutgers.
Offense
QB: Wes Lunt (60.5 Comp %, 840 Yards, 6 TD, 1 INT)
Backup: Chayce Crouch (66.7 Comp %, 157 Yards, 0 TD, 0 INT)
3rd String: Jeff George Jr.
RB: Reggie Corbin (27 Carries, 235 Yards, 1 TD)
Backup: Kendrick Foster (41 Carries, 276 Yards, 4 TD)
3rd String: Ke'Shawn Vaughn (43 Carries, 219 Yards, 2 TD)
4th String: Tre Nation (11 Carries, 59 Yards, 0 TD)
FB: Nate Echard
WR: Justin Hardee (10 Catches, 101 Yards, 0 TD)
Backup: Desmond Cain (3 Catches, 44 Yards, 1 TD)
WR: Malik Turner (29 Catches, 409 Yards, 3 TD)
Backup: Sam Mays (3 Catches, 32 Yards, 0 TD)
3rd String: Dominic Thieman (2 Catches, 7 Yards, 0 TD)
WR: Zach Grant (8 Catches, 84 Yards, 0 TD)
Backup: DJ Taylor (2 Catches, 24 Yards, 0 TD)
TE: Ainslie Johnson (5 Catches, 85 Yards, 1 TD
Tyler White
Andrew Davis (2 Catches, 17 Yards, 0 TD)
Caleb Reams (2 Catches, 9 Yards, 0 TD)
T: Gabe Megginson
Backup: Austin Schmidt
3rd String: Connor Brennan
G: Darta Lee
C: Joe Spencer
G: Nick Allegretti
T: Christian DiLauro
Get the FanSided App
Defense
DE: Dawuane Smoot
DT: Chunky Clements
DT: Rob Bain
DE: Carroll Phillips
WLB: Julian Jones
MLB: Hardy Nickerson
Backup: Mike Svetina
3rd String: Dele Harding
SLB: Tre Watson
CB: Jalen Dunlap
FS: Taylor Barton
Backup: Darwyn Kelly
3rd String: Dillan Cazley
SS: Patrick Nelson
CB: Darius Mosely
Backup: Chris James
3rd String: Frank Sumpter
4th String: Ahmari Hayes
The depth chart is going to look pretty similar to last week.  There could be a few changes on defense, but I think it will end up looking like this when Saturday rolls around.
Illinois needs to beat the Scarlet Knights.  This weekend is extremely important for the future.
This article originally appeared on