Illinois Football: 2016 Season Isn't a Disappointment For Lovie Smith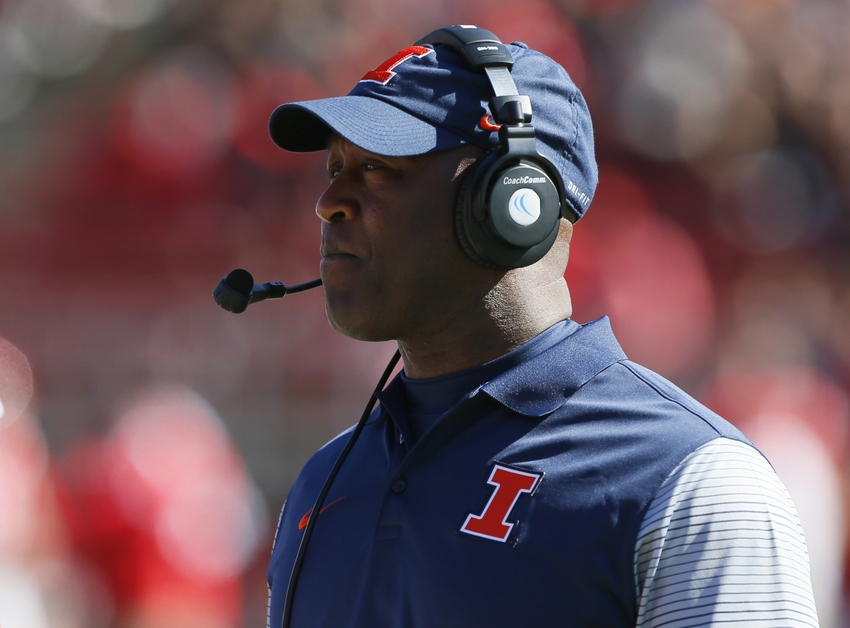 The 2016 season isn't as successful as Illinois football fans wanted it to be.
We all wanted to see a bowl team, but expectations might have been a little high after the signing of Lovie Smith back in March.
Despite the down season, these expectations that we have should be high.  This is a proud program with a rich tradition of talented players and pretty good teams.
When I look at this season as a whole I really don't see that big of a disappointment.  Did I want more wins, of course, but what fan wouldn't?
I can make an argument that this season wasn't a disappointment at all.  In fact, I think the Illini made some great strides with the talent that we have.
Just breaking down the schedule the Illini have faced this season will show you why there aren't more W's in the win column.
Illinois vs Wisconsin Live Stream: Watch Fighting Illini vs Badgers Online
The wins that Illinois has right now are against Murray State, Rutgers and Michigan State.  These two Big Ten teams are the bottom feeders this season.
What beating Rutgers and Michigan State shows to me is that Illinois isn't the worst team in the Big Ten.  They have multiple teams underneath them.
Illinois currently has seven losses on the season as well.  While that is a big number, the Illini really should have only won one of those contests and that was against Purdue.
Remember Illini fans, Illinois had a game-winning field goal attempt, but it missed.
Now we can look at the other six games that the Illini lost.
The worst team out of these six is Minnesota and they actually received votes to be in the Top 25 in the most recent college football rankings.  So, technically they are ranked No. 38 in the nation.
The next worst team is North Carolina.  The Tar Heels have been in the Top 25 for most of the year but just dropped out this week.  They are technically ranked No. 27 in the nation.
Western Michigan is the next worst team.  They are undefeated this season and ranked No. 21 in the nation.  This looked like a bad loss but the Illini ended up falling to a great team.
Illinois was defeated by Nebraska, who is ranked No. 18 in the nation.  They also fell to No. 7 Wisconsin and No. 3 Michigan.
So, six of the seven losses for the Illini this season came to teams that are ranked in the Top 38.  Illinois had no business winning those games anyway.
In a nutshell, there really haven't been many disappointments this season besides for the Purdue game.  That happens when you are a new coach; you will have let down games.
But, overall, I think Lovie has done a great job getting this team prepared and playing hard every week.  He has really got his team to play with tremendous heart and they are not giving up.
I also want to point out that while the Illini conference record is only 2-5, Lovie still has the 5th most conference wins in a season for Illinois football in the last 14 years.
There are still two more games left of the season.  The Illini play this weekend against Iowa at home and then go up to play Northwestern on Thanksgiving weekend.
Iowa is currently getting votes to be in the Top 25, so they are technically ranked No. 36 in the nation.  This will likely be a loss, but Illinois could pull out a win against Northwestern.
If Illinois could beat Northwestern, that would likely keep them out of being eligible for a bowl game and that would be oh so sweet.
This season by no means is a bust.  There has been a lot of learning and development from the players and coaches.
Illinois had a tough schedule this season and playing against this tough competition will help them in the future.  This team is on the rise and We Will Win.
This article originally appeared on