Report: Illini players accuse coach Beckman of physical, verbal abuse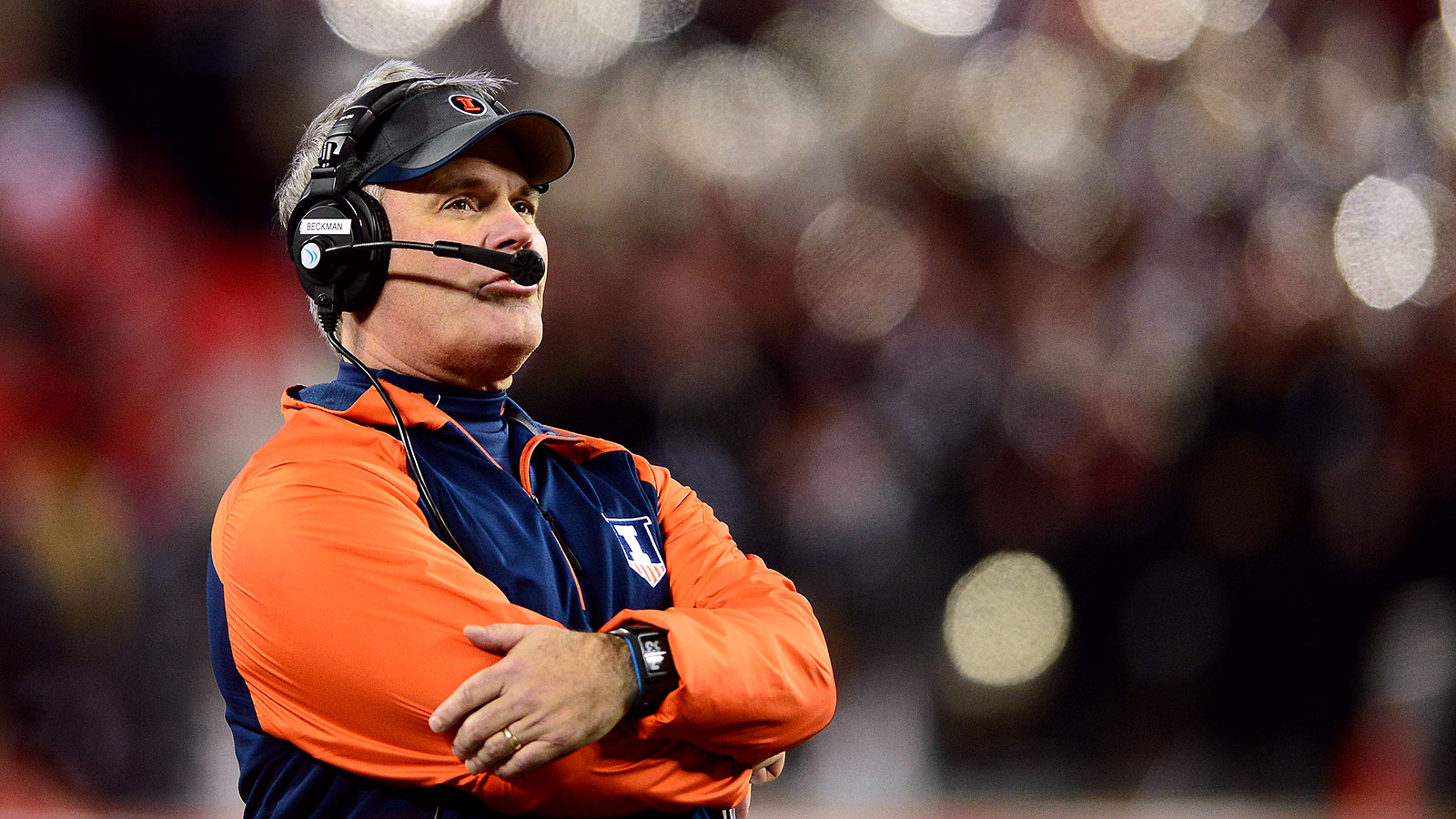 There is more information regarding multiple football players making claims of mistreatment at Illinois.
CNN aired a report Tuesday that mostly focused on alleged racism and other abuse with the women's basketball team. There were also allegations that came to light regarding the football team, including multiple players accusing head coach Tim Beckman of physically mistreating players.
From CNN:
Recently graduated football player Kenny Knight and three other former players who spoke to CNN say they witnessed two incidents in the past two years in which head coach Tim Beckman was physically rough with players. One player is still on the team and declined through his teammates to talk about what happened. But witnesses said that at the start of one practice, the player ran onto the field with his helmet unbuckled, and Beckman ran over to him, grabbed his face mask and jerked his head back and forth, yelling at him.
In 2013, Knight says, a similar thing happened to him. He says Beckman grabbed and tackled him from behind, throwing him to the ground during a practice. Two former teammates who witnessed the incident backed him up.
They say it happened after Knight was hit "dirty" by another player with his head down — something that's prohibited in college football.
"I immediately got in his face about it," Knight said of the player who hit him. "Before I had the chance to lift a finger, in a matter of seconds, I was grabbed by my shoulder and thrown on the ground. I was livid, I thought I was going to look up and see one of my teammates had thrown me down, but I looked up and saw Tim Beckman staring in my face. I was shocked. I don't think I uttered a word."
The university says Beckman thought he was breaking up a fight; Knight and several other players who witnessed the incident said there was no physical fight happening when Beckman hit Knight. Knight's father said the night of the incident, Beckman told him, "Kenny accidentally fell backwards over him."
Knight says Beckman called him the day after talking to his dad to apologize, according to CNN. However, Knight reportedly feared he would lose his scholarship if he reported the incident to someone at Illinois and therefore never did.
These are not the first allegations of mistreatment directed at the Illinois football program this offseason. In May, former Illini offensive lineman Simon Cvijanovic went on a tirade against Beckman and Illinois in which he claimed mistreatment after suffering injuries.
Former Illini defensive back Nick North also accused Beckman of rushing him back from a knee injury.
The CNN story notes Cvijanovic said Beckman threatened to badmouth him to NFL scouts. His brother Peter, another former Illinois player and a Type 1 diabetic, alleges he was bullied about his inability to gain weight, according to CNN.
More from CNN:
(Illinois athletic director Mike)Thomas said he had not been aware of many of the allegations until being asked for comment by CNN, adding that he would ask the firm investigating to expand its scope.
"Anytime you receive these types of allegations, it brings you great concern," he said, later adding, "Here at the University of Illinois, the health and well-being of our student athletes is our number one priority. … Anytime anything rises to a level of a student athlete being mistreated, I would address it immediately."