Hurricanes' Freshmen Make a Big Impact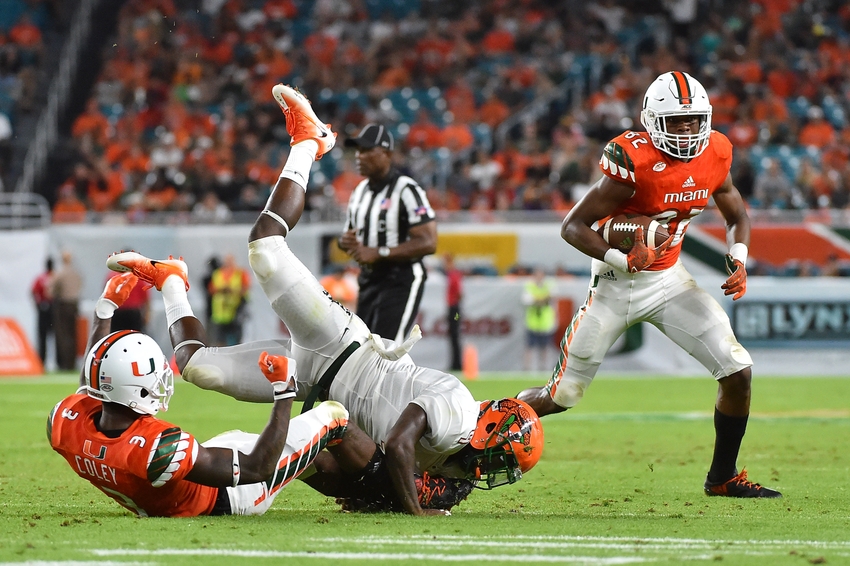 The dismissal of its top three defensive players and attrition and expired eligibility throughout the roster meant a lot of playing time for the Miami Hurricanes' freshmen in the opener against Florida A&M.
The dismissals of linebackers Jermaine Grace and Juwon Young and Defensive End Quan Muhammad, some injuries, and other attrition put a higher amount of freshmen into playing time more than expected for a season-opening game.
The Hurricanes started three freshmen at linebacker. Shaq Quarterman was second on the 'Canes in tackles with seven. He was joined at linebacker by Michael Pinckney and Zach McCloud. Pinckney finished with three tackles and Mc Cloud with one. Quarterman, Pinckney, and McCloud will be counted on more each week. They also combined for 2.5 tackles for loss. The 'Canes' schedule gets progressively more difficult until they host Florida State October 8.
Wide Receiver Ammon Richards also made an impact with two receptions for 31 yards and a touchdown. He is the only freshman starter on the offense. Richards starts at the X-receiver position. Freshman Sam Bruce who will return from a suspension for the Georgia Tech game will likely see a lot of playing time at receiver and on the returns teams when he gets back.
There are other freshmen to keep an eye on, on the two-deep depth chart, as the season progresses. Redshirt Hayden Mahoney is the backup at right guard, redshirt Ryan Fines a backup at defensive tackle, true freshman Joe Jackson at Viper/Defensive End, Redshirt freshman Robert Knowles at rover and Jack Spicer at punter. Fines, Jackson, and Knowles combined for four tackles and three assists against Florida A&M.
After the game, Quarterman, who was asked about being a part of an all-freshman linebacker trio with McCloud and Pinckney said: "We had been planning on this and preparing for this. So, we were comfortable with each other."
The "Canes played 13 freshmen and 22 newcomers in all on Saturday. That number should dwindle as in the coming years as Richt gets his own guys on the roster. He has made it clear in the off-season and early going of this season that he is going to be a strict disciplinarian when the players have problems.
Miami's current freshman class was ranked as the 23rd best by Rivals.com. The verbal commitments for the class of 2017 currently rank as the sixth best nationally. It's more case of quantity than quality. They don't have any five stars recruits on Rivals' list and only six four stars.
Richt (as Miami's coach) and his newcomers will experience a lot of firsts together this season. The Florida Atlantic game will be Miami's first game against an FBS foe this season.
More from Canes Warning
This article originally appeared on