Huge Blow to Arizona Football, Beloved MLB Cody Ippolito out for the season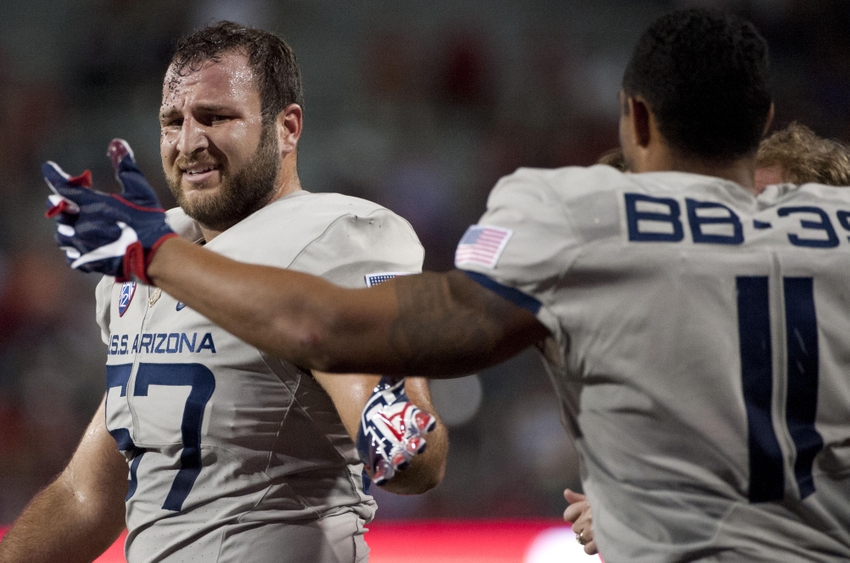 Deja vu, the one thing Arizona Football did not need this year is to suffer devastating injuries, and that's just what they got.
Cody Ippolito took over for Scooby Wright III at middle linebacker this season, Wright had the utmost confidence in Cody and so did the coaching staff.
It seems the 22 year old senior is unfortunately following in Scooby's footsteps, of not being able to play for the majority of the season. Arizona learned Monday, that Ippolito has suffered a torn ACL this season and will not return, this injury is coming off the heels of last years' season ending knee injury for Ippolito as well.
As reported by Arizona's head coach Rich Rodriguez in today's press conference, Ippolito will miss the remainder of the season. Heavy sigh…
When he went down, the camera's didn't show him on the field, and all signs were pointing to something more severe. Ippolito returned from the locker room with no pads.
It was apparent something was seriously wrong, Cody has been waiting a year to come back to show the world what he is made of in his senior year. Unfortunately, those plans have been sidelined.
Just awful news for Ippolito … he brings a lot of experience and leadership to the defense

— Matt Moreno (@MattGOAZCATS) October 10, 2016
You wouldn't expect anything less from Cody than to be positive and looking twards the future. Zack Rosenblatt reported that Ippolito is eligible to apply for a sixth year. Arizona Basketball forward guard Talbott Denny is applying for a sixth year as well.
Here's an interview of Cody with Wildcats Authority, explaining his comeback for this season. We look forward to one of these next season as well.

Rich Rodriguez and his team will always do the best they can, and the athletes will work hard for you, the fans. No matter what the score, and no matter what the record. We should support them, please find time to show Cody some support at @CodyIpp57 on Twitter! BearDown Cody!
This article originally appeared on