How Will USC Football Replace 11 Lost Starters In 2017?
Alicia de Artola/FanSided via Reign of Troy

Fansided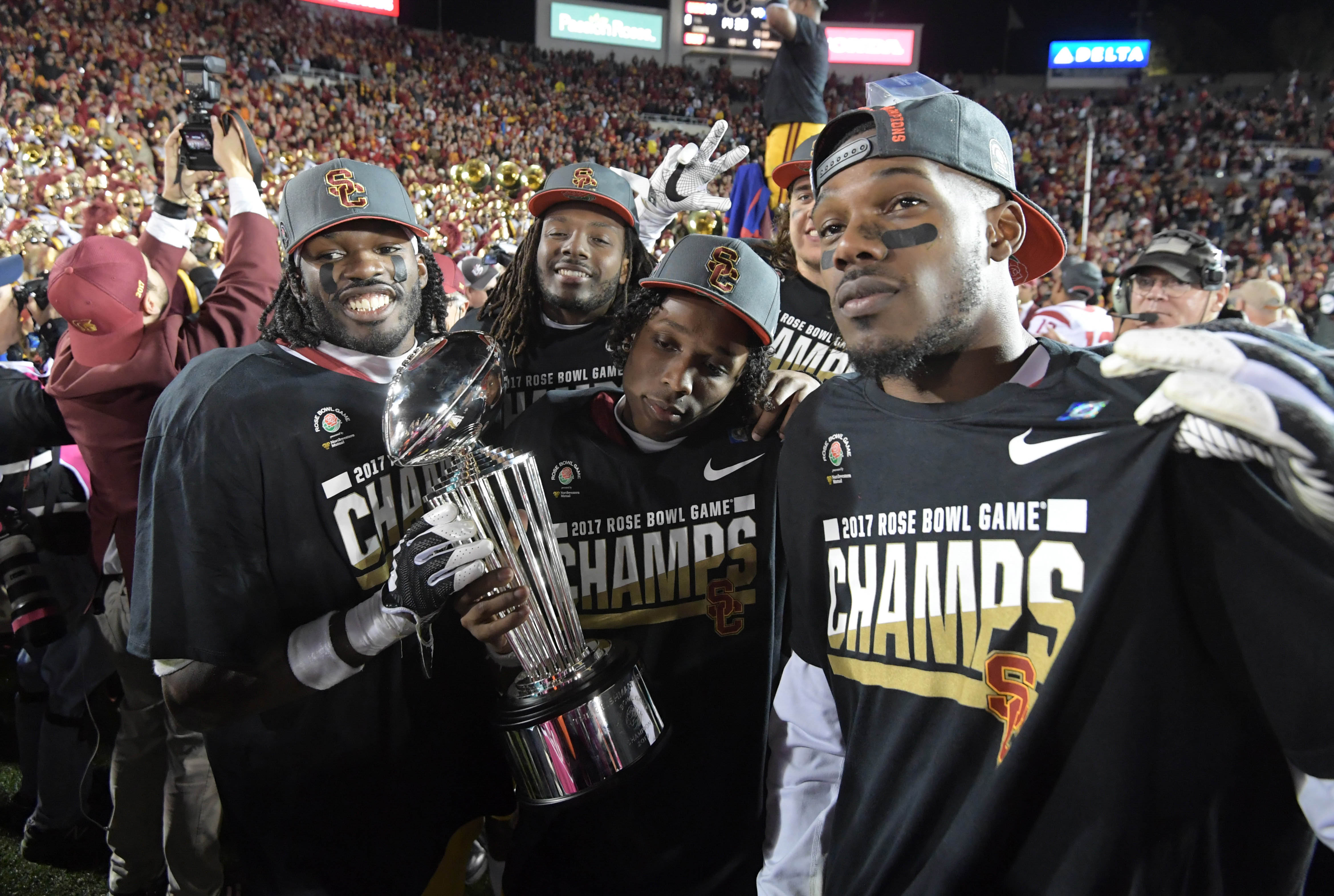 The hype train is already out of control for the 2017 USC Football team following a dramatic Rose Bowl win. But how will they get over losing 11 starters?
Once Matt Boermeester's 46-yard field goal went through the uprights to clinch a Rose Bowl win over Penn State, the 2017 USC football team signed themselves up for extremely high expectations. A No. 3 finish in the AP poll certainly piled on.
But despite bringing back Heisman candidate Sam Darnold at quarterback and the explosive Ronald Jones at tailback, the Trojans have a lot to replace.
They lose 11 starters, including Thorpe Award winner Adoree' Jackson, the fourth-most prolific receiver in USC history, JuJu Smith-Schuster and a pair of All-American offensive tackles.
That's a tall task for anyone, even a team as loaded with blue-chip recruits as the Trojans. Just ask the 2012 team.
Here's a look at USC's best bet to replace each lost starter:
Stevie Tu'ikolovatu | Nose Tackle
The redshirt senior transfer from Utah made himself invaluable for the Trojans at a position of need.
What's being replaced?
53 tackles, 2 tackles for loss, 0.5 sacks, 1 pass break up in 2016
All-Pac-12 2nd-Team

USC Football's Lineman of the Year
Rose Bowl Defensive MVP
Who can replace him?
Probably the biggest concern for USC during the offseason is finding someone to take the place of Tu'ikolovatu who anchored the defensive front with presence and power throughout 2016.
The transfer of Noah Jefferson complicates matters. At 330 pounds, Jefferson boasts the size that USC needs in the middle and would have been a clear heir apparent, but the Trojans will have to look elsewhere.
Jacob Daniel was Tu'ikolovatu's back up as a sophomore and would be the most direct replacement. He only saw action in eight games this season though and was not a regular contributor as Clancy Pendergast relied on the starter to take care of business with limited substitution.
There are a couple of potential replacements coming down the line in the 2017 recruiting class, but the Trojans have to land them first. Junior college transfer Javon Kinlaw could be an instant starter, as could five-star Aubrey Solomon or four-star Jay Tufele. However, USC would have to beat out South Carolina, Alabama and Utah for those signatures respectively.
Prediction: Jacob Daniel
Michael Hutchings | Inside Linebacker
The senior linebacker came up big in his final season, entrenching himself as the leader of the defense.
What's being replaced?
66 tackles, 8 tackles for loss, 3 sacks, 2 pass break ups in 2016
All-Pac-12 Honorable Mention

USC Football's Chris Carlisle Courage Award Winner

Team Captain
Who can replace him?
The Trojans have a major concern at inside linebacker with the loss of not only Hutchings but his back up Quinton Powell.
There are three players coming back who could fill in — Olajuwon Tucker, John Houston and Jordan Iosefa.
Tucker was suspended for the Rose Bowl because of academics, so his status is up in the air. He is also the most likely player to slide outside to help out with even greater depth concerns behind Uchenna Nwosu.
That leaves Houston and Iosefa to step up and compete for the starting job.
Houston came to USC with plenty of expectations as a highly-rated recruit, but a back injury has slowed his progression. He was able to come in and log a tackle in each of the Trojans' final nine games of 2016. Meanwhile, Iosefa arrived as a three-star early enrollee last year and impressed the coaches enough to earn playing time in all 13 games as a freshman.
Early enrollee Tyler Katoa could have a shot at filling the void with the head start in spring, but it stands to reason that the more experienced players will step in.
It's a toss up, but since Iosefa was recruited by this staff, he may have an advantage.
Of course, replacing Hutchings is more complicated than simply finding another player who can function as an inside linebacker in Clancy Pendergast's system. The defensive coordinator relied on Hutchings to lead the defense from a schematic perspective as well. Which will put extra weight on Cameron Smith's shoulders as a junior.
Prediction: Jordan Iosefa
Leon McQuay III | Safety
The former five-star delivered as a senior by becoming one of the defense's most versatile playmakers.
What's being replaced?
50 tackles, 4 tackles for loss, 1 sacks, 2 interceptions, 6 pass break ups in 2016
All-Pac-12 Honorable Mention
Trojan Commitment Award Winner
Who can replace him?
McQuay started four times as a nickel safety and nine times as strong safety in 2016, so there's two elements to replacing the athletic senior.
Thanks to so much interchanging, there are clear options to step into each of McQuay's role.
First, McQuay functioned as a co-starter with Chris Hawkins at strong safety. Hawkins is returning for his redshirt senior season after considering a graduate transfer and should maintain a starting role in that spot. Though he started only four games, Hawkins was a major part of the rotation and had 44 tackles on the year.
In the nickel spot, the Trojans were able to turn to a couple of cornerbacks, including Jonathan Lockett and Ajene Harris, who started four and three times in that role, respectively.
Lockett will be returning from a hip injury which could limit him during spring camp, while Harris should progress in his second year on the defensive side of the ball.
Prediction: Chris Hawkins

Adoree' Jackson | Cornerback
The most versatile player in USC football history, Adoree' Jackson won the 2016 Thorpe Award as the nation's best defensive back, had 15 total touchdowns in 40 career games and is arguably the second-most electrifying player in school history behind Reggie Bush.
What's being replaced?
55 tackles, 5 interceptions,11 pass breakups, 4 returns for touchdowns, 1 receiving touchdown in 2016
Jim Thorpe Award Winner — Nation's Top DB
1st-team All-American at CB, PR and AP
Pac-12 Defensive Player of the Year
All-Pac-12 1st-Team
USC Football's Team MVP
Team Captain
Who can replace him?
The simple answer is that there's no replacement for Jackson. Just as Joe McKnight could never have hoped to live up to the "Next Reggie Bush" tag, it would be unfair to tag another cornerback as the "Next Adoree' Jackson."
The Trojans do have a player with the potential to come as close as possible on the roster, however.
Jack Jones spent his first season in Troy as Jackson's understudy. Though he didn't have quite the successful freshman year as Jackson did, the Trojans will hope that he can replicate his predecessor's rise to become a first-team All-Pac-12 corner as a sophomore.
Of course, filling the void left by Jackson will be a group effort, since he did so many things beyond playing defensive back.
Offensively, USC could deploy Jones in similar packages at receiver if they wanted to take advantage of his athleticism. Deontay Burnett and Dominic Davis could also become go-tos for those particular plays.
Meanwhile on special teams, the competition to take over Jackson's spot on both kick and punt returns should be fierce. Jones, Burnett and Ajene Harris were listed as back up kick returners in 2016, with the first two most likely to get the nod in 2017.
Burnett was also the secondary punt returner, but Jones should have something to say about that as well.
Prediction: Jack Jones
Zach Banner | Right Tackle
The redshirt senior was rewarded for returning for his redshirt senior season with an All-American nod and a Rose Bowl victory.
What's being replaced?
38 career starts

All-American 1st-Team
All-Pac-12 1st-Team

USC Football's Co-Lineman of the Year

Team Captain
Who can replace him?
There may not be a clearer replacement for USC in 2017 than Chuma Edoga for Banner.
Edoga has been Banner's understudy since arriving on campus in 2015, even starting twice when Banner covered for Chad Wheeler at left tackle.
In 2016, Edoga also filled in for Wheeler for the first two games of the season but behavioral issues, including a suspension for shoving a referee against Idaho derailed his season as rumors of a potential transfer swirled.
It would appear that transfer thoughts have been quelled and Edoga is expected to return for his junior season with a full-time starting job within his grasp.
The question that remains is whether Edoga will take the open place at right tackle or left.
Should Edoga shift to the left, filling Banner's place directly gets a lot more complicated, with anyone from rotational left guard Chris Brown, the injured Toa Lobendahn, back up right tackle Clayton Johnston or a number of incoming freshmen vying for the job.
Prediction: Chuma Edoga
Chad Wheeler | Left Tackle
A four-year starter at left tackle, Chad Wheeler capped his career with All-American recognition after an exceptional senior campaign.
What's being replaced?
45 career starts

All-American 1st-Team
All-Pac-12 1st-Team
USC Football's Co-Lineman of the Year
Who can replace him?
Wheeler's 2015 season ended in troubled fashion, as he was suspended for the Holiday Bowl after a run in with police. However, he returned in 2016 as USC's steadiest figure on the offensive line, protecting Sam Darnold's blindside with hardly a hiccup.
It's Wheeler's reliability which makes the left tackle spot so difficult to project in 2017 — for the last two years, Wheeler's primary back up was either starting right tackle Zach Banner or back up Chuma Edoga, who is the likely pick to replace Banner for the coming season.
That leaves a free-for-all competition at left tackle this offseason.
Clayton Johnston sat behind Wheeler and Edoga on the depth chart in 2016, but only saw action in three games as a redshirt freshman. A speedy progression might give him a shot to claim the starting job, but it doesn't appear like an ideal situation for such an important position.
Guard Chris Brown could shift outside to tackle, but the departure of Damien Mama may make his presence critical at guard.
Then there's the offensive line wildcard, Toa Lobendahn.
Lobendahn was USC's starting center going into the 2016 season, but his tore his ACL for the second time in his career during the season opener. Once his rehab is completed, the former freshman All-American could be in line to start at two spots — center, shifting Nico Falah back outside; left guard, replacing Mama; or left tackle, replacing Wheeler.
He's started games at all three of those positions and with viable options at both of the interior spots, would appear to be strong candidate to fill Wheeler's shoes.
Prediction: Toa Lobendahn
Damien Mama | Left Guard
Despite playing just three seasons before departing early for the NFL Draft, Damien Mama was a mainstay on the Trojans offensive line and a vital part of USC's run blocking, especially as a junior in 2016.
What's being replaced?
30 career starts
All-Pac-12 2nd-Team
Who can replace him?
Mama's decision to leave for the draft after his junior complicates USC's plans on the offensive line for 2017, but the good news for the Trojans is they have a clear replacement on hand to step into his spot.
Chris Brown has split time with Mama for two seasons, competed with him for a starting job throughout the 2016 offseason and even started over the junior in the season opener against Alabama.
Though Mama established himself as the primary option at left guard as the season wore on, Brown participated in all 13 games.
Of course, Toa Lobendahn's return from an ACL injury muddies the water somewhat. Lobendahn's natural position is guard and he has eight games of starting experience in that position.
If he makes a comeback at that position, it could move Brown outside to cover the open spot left by Chad Wheeler at tackle.
Having said that, the simplest solution is often the best one, and plugging Brown straight in would appear to be the most straight-forward option.
Prediction: Chris Brown
Justin Davis | Running Back
Despite being hampered by injury in 2016, Justin Davis started seven games as USC's most reliable all-around running back.
What's being replaced?
631 yards rushing, 112 yards receiving, 2 touchdowns, 5.5 yards per rush in 2016
All-Pac-12 honorable mention in 2015
Trojan Commitment Award Winner
USC Football Lifters Award Winner
Who can replace him?
It's a shame Davis went down with an ankle sprain during the Trojans' victory over Colorado because he was having an exceptional senior season.
However, Davis' injury showed the truth of the matter — that Ronald Jones II had come along well enough to be USC's No. 1 running back.
Though Davis started the Rose Bowl upon his return to full health –and Jones struggled to find his feet on the subpar turf– there's no question going into the 2017 season that Jones is and has been the top dog for the Trojan running back rotation.
Having said that, Jones and Davis' different skill sets mean it's not Jones who will replace Davis in 2017, it's someone else who can step into the role as a reliable third-down blocker and pass catcher.
That's to say, it's Aca'Cedric Ware.
Ware dealt with his own ankle injury during his sophomore season, but he showed in the Rose Bowl how he can contribute in a different way than Jones, taking a screen pass 20 yards for an important third-and-long conversion.
Jones will do his thing in 2017, but Ware is more than capable of fulfilling and, if healthy, surpassing Davis' production.
Prediction: Aca'Cedric Ware
Taylor McNamara | Tight End
A run-blocking tight end by trade, Taylor McNamara made 24 career starts at USC after transferring in from Oklahoma prior to the 2015 season.
What's being replaced?
12 receptions, 111 yards, 1 touchdown in 2016
Who can replace him?
Even though USC is losing a number of contributing starters, many of those positions already featured productive back ups who are seemingly ready to step into a starring role without much of a drop off.
That's particularly true at tight end where McNamara's absence should be covered easily by the rise of talented young playmakers Daniel Imatorbhebhe and Tyler Petite.
The biggest unknown when it comes to McNamara's departure is whether or not Imatorbhebhe and Petite are up for the task of replacing the veteran's blocking contributions.
McNamara started 11 games as a redshirt senior, but Imatorbhebhe notched five starts of his own and emerged as a capable blocking tight end and dangerous receiving threat for the Trojans.
Of the tight ends on USC's roster, he appears most capable of doing the job as a blocker as well as a receiver, but there will be more weight on his shoulders with McNamara out of the picture.
Both Petite and redshirt Cary Angeline project as receiving options, but incoming freshman Erik Krommenhoek, could also be a factor if he hits the ground running in fall camp.
Prediction: Daniel Imatorbhebhe
Darreus Rogers | Outside Receiver
A clutch go-to threat when the Trojans needed a first down, Darreus Rogers was one of Sam Darnold's favorite passing targets in 2016.
What's being replaced?
56 receptions, 696 receiving yards and 4 touchdowns in 2016
All-Pac-12 Honorable Mention
USC Football's Co-Perimeter Player of the Year
Who can replace him?
Not only is Darreus Rogers' production something needing replacement —he accounted for 18 percent of USC's passing targets in 2016— his presence as a clutch receiver was invaluable for the Trojans.
In his senior season alone, 68 percent of his catches went for first downs, including all 11 on third down. Rogers was seemingly always open and/or making a remarkable catch on third down to extend drives, playing a key role in the game-winning touchdown drive vs. Colorado, along with the season-defining win at Washington.
Without him as essentially a split-end in the offense, the Trojans will look towards 2016 signees Michael Pittman and Josh Imatorbhebhe to make up the lost ground.
At 6-foot-4 and 6-foot-2 respectively, both are big, physical receivers who can fill the space left by Rogers, in addition to being potential blockers on the perimeter. Given the Trojans' penchant to get slot receivers like Deontay Burnett and Steven Mitchell outside and in space, blocking downfield is almost as pivotal as production.
Pittman was the only of USC's five 2016 receivers to see the field as a true freshman, making six catches for 82 yards. He saw the bulk of his action against Oregon, when he hauled in four receptions for 61 yards.
Prediction: Michael Pittman
JuJu Smith-Schuster | Outside Receiver
One of the most prolific receivers in USC football history, JuJu Smith-Schuster leaves for the NFL as a tough, physical receiver and key weapon for the Trojans for three seasons.
What's being replaced?
70 receptions, 914 receiving yards and 10 touchdowns in 2016
All-Pac-12 2nd-Team
USC Football's Co-Perimeter Player of the Year
Who can replace him?
Losing a player of JuJu Smith-Schuster's caliber is a setback for any team, given his immense talent and ability to perform at a high level despite injury. However, the Trojans are fortunate to have a bevy of weapons at receiver to withstand the departure of Smith-Shuster, who accounted for 24 percent of USC's receiving targets in 2016.
As with Rogers, the Trojans can make up the numbers by simply putting more eggs in the basket of players like inside man Deontay Burnett and tight end Daniel Imatorbhebhe.
However, it's Tyler Vaughns who should be fit into Smith-Schuster's role most seamlessly.
An athletic, play-making receiver, Vaughns has been lauded for his hands and ability to win jump balls in the air. Of USC's redshirting receivers in 2016, he was consistently the most impressive in practice, and the extra year should allow him to bulk up going into next season.
MUST READ: The Nine Best JuJu Smith-Schuster Moments at USC
Joseph Lewis, a five-star wide receiver target out of Hawkins HS in Los Angeles, could also prove to be a factor should he both sign with the Trojans and then hit the ground running in fall camp.
Both Velus Jones Jr. and Trevon Sidney could prove noteworthy in 2017, however they are mostly likely candidates to see time at insider receiver.
Prediction: Tyler Vaughns
This article originally appeared on