How the departure of defensive line coach Tracy Rocker will impact Georgia football
Kyle Funderburk/FanSided via Dawn of the Dawg

Fansided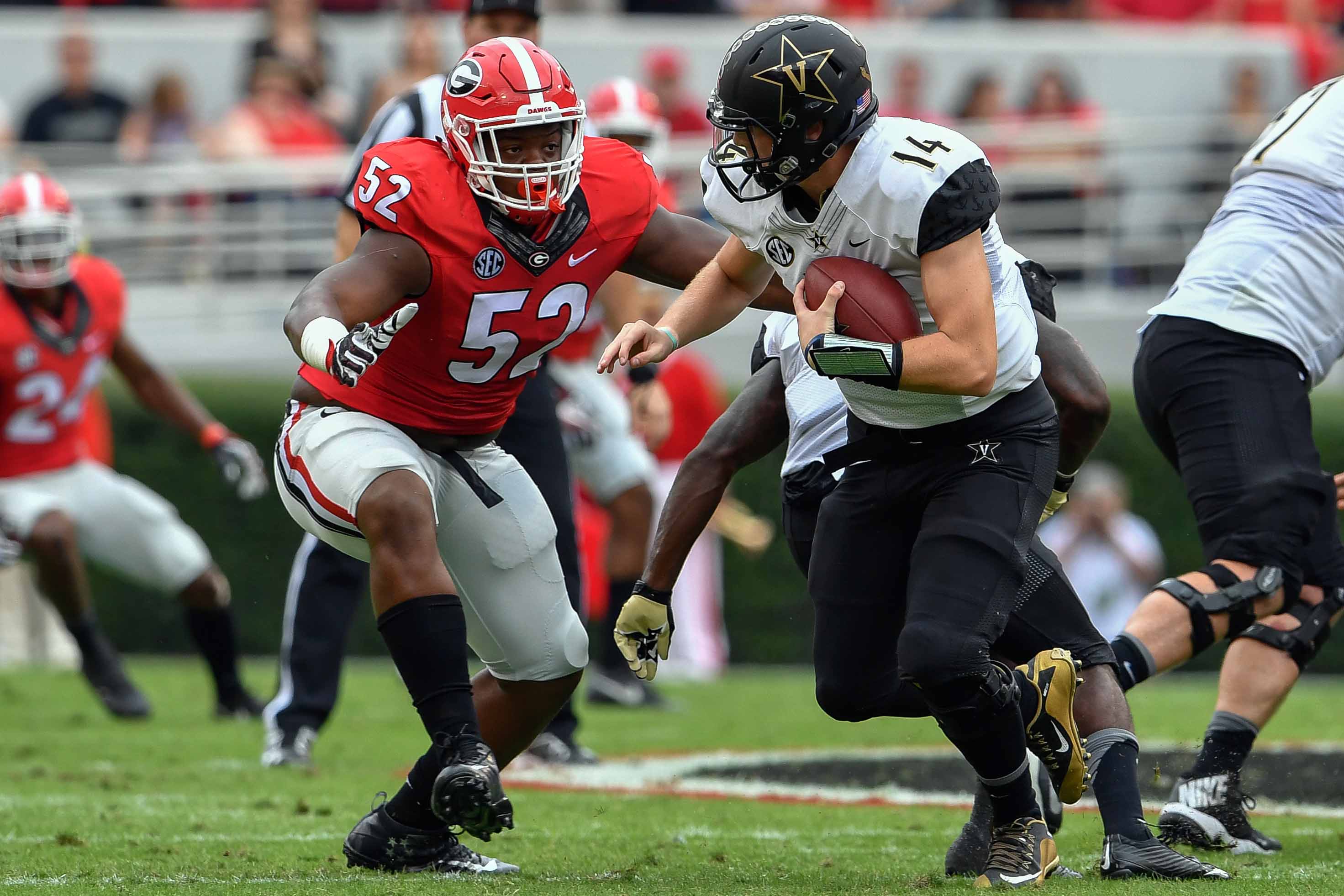 The first coaching departure of Kirby Smart's tenure at Georgia happened Tuesday with defensive line coach Tracy Rocker leaving the team.
Georgia's defensive line unit is one of the deepest and most talented in the SEC led by an experienced defensive line coach in Tracy Rocker. With the seven man rotation returning with a pair of top-notch freshman coming in, the defensive line was going to be even better.
That's why there's a lot of confusion and questions around Rocker's decision to leave the University of Georgia. He is yet to comment on why he is leaving Georgia and a great group of defensive linemen behind.
In 2016, Georgia football finished fourth in the SEC in run defense and combined for 11.5 sacks. Half of the 2016 season was spent without Jonathan Ledbetter on the field because of a suspension.
The players have all said that they enjoy being around him and that they love his "tough-love" coaching style. In an interview last year, veteran John Atkins called Rocker a father figure and someone who brings out the best in everyone.
A coach like that will be difficult to replace. A unit that large and successful led by a coach they love to play for obviously has great chemistry all together. One has to wonder how that chemistry will be affected.
More from Dawn of the Dawg
But, the talent on the field will not be affected. Georgia returns all seven contributors of the 2016 defensive line including senior Atkins. Ledbetter, Daquan Hawkins-Muggle and Trenton Thompson are all rising juniors. While David Marshall, Tyler Clark and Julian Rochester are rising sophomores.
Then there's the new freshmen who signed last week. According to 247 Sports, Malik Herring was the no. 4 strong-side defensive end in the 2017 class and Devonte Wyatt was the no. 16 defensive tackle of the 2017 class. Georgia also signed Robert Beal, the no. 8 weak-side defensive end, but he may end up moving to outside linebacker.
Regardless, the 2017 defensive line will be deeper and more talented than last season's. Even without Rocker you have to believe that the unit will still be one of the best in the SEC of not one of the best in America.
However, chemistry and coaching are still important. Will a new defensive line coach get the best out of everyone like the players claimed Rocker did? Will they develop as quickly? No one expected freshmen Tyler Clark and David Marshall to have great seasons in 2016. Yet they played very consistently and earned a lot of playing time.
Those questions will sort themselves out as Smart searches and eventually hires a new defensive line coach. Hire the right coach and the change will be minimal. We'll continue to see Georgia's defensive line shine.
But hire the wrong coach and the units chemistry will change and players won't develop as quickly, which would hurt the projected depth of the defensive line.
This article originally appeared on