How Thankful Should Razorback Football Fans Feel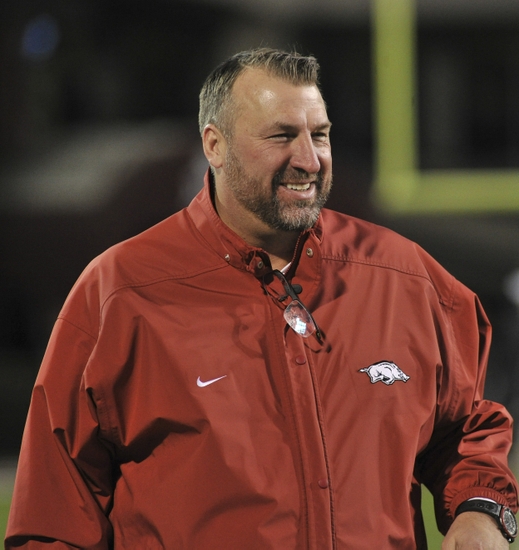 As the Thanksgiving festivities begin to wind down, let us take a moment and reflect on our thankfulness for this Razorback football season.
Firstly, to all my readers, Happy Thanksgiving! Y'all are amazing! Before we start to clean the kitchen and all our guests begin going home, as Razorback fans, let's reflect on the football season. Is there really anything to be thankful for or are there some positives we can appreciate?
I don't know about you but I thought the Hogs would probably go 6-6 or maybe 7-5 this season. Now as it stands, they are 7-4 and more than likely going to be 8-4 after tomorrow. Some of these teams I expected to lose to were just not nearly as good as I thought but regardless the Hogs won.
Let's just assume that Arkansas is going to beat trash talking, Eric Beisel and the MIZZOU Tigers and goes 8-4 for the year. That's still one win better than last year's 7-5 record. Once could argue that the Toledo game last season was a hiccup and they should have gone at least 8-4 but the fact is they didn't.
What we are seeing, under Bret Bielema, is a steady progression. Yeah, the defense has gotten worse and the offensive line has gotten worse but something just as important has changed during his time. The ability to find a way to win. Remember when we rushed the field in 2014 after finally beating an SEC team? Now we fully expect to beat SOME SEC schools.
Arkansas is currently in the middle of the pack in the SEC and according to the record, is trending up. As much as I get frustrated with him, I like and trust Bielema. Next year we will see more improvements but it's this season that counts.
How thankful are you, if at all, for this season? I personally am very thankful for this Razorback football season. The team overall has done about what I thought they would and even a little better. So as a fanbase, let's give thanks to an improved record and a team we all love so much heading in the right direction. Woo Pig!
More from Razorbackers
This article originally appeared on