How Notre Dame's 2016 opponents fared: Week 1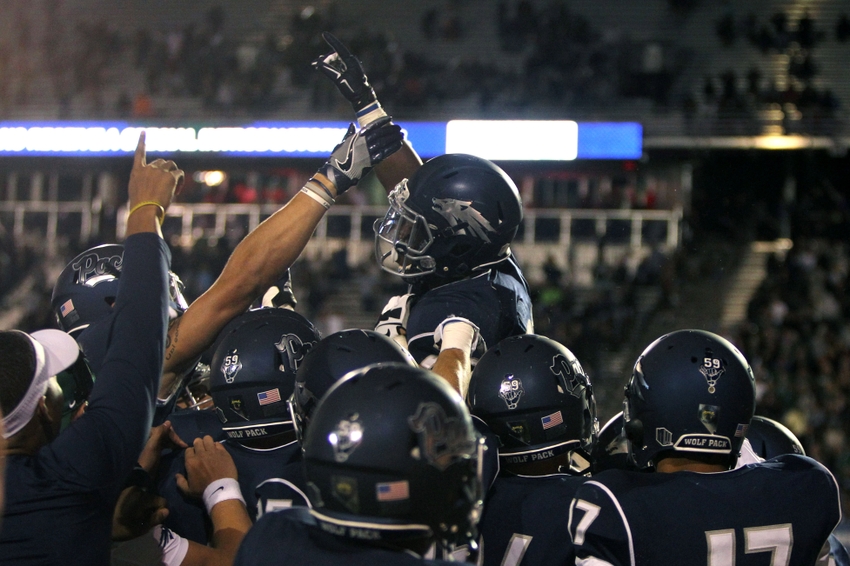 See how Notre Dame's opponents for the rest of the season played in Week 1 and how that could change their future matchups with the Irish.
After the first Saturday of the college football season, Notre Dame's 11 non-Texas opponents netted a 10-1 overall record. Here's the rundown of how each team performed by the week in which Notre Dame will play them.
Week 2: Nevada 30 – Cal Poly 27
The Wolfpack started their season off at home with an overtime win against the Cal Poly Mustangs. Nevada was paced by running back James Butler, who ran the ball 21 times for 123 yards and two scores, and quarterback Tyler Stewart, who was 17-for-23 passing for 189 yards and two touchdowns.
Nevada's defense struggled to slow down Cal Poly's rushing attack. The Mustangs racked up 404 yards on the ground on 71 total carries while passing the ball just 12 times.
Week 3: Michigan State 28 – Furman 13
The Spartans of Michigan State delivered a lackluster performance against Furman to open their 2016 season. Early in the fourth quarter, the Spartans were clinging to a mere 21-13 lead before quarterback Tyler O'Conner found tight end Jamal Lyle on a 12-yard touchdown to seal the deal.
While it is safe to say the Spartans did not flail against Furman, it is also safe to say they were not exactly dominant either. O'Conner made a few impressive throws, but he also threw a very shaky late-game interception before the contest was fully decided. Perhaps the main takeaway from this game was that the Spartans committed 10 penalties for 120 yards.
Michigan State is off next week and faces Notre Dame in Week 3.
Week 4: Duke 49 – North Carolina Central 6
Duke started its season fast with a big win over North Carolina Central. There was not much to be learned about the Blue Devils this early on in the year though. The Blue Devils led 49-0 at half and cruised to victory. Perhaps the biggest takeaway from the contest is that redshirt freshman quarterback Daniel Jones looked the part of a starting quarterback. Jones was able to make plays with his arms and his legs on his way to an easy victory.
Duke plays Wake Forest at home next Saturday.
Week 5: Syracuse 33 – Colgate 7
Colgate scored on its first possession, but Syracuse dominated the rest of the game at the Carrier Dome. The Orange were lead by sophomore quarterback Eric Dungey, who was 34-for-40 passing for 355 yards and two scores against a porous Colgate defense. On the receiving end of many of the passes was senior receiver Amba Etta-Tawo, who grabbed 12 balls for 210 yards.
Syracuse faces Louisville this upcoming Friday at home.
Week 6: North Carolina State 48 – William and Mary 14
North Carolina State used a balanced offensive attack to beat William and Mary. Sophomore quarterback Ryan Finley was 17-for-21 for 174 yards and two scores, while senior running back Matthew Dayes ran 23 times for 138 yards and two touchdowns. After a 7-7 first quarter, the Wolfpack went on to dominate for an easy win.
NC State travels to East Carolina next Saturday to face the Pirates.
Week 7: Stanford 26 – Kansas State 13
Stanford jumped out to a 17-0 lead in its opener, before the Wildcats got on the board just before halftime with a field goal. In the second half, K-State adjusted and cut Stanford's lead to 19-13 with 2:12 left in the game before Christian McCaffrey broke loose for a 41-yard score to secure the win for the Cardinal.
For the most part, though, Kansas State held McCaffrey in check. The Heisman hopeful ran 22 times for 126 yards and two scores. However, 76 of those yards came on two scoring plays. McCaffrey's other 20 carries netted him only 50 yards. Stanford's offensive line did not look as dominant as it has in the past against a below-average Kansas State team who was gashed regularly in the Big 12 last season.
Stanford has a bye week before playing USC on Sept. 17.
Week 9: Miami 70 – Florida A&M 3
Miami took a 28-3 lead into halftime and then exploded for 42 points in the fourth quarter on their way to a rout of the Florida A&M Ratters. Junior quarterback and NFL prospect  Brad Kaaya looked about average, passing 18 times and completing 12 on his way to 135 yards in the air. He did, however, connect for four touchdown passes.
Miami's running game was the major story. The Hurricanes had three backs rush for over 100 yards apiece. In all, the Hurricanes running backs split 30 carries for 381 yards.
Miami faces Florida Atlantic next week at home.
Week 10: Navy 52 – Fordham 16
Navy got out to a hot start offensively and rolled to an easy victory over Fordham. The Midshipmen did what they normally do and ran the ball 53 times, racking up 427 yards and six scores. Navy quarterbacks only passed the ball four times, completing all four passes for 123 yards. Senior quarterback Tago Smith, who replaced former Heisman candidate Keenan Reynolds, was injured early in the game and was replaced by Will Worth.
As a result of the injury, third-string quarterback Malcolm Perry became a major storyline. Perry, who had been ill all week, was not dressed for the game but was in attendance. When Smith went down, Perry was plucked from the stands by Navy coaches and dressed for the second half. He made his debut in the third quarter and led a 90-yard drive that ended with a field goal. In all, Perry ran seven times for 30 yards.
Navy hosts Connecticut and former Irish assistant Bob Diaco next Saturday.
Week 11: Army 28 – Temple 13
Army got its season off to a good start with a win over the Temple Owls. the Black Knights were led on the ground by running back Andy Davidson, who carried the ball 22 times for 121 yards and two scores. Temple lead the game 10-7 at halftime but struggled in the second half to move the football, as the Black Knights intercepted Temple quarterback Phillip Walker three times.
Army will play Rice next Saturday.
Week 12: Virginia Tech 36 – Liberty 13
In its first game in the post-Frank Beamer era, the Hokies struggled early, leading only 17-13 before adding a score right before halftime and cruising to victory in the second half. Junior quarterback Jerod Evans was impressive, passing the ball 32 times and completing 20 of his attempts on the way to 221 yards and four touchdowns through the air.
Virginia Tech plays Tennessee next weekend at Bristol Motor Speedway.
Week 13: Alabama 52 – USC 6
Many thought USC had the talent to at least hang with Alabama. And to an extent, they were right … if the game lasted only a quarter and a half. USC took a 3-0 lead after the first possession but not much else went right for the Trojans. The Crimson Tide took a 17-3 into halftime and scored on a defensive breakdown early in the third quarter. It was all downhill from there. Juju Smith-Schuster had just one reception.
In all, it was a debacle for the Trojans, who must regroup to face Utah State next week at home.
Outlook:
Notre Dame's 11 opponents outside of Texas went 10-1 in college football's opening weekend. Michigan State, Stanford and USC failed to impress with varying levels of play, while Miami and others looked dominant against weaker opponents.
This article originally appeared on