How much has UGA's offensive line/running game improved? Vanderbilt will show us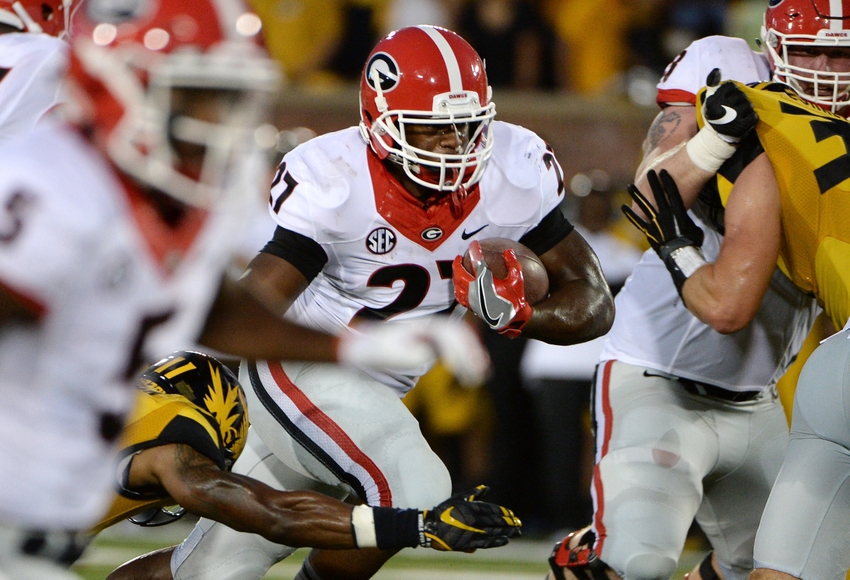 Georgia's offensive line looked much improved against Tennessee and South Carolina, but after this Saturday it will be clear how much the unit has improved.
After a great game in the season opener against North Carolina in which Georgia gained 289 rushing yards, including 222 from Nick Chubb, the running game fell flat.
The following three games saw Georgia struggle to develop any kind of offense on the ground and that's mostly because of the offensive line. Chubb, Sony Michel, and Brian Herrien have taken hits in the backfield and holes rarely opened up.
FCS opponent Nicholls State held Georgia to 167 total rushing yards. Chubb settled for 80 yards and Herrien rushed for 47. They did what most FCS and non power-5 schools do against Georgia, they sold out to stop the run. Normally Chubb or another back is able to break free in these situations but it never happened that day.
Sony Michel's playing time increased versus Missouri but Georgia was still contained for 101 total rushing yards. Chubb had 63 and Michel had 37 in his full return from an injury. The Tigers took cues from Nicholls State to stop Georgia's rushing attack.
Statistically Georgia did much better against Ole Miss. The Bulldogs ran for 230 yards, but 125 of those yards came in the second half after Ole Miss took a 45-0 lead. Herrien led the team with 78 yards, Michel had 66, Chubb had 57 and Elijah Holyfield added 27.
In the final 25 minutes of the Ole Miss game, Georgia's running game looked better than it had all season which was a good enough confidence boost for the Tennessee game. The Volunteers had struggled stopping the run prior that game. Appalachian State, Florida and Virginia Tech all had success on the ground versus Tennessee.
Nick Chubb sat out against Tennessee because of an injury, but without him Georgia compiled 181 rushing yards. 91 yards came from Michel and 77 came from Herrien. Their performances were nearly enough to lead Georgia to an upset.
Georgia then met South Carolina who is trying to rebuild their defense in Will Muschamp's first year as head coach. Against the Gamecocks, Georgia's run game played its best game since the 2015 South Carolina game.
The Bulldogs racked up 326 rushing yards; 133 from Michel, 121 from Chubb and 82 from Herrien.
But Vanderbilt might have the best defense Georgia has played to this point. Other than their games against Georgia Tech and Western Kentucky, the Commodore's have held everyone else to 24 points or less. While they are 0-3 in SEC play, they held Florida and South Carolina to just 13 points each and they held Kentucky to 20 points.
More from Dawn of the Dawg
Offense is the problem in Nashville, not defense. They've given up 1,021 total rushing yards and that includes 289 yards from Georgia Tech's triple option. Georgia on the other hand has ran for 1,294 yards.
We've seen the offensive line and Georgia's run game steadily improve, but Vanderbilt will be the test that shows us just how much it has improved.
This article originally appeared on