Houston quarterback situation is deep, features playmakers
Collin Wieder/FanSided via Saturday Blitz

Fansided
The Houston Cougars built up a record-setting offense during the Tom Herman, Greg Ward era. Ward's possible successors will try to continue his success.
Houston football's rise to fame was headlined by an explosive offense and a dual threat quarterback in Greg Ward. It is likely the Cougars will continue in that direction under new head coach Major Applewhite.
In his first impactful move as head coach, he'll be deciding who will replace Ward. Luckily for Applewhite, he'll have some experienced prospects to choose from. The three noteworthy, experienced contenders are two-year backup Kyle Postma, former Texas A&M starter Kyle Allen and versatile soon-to-be sophomore D'Eriq King.
Houston has quite the quarterback dilemma, but it's a good one. All three options have proven to be playmakers in their careers. The question is whether one can separate themselves from the rest of pack.
Postma has the edge in terms of system knowledge. Houston knows what they have in him. Allen saw varying levels of success at A&M. He started and won the Aggies some big games, but his inconsistent play cost him the job. King would be the wild card of the group. He played quarterback, receiver and running back during the 2016 season. He's an exciting player, but the question remains if he can be the Cougars' starting quarterback.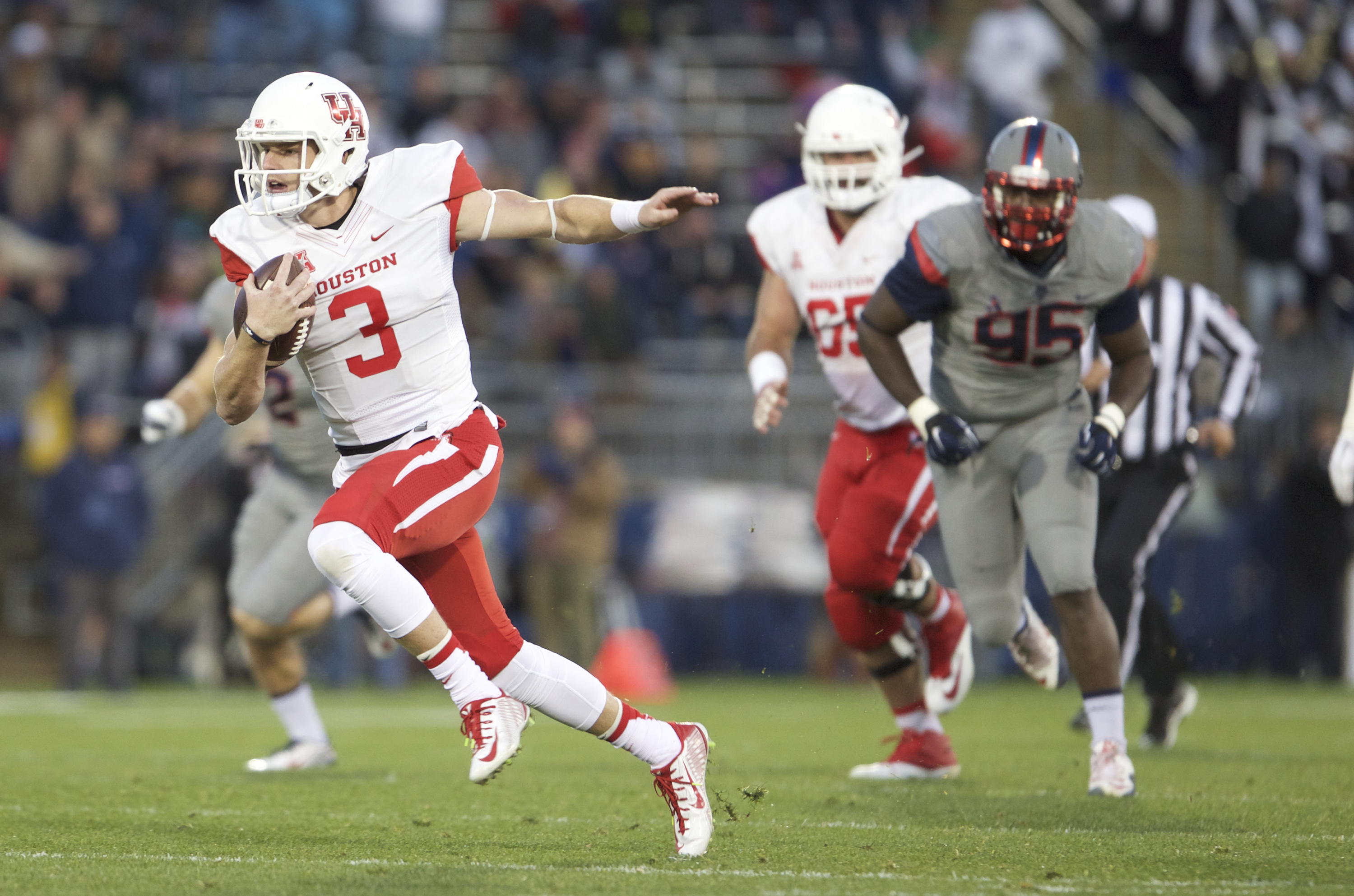 Kyle Postma
Postma inevitably saw the field multiple times backing up someone like Ward. In this offense the quarterback is prone to taking some shots, so he saw action in 19 total games. The bulk of his games were solid. In 2015, he saw 10 games of action the bulk of which came against Memphis and Connecticut.
He took over for an injured Ward against Memphis and led the Cougars to a 35-34 comeback win. Postma overcome a 20-0 start and a 34-14 4th quarter deficit to win the game. He put together a complete effort throwing for 236 yards, one touchdown and no interceptions, while he rushed for 49 yards and a touchdown.
The Memphis game was certainly his best game, but his low came one week later against UConn. In his first career start, the Houston offense mustered just 17 points. Herman actually pulled Postma and put in an injured Ward to try and win the game.
The Cougars perfect season would end, but to be fair the Huskies' defense was ranked 16th in points allowed. They gave up an average of just 19.5 points per game, so its certainly a tough team to face in a quarterback's first career start. He didn't have a bad game either throwing for 190 yards, one touchdown and just one interception while rushing for 52 yards.
He played in a couple other games and proved to a strong runner and capable passer. His 6-foot-3, 205-pound frame gives him an advantage over King and makes him equal to Allen. He also won a start against Lamar in 2016, but suffered a broken arm in November causing him to miss the rest of the season.
In all, he's seen the field a lot and is a quality option. He threw for 663 yards, three touchdowns against three interceptions while completing 63 percent of his passes in his career. His strong running ability showed in his 330 rushing yards, five touchdowns and 7.7 yards per carry.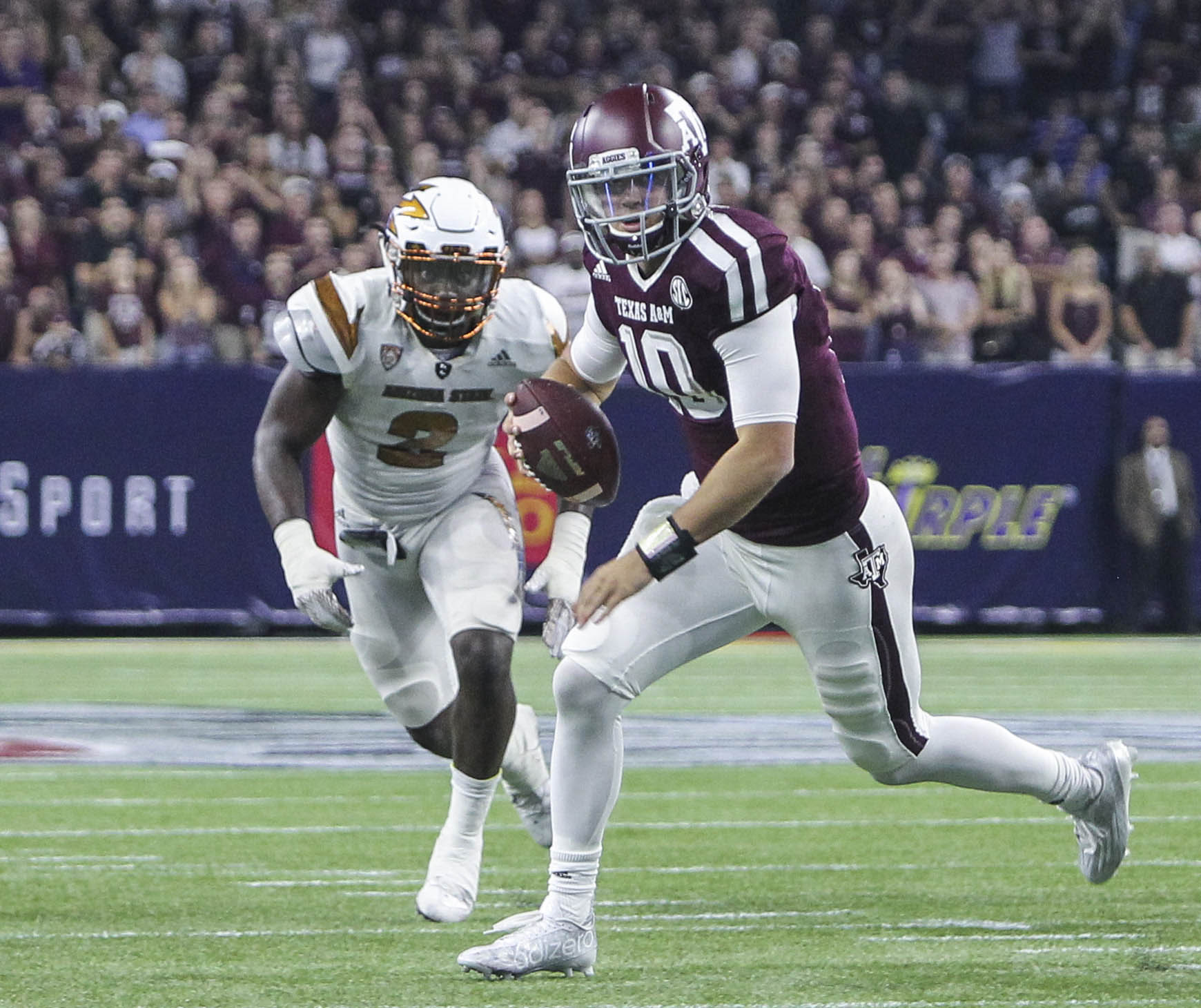 Kyle Allen
The former Texas A&M starter showed much promise during his time with the Aggies. Allen was highly-touted as a five-star prospect from a Arizona. He made an immediate in his true freshman season. He led the Aggies to a 3-2 finish in the 2014 season including a win over No. 3 Auburn and a bowl win over West Virginia.
He carried his success into the 2015 season with a 5-0 start. However, his inconsistent play headlined by his inaccuracy cost him his job after two straight losses to Alabama and Ole Miss. Allen would regain the job in the final two weeks to go 1-1 against Vanderbilt and LSU.
After a frustrating season mixed with an indecisive coaching staff, Allen decided to transfer to Houston. He did some nice things at Texas A&M, but never quite reached his hype. He left with a career record of 9-5 and some impressive career numbers. He threw for 3,532 yards, 33 touchdowns against 14 interceptions, while rushing for 146 yards and three touchdowns.
However, the numbers tell a different story in his 2015 losses. He was wildly inaccurate at times and looked rattled against some strong defenses. For instance, he was 47-of-102 for 512 yards, two touchdowns and five interceptions. Furthermore, he went 14 passes without a completion in the Aggies' abysmal 23-3 loss to Ole Miss. This came after he started 6-for-8 on the night, so he can be erratic at times.
Despite all the struggles, he brings Houston an experienced option at quarterback. Plus, Allen displayed much more positives than negatives to go along with a strong arm and decent athleticism. He isn't attuned to a run heavy offense like Houston, but he's a more talented passer than Postma. They should duke it out for a fun competition in the spring.
D'Eriq King
If there is a guy molded most like Ward on this roster it's D'Eriq King. He's a do-it-all player for Houston that did many things Ward did in his freshman year.
King and Ward were receiver-first players that were brought in to play quarterback sparingly. Ward was a quarterback at John Tyler High School, but he transitioned to receiver after Johnny O'Korn's successful freshman season in 2013. However, O'Korn's struggles in 2014 forced Ward back into the quarterback role. We know his story and his legacy.
However, King's is just starting his. The talented, four-star freshman put up numbers in multiple categories other than passing. He focused on receiving in his freshman year catching 29 passes for 228 yards and a touchdown, while rushing for 56 yards. He also returned 10 kicks for 254 yards and one touchdown. In all, he accounted for 567 all-purpose yards in 2016.
King played some quarterback completing 2-of-3 pass attempts for 20 yards and a touchdown. However, he comes in as the most ill-equipped in terms of quarterbacking. He has zero starts, few pass attempts and is the shortest of the trio at 5-foot-10, 170-pounds.
However, as recent memory has taught us. Having little experience doesn't mean someone can't start. Jalen Hurts proved that correct this season, while the size problem mattered little for Ward. He was just 5-foot-11, 185-pounds, and he executed Herman and Applewhite's system to perfection.
All three have a real shot at the job, but whoever inherits the system should have a better offense around them. The entire offense returns outside of seniors Chance Allen and offensive lineman Mac Long. The offensive line struggled all year, but they have a year under their belt and are losing Long who started just four games. A strong offensive line will certainly aid the transition to a new quarterback.
This article originally appeared on