Houston continues to win, but Louisville looms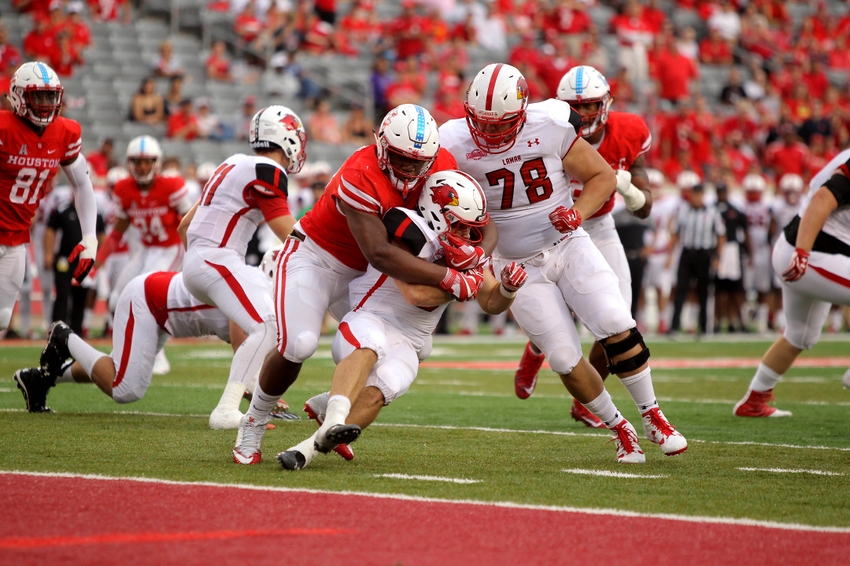 Houston football has seven games remaining before they see the Louisville Cardinals. However, there's no doubt the Cougars see the Cards' as a future roadblock.
Houston is one of college football's top programs over the last two seasons. They've managed to go 16-1 since Tom Herman took over for the Cougars. They've found ways to win on both sides of the ball and this season will certainly be no different.
Nevertheless, Houston's schedule isn't necessarily a favorable one for the Group of Five program. They faced off against Oklahoma early on and they still have Louisville on the horizon. The reason the Louisville game means more for Houston than any other team, is strength of schedule.
No school from a mid-major conference has ever made it to the national championship. It just isn't done. For Houston to have a shot at the title, they're going to need an undefeated season, and that means dropping the Cardinals.
The Cougars have all the weapons to do so, but pulling of the upset is another task. Last season, they beat the Cardinals 34-31, but Lamar Jackson split time with Kyle Bolin. He also hadn't had a full season under his belt with Louisville's offense. We all know what he can do this season. He's absolutely rolled every team in his path compiling almost 1,500 all-purpose yards and 18 total touchdowns in three games.
The battle between Jackson and the Cougars' Greg Ward Jr. should be a tantalizing matchup. It's still almost two months away, but it could have national title implications. The Cougars and Cardinals still have big-time opponents to face before their Nov. 17 clash. However, no game has ever meant this much to a mid-major squad. Houston proved it could play with the big boys, but it's not even close to being out of the woods.
The Cougars can win the American Athletic Conference and go undefeated in all other games, but they have to beat Louisville just to get a shot at the College Football Playoff.
More from Saturday Blitz
This article originally appeared on