Hokies Well-Represented in 2016 Football Coaches' Awards, All-ACC Teams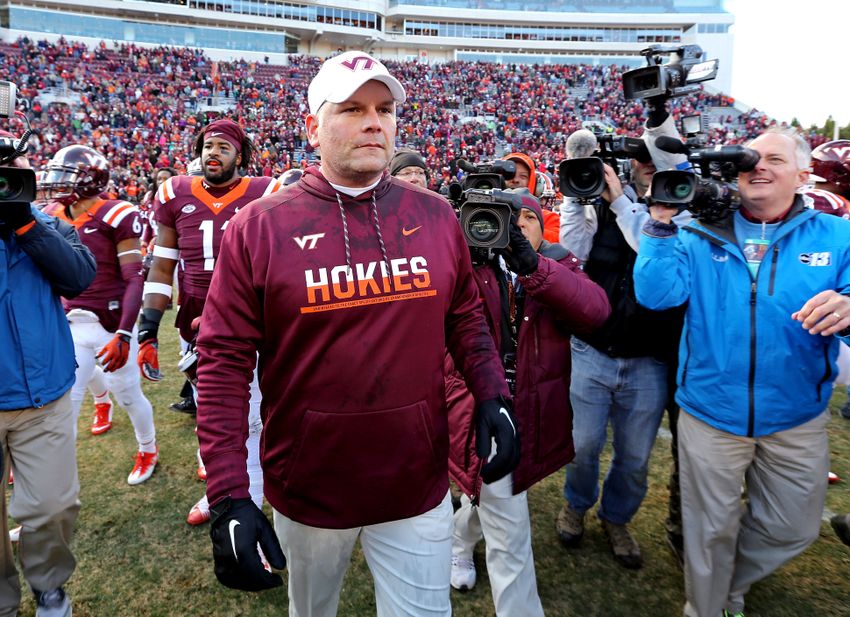 The 9-4 Hokies were well represented in the 2016 ACC Football Coaches' Awards and All-ACC Teams
The 2016 Football Coaches' Awards and the All-ACC Team were announced on Thursday as all 14 head coaches from around the league cast their votes for several different league awards.
The coaches voted for an All-ACC football team, Players of the Year, Rookies of the Year, and the Coach of the year award.
First year Head coach Justin Fuente was voted Coach of the year after receiving 9 votes from the other head coaches in the league. Dabo Swinney of Clemson and Dave Clawson of Wake Forest also received votes in this category.
Fuente in his first season at the helm for the Virginia Tech Hokies led the team to a 9-4 record and finished atop the Coastal division with a 6-2 conference record.
Fuente had the  Hokies back in the ACC Championship Game for the first time since 2011.  As well, he led Virginia Tech to their 24th straight bowl game, which is a NCAA record. The Hokies will face Arkansas in the Belk Bowl on Dec. 29th for the chance to end the season with 10 wins.
More from Fighting Gobbler
Kicker Joey Slye was the only Hokie to make the All-ACC First Team offense this season. Slye, a junior, made 20 of 26 field goal attempts (76.9%) during the season.
Joey also only had one extra point attempt not go through the uprights this season. He made 53 of 54 on his extra point attempts. Syle was responsible for 113 of the Hokies points on the year.
Wide receiver Isaiah Ford was honored with a spot on the All-ACC Second-Team Offense. Ford, who is also a junior had a record breaking season. Isaiah Ford broke Antonio Freeman's career receiving touchdown record when he caught his 23rd touchdown on October 27th vs Pittsburgh.
This season Ford also became the career receiving leader at Virginia Tech. He leads all receivers in school history in catches, touchdowns and yards. This season Ford was responsible for 73 receptions, 1,038 yards and 7 touchdowns, while averaging 14.2 yards a catch.
In some early mock drafts for the NFL draft, Isaiah Ford is projected to go as a late first rounder or early second rounder as a junior. Hokie nation would love for him to return for his senior season though. We are expecting to hear a definite word on if he is going to the draft or not sometime after the bowl game.
Tight end Bucky Hodges, offensive tackle Jonathan McLaughlin, and guard Augie Conte were all honored by being voted on the All-ACC Third-Team Offense. Bucky Hodges, who is a junior as well, had 43 receptions, 640 yards, and 7 touchdowns. Hodges averaged 14.9 yards a catch this season.
Senior Jonathan McLaughlin is listed as the 37th-rated offensive tackle NFL prospect in the upcoming 2017 NFL draft by CBS Sports.com. Senior Augie Conte is rated the 55th-best offensive guard in the upcoming draft by nfldraftscout.com
Virginia Tech junior offensive lineman Wyatt Teller and defensive back Greg Stroman were voted in for Offensive Honorable Mentions.
Senior defensive tackle, Woody Baron made the All-ACC Second-Team Defense along with linebackers Andrew Motuapuaka and Tremaine Edmunds and Cornerback Greg Stroman.  Woody Baron is listed as the 43rd-best defensive tackle in the upcoming draft by NFLdraftscout.com
Defensive end Ken Ekanem and Linebacker Terrell Edmunds made Defensive Honorable Mentions.
Stick with Fighting Gobbler for the latest Hokies football news such as this, as well as bowl season coverage as the team readies for their Belk Bowl appearance against the Arkansas Razorbacks.
This article originally appeared on