Hokies Rally In Win Over Irish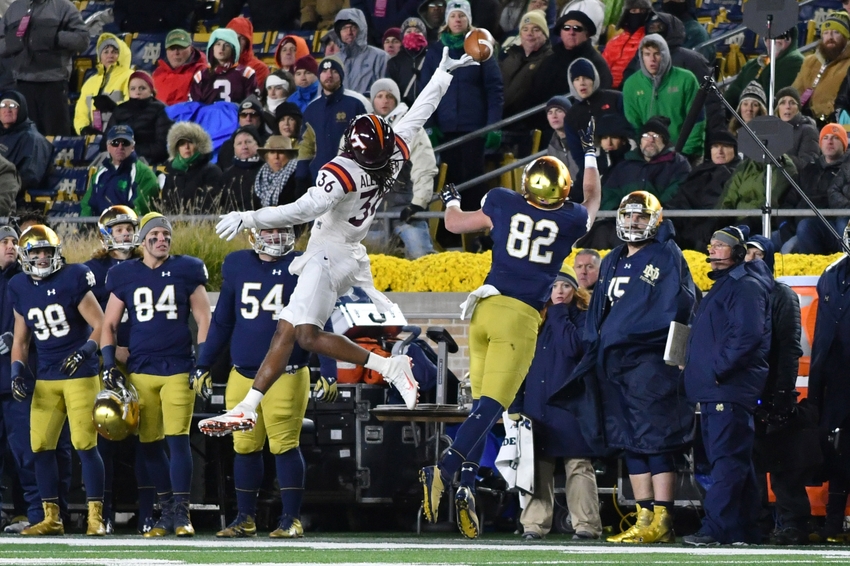 In their first ever meeting against Notre Dame, the Hokies walked out of South Bend with a gutsy 34-31 come-from-behind victory.
It wasn't pretty. Not at all. Matter of fact, if you were watching the game on TV, you probably either had a couple of choice words, spit your food out of your mouth or even attempted to hit your TV but thought better of it. I am glad you did. You see, the Hokies, yes the Hokies… they did this thing, they rallied. For the first time this season when being down it actually looked like the Hokies were still okay even when they were down 24-7.
"We didn't rush anything," Hokies quarterback Jerod Evans said.
Evans accounted for three touchdowns – two passing and one rushing. Evans' touchdown pass to Bucky Hodges in the fourth quarter was his 24th throwing touchdown this season, marking Tyrod Taylor's record set in 2010.
With the throwing and running touchdowns against the Irish, it marks Evans 31st touchdown of the year with 24 through the air and seven on the ground moving him past Logan Thomas for the Hokies single-season leader for touchdowns accounted for. Thomas had that record set in 2014 with 23 throwing touchdowns and seven rushing.
"He has faith in knowing that if we continue to do what we are asking him to do on a consistent basis, that will lead him to playing efficiently," Fuente said of Evans.
Even when the Hokies were down 17-0, Evans knew the game was not over.
"We know we are more than capable of doing what we do with the high-powered offense," Evans said. "We don't lose confidence easily when we have that type of talent."
After giving up 299 yards of total offense in the first half, the Hokies defense shut down the Irish in the second half holding them to 150 yards with 67 yards coming off a touchdown run by Josh Adams that extended the Irish lead to 31-21.
"They hit us on a couple of plays early that they had not shown, but our kids, they hung in there," Hokies defensive coordinator Bud Foster said. "It was a tale of two halves. They were doing some unique and different things but we adjusted."
Irish quarterback DeShone Kizer was 13-of-18 passing for 199 yards with two touchdowns in the first half was a deplorable 3-of-15 for 36 yards in the second half.
"We played better after halftime. I don't think there was any great revelation at halftime other than telling the kids we have to play better," Fuente said on his teams second half performance. "I think guys settled and got their feet underneath them and felt like they would execute and have a chance to have success."
The loss to Virginia Tech clinched a losing season for the Irish – just their 14th losing season in the 128 seasons. Kelly's record now at Notre Dame is 59-30 in seven seasons. Kelly will finish with his second losing season in 26 seasons as a coach. Only other time Kelly had a losing season was his first year at Central Michigan when the team went 4-7 in 2004.
According to a source here at Fighting Gobbler, the Hokies could make a jump back in the College Football Playoff poll and it could be anywhere from 20-25.
More from Fighting Gobbler
This article originally appeared on