Hokies Move Up to 14th in College Football Playoff Poll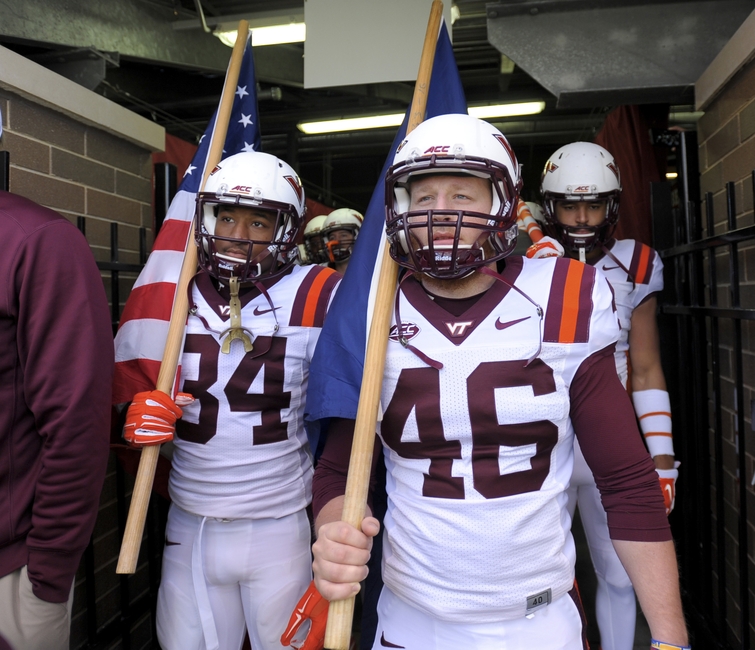 Hokies climb five spots in newest College Football Playoff Rankings
The Virginia Tech Hokies struggled to a 24-21 victory over Duke last Saturday afternoon in Durham for their third straight win.
After successfully climbing in the AP Poll that was released on Sunday, the team was looking to hopefully make an upward move in the only poll that matters this time of year, ESPN's College Football Playoff Poll.
Despite looking inconsistent in their narrow win over the Blue Devils, the CFP Committee gave merit to the Hokies' road win, and moved Justin Fuente's 7-2 squad up five spots in the rankings, from number 19 to number 14. The Hokies benefited not only from many ranked teams in front of them losing last weekend, but also for moving another step closer to the ACC Championship Game in Orlando.
Virginia Tech is 5-1 in conference play this season, which currently sits them in a tie atop the Coastal Division with the North Carolina Tar Heels.
The Hokies, of course, own the tie-breaker over the Tar Heels due to the 34-3 shellacking that they put on Larry Fedora's team back on October 8th. North Carolina travels about 15 minutes down the road to face off against cross-town rival Duke on Thursday night in Durham.
Want your voice heard? Join the Fighting Gobbler team!
If the 'Heels lose on Thursday and the Hokies beat Georgia Tech on Saturday, Virginia Tech will clinch the Coastal Division crown for the first time since the 2011 season, when they went to the ACC Championship and lost to the Tahj Boyd-led Clemson Tigers.
If all holds true the rest of the season, it appears that the same two teams will once again meet to decide the conference champion in the beginning of December.
More from Fighting Gobbler
This article originally appeared on