Heisman watch: Reason #246 why Deshaun Watson deserves the trophy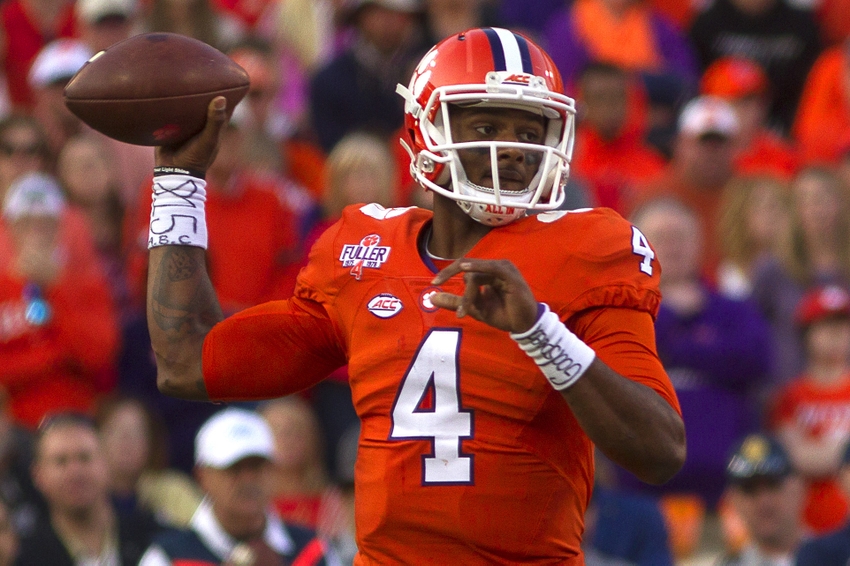 Yes, we can all agree that Lamar Jackson is a great QB-but no one epitomizes the Heisman ideals quite as well as Clemson QB Deshaun Watson.
According to the Heisman Trophy site, the trophy is meant to be awarded, "to the most outstanding player in college football in the United States whose performance best exhibits the pursuit of excellence with integrity. Winners epitomize great ability combined with diligence, perseverance, and hard work."
I think that the Heisman committee has forgotten about what the Heisman is supposed to mean. I have heard sports pundits claiming that the trophy is supposed to go to the best player on the best team. If that were the case then Alabama would pretty much have a lock on it for most of the last decade. Nonetheless, Deshaun Watson has the statistical chops to impress anyone.
He put up record numbers and led Clemson to No. 2 final national ranking and 14-1 record after an appearance in the College Football Playoff National Championship Game. He did this despite a nasty injury to his ACL in 2014. Watson has an 18-2 record as a starter. He is the first quarterback in FBS history to pass for at least 37 hours and throw 35 or more touchdown passes in the same academic year. On the field, he became the first player in FBS history to total 4,000 passing yards and 1,000 rushing yards in a season. He is 67-94 (.713) for 817 yards, seven touchdowns and no interceptions in the fourth quarter over his career, and he has 43 Clemson records. In addition, the guy is also a Dean's List student.
Yet if you look at the statement from the Heisman Trophy site, the trophy means a great deal more than statistics and numbers. While Watson's stats are indeed stellar, the word "integrity" is the one that really epitomizes Watson. He grew up in Gainesville, Georgia, in a family that valued ethics as much as sports.
Watson's family lived in a home built by Habitat for Humanity. In this spirit, Watson has given back, helping other families in need by building Habitat for Humanity houses with his teammates and coaches. Watson was named to the AFCA Good Works team, which recognizes players who dedicate their time to bettering the community and the lives of others.
Watson has every quality that the Heisman Trophy values and more. If he doesn't win this year the committee needs to rethink what the trophy is all about.
More from Rubbing the Rock
This article originally appeared on