Heisman Trophy Watch 2016: Top 5 candidates after Week 9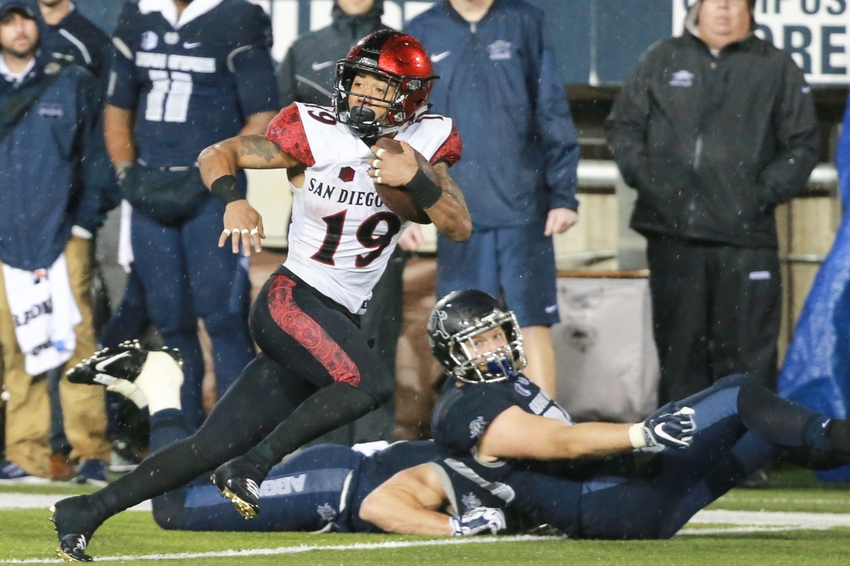 Week 9 is in the books and here is who stands out as top Heisman Trophy candidates heading into Week 10.
Surprisingly, the 2016 college football season has been relatively tame when it comes to shocking upsets and breakout candidates for the Heisman Trophy.
Heck, even big name players have faded into the background this season. Guys like Christian McCaffrey, Royce Freeman and DeShone Kizer have gone from surefire candidates to for the trophy to playing for struggling teams and taking a step back production-wise.
That doesn't mean that some guys haven't jumped out as impressive players this season, potentially setting themselves up for Heisman hopes in 2017. A prime example of that is Texas A&M freshman running back Trayveon Williams and even Alabama quarterback Jalen Hurts.
Another week of hearing about the Jabrill Peppers for Heisman campaign and he looked solid on defense yet again, but is nothing more than a pretty good defender and elite athlete. He scored a touchdown from three yards out and returned a botched two-point conversion, uncontested, for a score. He continues to be solid, but he's not a realistic threat to win, in my opinion.
However, I'm willing to eat my words if he somehow does come away with the coveted award at the end of the year. He will need a mammoth finish to the season with some big-time punt returns and Michigan will probably have to win the Big Ten.
With that, let's take a look at who I believe should be the top five Heisman Trophy candidates after the ninth week of the season? Contenders are starting to take shape.
5
Donnel
Pumphrey
RB,

San Diego State
How has Donnel Pumphrey not become a household name by now? The senior running back for San Diego State has to be considered one of the most underrated players in the country and, realistically, he's the best one in college football to this point in the season.
Pumphrey's strong 2016 season is not a fluke, though. The fourth-year stud has been a force throughout his career with the Aztecs. As a freshman, he had 752 yards rushing and eight touchdowns and showed a presence in the pass game as well, catching 22 passes for 234 yards and two more scores.
Following that up with 1,867 yards rushing as a sophomore and 1,653 as a junior with 40 total touchdowns in those two seasons, it's no wonder why he's been such an effective runner this season.
The veteran back for San Diego State is running through opponents at a record pace and he's on track to finish the year with over 2,000 yards. Saturday's game against Utah State was the first time this season he failed to reach the end zone, but he did finish with 223 yards on 22 carries.
San Diego State's run game has been hard to stop and he's the reason why. He's racked up 1,469 yards and 13 touchdowns with a 6.6 yards per carry average through eight games. This kid is the real deal and should be considered a top candidate as long as the Aztecs keep winning.
4
Baker
Mayfield
QB,

Oklahoma
He's back. Baker Mayfield seemed to be in witness protection for the better part of the 2016 season, but after five straight wins and an unbeaten start to Big 12 play, the junior quarterback has vaulted back into the race for the Heisman Trophy.
Oklahoma was just 1-2 to start the season with losses to Houston and Ohio State and it looked like the Sooners were essentially eliminated from College Football Playoff contention and they'd have no hope for another conference title. However, that has been the exact opposite of the case through nine weeks.
The Sooners have been on a tear and Mayfield is one of the main reasons why. Heck, it's surely not because of the defense which has given up 40 points or more in four games this year.
Mayfield is coming off another solid performance against Kansas last week. No, the Jayhawks are nothing special, but to pass for 236 yards and four touchdowns while completing 16-of-24 passes to lead his team to a 56-3 victory is telling of how much better he has gotten.
There's a good chance that Mayfield is actually better this season than he was last year when the Sooners were No. 3 in the country and made it to the playoff. He has passed for 2,584 yards, 27 touchdowns and just five picks with a 70 percent completion rate this year.
3
Jake
Browning
QB,

Washington
Jake Browning is just ahead of Baker Mayfield on the Heisman watch this week because he has probably been the most consistent pure passer in the nation through nine weeks. The Washington quarterback also has a better chance to win the award because the Huskies have yet to lose a game and they're No. 4 in the country.
Staring a playoff berth right in the eyes, Browning has been as calm, cool and collected as any quarterback in the country this season. It's hard to believe this kid is just a sophomore since he plays with such confidence in the pocket.
The Pac-12 is having quite a down year, but the Huskies are taking advantage of that and as long as they take care of business from this point on, it's all but guaranteed they make it to the College Football Playoff and Browning will be a top-three Heisman finalist.
Browning may not be trending up or down at this point since he's coming off his two most inaccurate games of the season, completing 50 percent of his passes against Oregon State two weeks ago and 60 percent against Utah last week. Still, he threw for 477 yards, five touchdowns and one pick in those games.
As long as Browning gets back on track this week and leads the Huskies to another win, he will be in the top three on the Heisman watch list yet again.
2
Deshaun
Watson
QB,

Clemson
I've seen people calling for Deshaun Watson's Heisman candidacy to take a big hit after the past few weeks, but the junior quarterback engineered his second-biggest win of the season over Florida State on Saturday. He has two big wins in ACC play over the Seminoles as well as Louisville.
With four games left on the schedule, Clemson should be heavily-favored to win out and potentially annihilate whoever it plays in the ACC title game. The Tigers are clearly the top team in the conference, but they need Watson to continue to play at a high level.
Watson is coming off yet another 300-yard passing performance against Clemson's big rival. He threw for 378 yards and two touchdowns with two interceptions. After a slow start to the season, he has passed for at least 300 yards in four of his last five games.
The main area of concern which forced me to consider moving him down a spot or two in my rankings has been his interception rate. He threw another two picks against Florida State and now has 10 on the year. He did throw 13 as a sophomore last season, but his 35 touchdowns more than made up for it.
Currently, he has 22 touchdowns with those 10 picks, and he needs to cut down the turnovers if he wants to be seriously considered for the award.
1
Lamar
Jackson
QB,

Louisville
Has there been a more exciting player in the entire country this season? Some would argue that distinction goes to the talented athlete Jabrill Peppers of Michigan who plays 10 different positions, but Lamar Jackson has been the most productive college football star this season.
In fact, through eight games, the sophomore quarterback has thrown 22 touchdown passes while rushing for 16 more. He's been a touchdown-scoring machine and has led the Louisville Cardinals from a slightly above average team in the preseason polls to a top-five squad.
Teams in the ACC have been gunning for Jackson and the Cardinals over the past few weeks and they've been getting some inferior opponents' best efforts. For example, Duke and Virginia have given the Cardinals slight scares as Louisville has had to hold on for dear life for 10 and seven-point wins, respectively.
Jackson has been the guiding force in the wins and his impressive play-making ability kept the Cardinals in those games when it looked like they could have crumbled.
Virginia gave the Cardinals the latest scare, but Jackson's 361 yards and four passing touchdowns saved the day. He added 88 rushing yards and is just four yards away from the 1,000-yard mark on the ground for the season.
This kid has to be the clear frontrunner.
This article originally appeared on