Heisman Trophy Watch 2016: Top 5 candidates after Week 4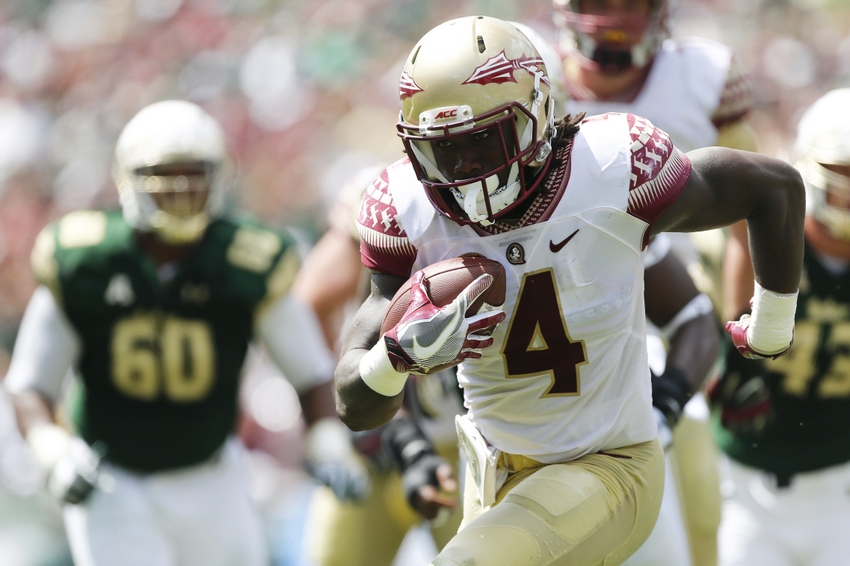 Week 4 is in the books and here is who stands out as top Heisman Trophy candidates heading into Week 5.
The college football season has been full of surprises thus far. Top Heisman Trophy candidates have faltered and have yet to have a huge impact for their teams on the season while other under-the-radar players have jumped out to huge starts to the year.
Guys like Donnel Pumphrey of San Diego State, Jake Browning of Washington and Lamar Jackson from Louisville have all gone from relative unknowns to superstars at the college football level.
Teams such as Michigan State, Notre Dame, Georgia, Florida and LSU all lost and will likely drop a bit in the polls. You might be saying, 'Well, Notre Dame wasn't ranked anyways,' but they're likely out of any contention to either be ranked or even sniff a playoff appearance this season.
It's been a wild year thus far, and don't expect that to change any time soon. Top teams are falling to unranked foes and even some ranked matchups are ending in blowout fashion — just ask Florida State, Georgia and Michigan State all from the past couple of weeks.
Week 5 of the college football season is approaching and we might just have an entire new batch of Heisman Trophy candidates compared to last week. OK, many remain the same, but a couple of new additions have been made to the watch list.
5
Trayveon
Williams
RB,

Texas A&M
Last week, it was San Diego State running back Donnel Pumphrey who came in at No. 5 on the Heisman Trophy watch list, but since he had a bye, it's new breakout star Trayveon Williams' turn in the spot. Williams put on quite the show on Saturday night against Arkansas, giving Texas A&M a 45-24 win over the SEC foe.
Williams didn't even get the bulk of the touches early on, it was Keith Ford's backfield. The sophomore running back finished with 55 yards on 10 carries, a productive day's work.
However, when Trayveon Williams touched the ball, he seemed to go the distance, or close to it. The true freshman and former three-star from Houston, Texas, had himself a day on the national stage. He might not have the numbers necessary to be a Heisman candidate right now, but if he continues the pace he's had over the past two games, he can achieve it.
Remember the first freshman to ever win the Heisman Trophy was Texas A&M's Johnny Manziel back in 2012, and Williams may push to be the third ever and second from the same school.
After a performance in which he ran for 153 yards and two touchdowns on just 12 carries, showing the burst of a college version of Melvin Gordon, Williams' yards per carry average is up to 9.7 on the year. Impressive stuff.
4
Dalvin
Cook
RB,

Florida State
Brace yourselves, college football fans, Dalvin Cook is back. It took him three weeks to look like his old self from 2014 and 2015, but the junior running back for Florida State played like a true Heisman candidate against South Florida in Week 4.
Playing South Florida on the road in Week 4 seemed like it'd be a trap game for the Seminoles, but they proved to be back after a blowout loss to Louisville the game before. Cook also showed why he was a top Heisman candidate to start the season, rushing for a season-high 267 yards and two touchdown and he also caught four passes for 62 yards.
After three quiet games in which he totaled just 228 yards and two touchdowns on under five yards per carry, I didn't think there was any way he'd make our Heisman Trophy watch list any time soon. He proved me wrong with a gigantic game against the Bulls.
Now that he's had a huge game against South Florida, his numbers through four games look much more Cook-like as he's rushed for 495 yards and four touchdowns on 6.3 yards per touch. If he puts together a couple more games like this, the Heisman Trophy might be his to lose in 2016.
3
J.T.
Barrett
QB,

Ohio State
Ohio State quarterback J.T. Barrett had the week off as his Buckeyes get to prepare for Big Ten play following a huge victory over Oklahoma in Week 3. The Buckeyes beat the Sooners relatively handily, 45-24, and moved up to No. 2 in the latest AP Poll.
Why is Ohio State still so good even though it lost guys like Mike Thomas, Jalin Marshall, Braxton Miller, Cardale Jones and Ezekiel Elliott on offense? Look no further than junior dual-threat J.T. Barrett.
The third-year starter from Wichita Falls, Texas, has led the Buckeyes to a ton of success in the past. In fact, as a true freshman in 2014, Barrett was given the nod as the starting quarterback when Miller went down with an injury, engineering an 11-1 regular season and trip to the Big Ten title game.
Jones would eventually take over for him for the title game and the College Football Playoff victories because of an injury, but he was the reason the team even made it that far.
On the season, Barrett has passed for 650 yards, 10 touchdowns and just one interception while rushing for another 159 yards and three scores.
2
Christian
McCaffrey
RB,

Stanford
Christian McCaffrey stays put in our watch list as he was No. 2 last week as well. It's tough to find a reason to move a guy down after he posts a 100-yard rushing week, but his silence in the passing game was a bit surprising.
McCaffrey was one of the runner-ups for college football's top award last year and it looked like he might be the favorite this season. He's making a solid run at the trophy through four weeks, and three games, but he needs to post more video game-like numbers such as the ones he had in 2015.
The junior running back faced off against a tough UCLA team in Week 4, rushing the ball 26 times for 138 yards and catching two passes for 13 yards. For the first time in recent memory, the talented back didn't reach the end zone, but he will get back there in Week 5, almost assuredly.
Stanford might be one of the top title contenders in the country and most definitely the best from the Pac-12, but if McCaffrey plays well enough, the Cardinal are going to be difficult, if not impossible, to beat in the regular season.
1
Lamar
Jackson
QB,

Louisville
Surprise, surprise. Lamar Jackson tops our Heisman rankings once again. The sophomore dual-threat continues to be the most exciting player in college football, adding seven touchdowns to his Heisman resume in Week 4.
The Louisville Cardinals have gone from a solid No. 19 team to start the season all the way to No. 3 in the AP Poll after a big Week 3 win against Florida State to the tune of 63-20. Jackson has been the main reason for all of the success and when you have a guy who's scored 25 total touchdowns in four games, you're not going to lose too many games.
Louisville's rise has been somewhat surprising, as has the emergence of Jackson. People knew Jackson would be a threat to win the Heisman eventually during his career, but not many believed it would happen this early on.
Taking on Marshall in Week 4, the sophomore added more accomplishments to his already-growing resume, passing for 417 yards and five touchdowns and rushing for 62 and another two scores.
Jackson hasn't recorded less than five touchdowns in any game this season nor has he had less than two rushing scores in a contest.
This article originally appeared on