Heisman Trophy Watch 2016: Top 5 candidates after Week 13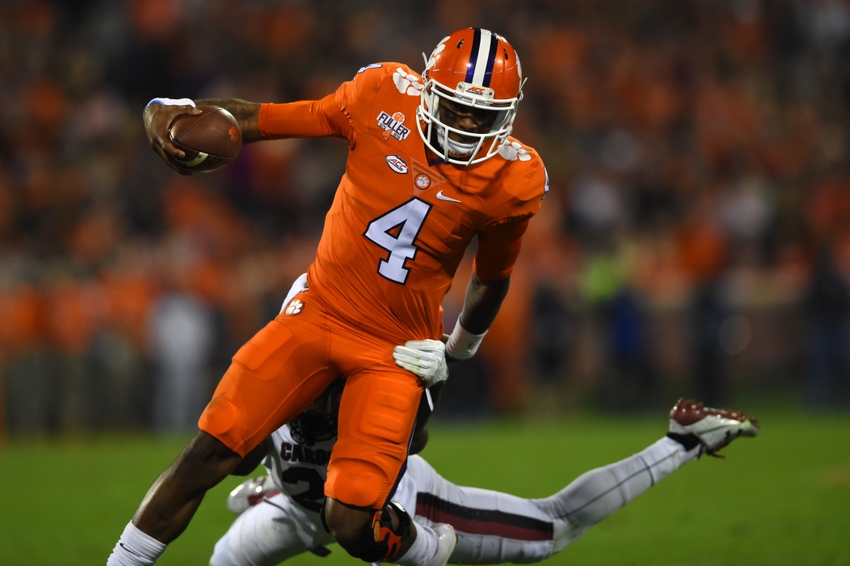 Week 13 is in the books and here is who stands out as top Heisman Trophy candidates heading into Week 14.
What a season it's been. The 2016 campaign looks to be headed for an exciting finish as the top teams in the country are beating up on each other while aiming toward the finish line. On those top teams are some elite players who look to take home the Heisman Trophy.
Although the main prerequisite for Heisman contention is playing for a serious national title threat, there are some players who haven't quite fit that description who might just be finishing in the top five of voting this year.
Before the season, it looked like guys such as Joshua Dobbs, Calvin Ridley, Leonard Fournette, Christian McCaffrey, Royce Freeman, Nick Chubb and DeShone Kizer would be contending for the award, but the year has not gone the way those players have hoped.
In fact, Dobbs has been decent but his Volunteers have been average. Ridley is just not putting up ridiculous enough numbers to be considered as a Heisman candidate at receiver. Fournette has struggled to stay healthy and LSU is average. McCaffrey is fighting his way back to elite status, but it's too little, too late. Freeman's Oregon Ducks have been awful, as have Kizer's Fighting Irish. Lastly, Nick Chubb hasn't been headline-worthy, either.
The Heisman Trophy race hasn't gone quite the way anyone had expected, but there are still some impressive contenders. Let's take a look at the top five after Week 13.
5
Dalvin
Cook
RB,

Florida State
You're probably asking why I have Dalvin Cook on here when the Florida State Seminoles aren't even playing in the ACC Championship, but the answer is simple: the current Heisman frontrunner is also watching the conference title from home with three losses.
I'll be the first to admit Cook disappeared from my radar after the first three games of the season. The junior running back was taking a back seat to his own redshirt freshman quarterback who was impressing early on. Since then, he has been outstanding.
In fact, Cook has eight 100-yard performances in the last nine games and looks like the best running back in the country. I'd hate to have a Heisman list dominated by quarterbacks when a guy like Cook is having the best year of his impressive career.
Coming back from a hamstring injury a season ago, Cook has looked new and improved, rushing for 1,620 yards and 18 touchdowns on 6.0 yards per carry. He has also caught 30 passes for 426 yards and a touchdown. A dual-threat running back like this is so valuable and he will be a force at the next level.
Cook is having a great year and it has gone unnoticed by many.
4
Baker
Mayfield
QB,

Oklahoma
If you watched Baker Mayfield and the Oklahoma Sooners in the first three games of the season and lost all hope, you've missed out on an incredible eight-game stretch. The Sooners are now 9-2 and preparing for their biggest game of the season against Oklahoma State.
The run couldn't have been possible if it wasn't for junior gunslinger Baker Mayfield and his star receiver Dede Westbrook. Those two have really turned things around and this offense has been clicking on all cylinders.
During this eight-game win streak, Mayfield has passed for at least 300 yards five times and has thrown at least four touchdowns on four occasions. After the first three contests, it looked like he wouldn't come near his numbers from last season, but Mayfield is on pace to surpass those totals within the next game, or two.
Oklahoma is coming off a bye this week so I had to move Mayfield down because other guys performed well while he wasn't playing. However, he is one touchdown and less than 400 yards away from breaking last year's marks and his completion rate is up three percent.
3
Jake
Browning
QB,

Washington
Through the first nine games of the 2016 season, Washington sophomore quarterback Jake Browning looked like a near-lock to come in either first or second place in Heisman voting. However, he had a rough two-game stretch in which he three three touchdown passes to four interceptions and he looked pedestrian in a USC loss.
Washington has since rebounded to close the regular season on a strong note and the Huskies are headed to the Pac-12 title game this weekend. Facing off against a tough Colorado team will be tough, but if Browning can put together a solid performance and pull out a win, leading the Huskies to the College Football Playoff, he will be back in contention.
Browning is coming off his best game since the California win nearly a month ago in which he passed for 378 yards and six touchdowns. He just led Washington past rival Washington State by a score of 45-17 while passing for 292 yards and three touchdowns.
On the season, he has passed for 3,162 yards which isn't necessarily eye-popping, but his 40 touchdowns to just seven interceptions are what's keeping his Heisman hopes alive. If he doesn't win this year, he will be the frontrunner in 2017.
2
Deshaun
Watson
QB,

Clemson
Deshaun Watson may have played his last game in Death Valley during his collegiate career. The junior quarterback for Clemson was a Heisman finalist last season but has struggled with interceptions this year and could finish second or third, at best.
However, Watson is coming off his best game of the season against South Carolina in Week 13. He passed for 347 yards, but had six touchdown throws for the first time this season and he was 26-of-32. If he can show that kind of accuracy from this point on and lead the Tigers to the playoff, then Watson could be getting an invite to the Heisman presentation.
After last season when Watson led the Tigers to the national title and nearly pulled off the upset against Alabama, I thought he'd easily be the winner of the award this year. However, he hasn't quite lived up to the billing.
If it weren't for his 14 interceptions, a career-high, Watson could potentially be the frontrunner to win the Heisman Trophy this season. He will need to have the game of a lifetime against Virginia Tech in the ACC Championship in order to steal the trophy from a fellow ACC dual-threat.
1
Lamar
Jackson
QB,

Louisville
Racing out to a big lead in the Heisman Trophy race at the beginning of the year, it seems as if sophomore quarterback Lamar Jackson has been stifled a bit. His Louisville Cardinals have come back down to earth even though he's putting up some solid numbers in the run and pass games.
However, Louisville has lost two straight games to Houston and Kentucky and now it find itself on the outside of the New Year's Six bowl race, looking in. Just a few weeks ago, the Cardinals looked to be snubbed of a top-four playoff spot, but the next week they were defeated by 26 against an unranked Houston team.
Jackson had his worst game of the year against the Cougars, passing for just 211 yards and rushing for 33, but he was so far ahead in the race that it didn't much matter.
A second straight loss has made the race much more interesting. Guys like Deshaun Watson, Baker Mayfield, Jake Browning and Dalvin Cook are gaining ground because the Cardinals' struggles even though they can't all be placed on Jackson.
The sophomore did show up against Kentucky, though. He passed for 281 yards and two touchdowns with a season-high three interceptions. Jackson also rushed for 171 yards and two touchdowns, but his three picks and the Cardinals' poor defense led to the loss.
Can he hold on to the Heisman or will it evade his grasp?
This article originally appeared on