Heisman Trophy Watch 2016: Top 5 candidates after Week 12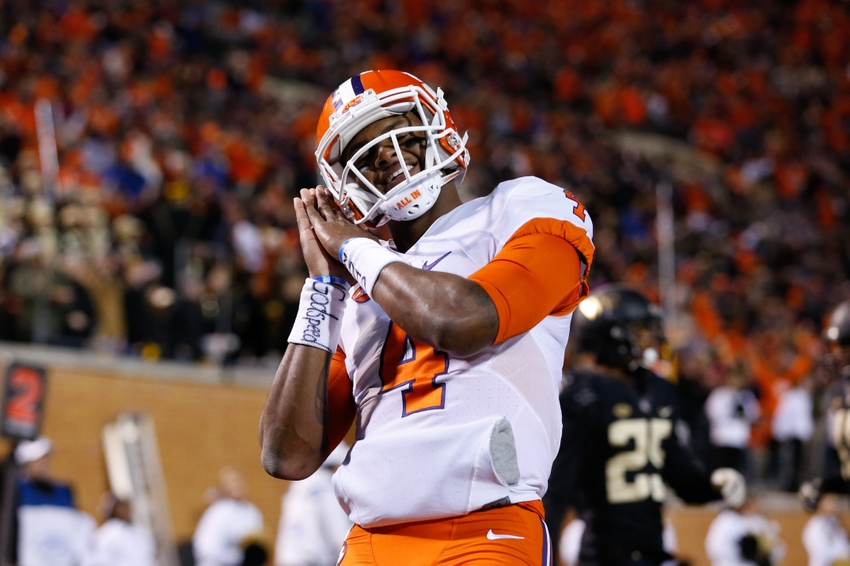 Week 12 is in the books and here is who stands out as top Heisman Trophy candidates heading into Week 13.
The 2016 season is coming to an end and the Heisman Trophy race is beginning to really take some shape. There are five players who stand out above the rest.
Unfortunately, not every top player in college football can be considered for the Heisman Trophy. One major qualification for candidacy is that the player must be part of a contending team or at least one that is around 10 wins by the end of the regular season.
There have been a number of players who have been impressive this season but because they don't play for national contenders, they get left in the dust. Texas' D'Onta Foreman is one of the best running backs in the nation, but his Longhorns have been mediocre this season and are coming off a loss to Kansas.
Another example would be San Diego State's Donnel Pumphrey who has been the most underrated back out there. However, the Aztecs lost to Wyoming last week and he had his worst week of the year, basically eliminating him from my list.
Some usual suspects have been absent all year such as Leonard Fournette, DeShone Kizer, Christian McCaffrey and Royce Freeman. All of those guys have either struggled this season or are on struggling teams and have found themselves outside of the race.
Amid another crazy week of college football action, a small handful of Heisman Trophy contenders stood out above the rest. Who tops this week's list?
5
Dalvin
Cook
RB,

Florida State
I know, Dalvin Cook is on a team that has three losses on the season and is out of the conference title race, but the Seminoles are still good enough to have a potential Heisman winner. There's a good chance Florida State finishes the regular season 9-3 and heads to a decent bowl game, giving the elite performer a shot.
The junior running back is putting up some unbelievable numbers, which is impressive seeing as he's coming off a hamstring injury that hampered him in 2015. He has looked healthy since the first couple of games and might be the best back in the nation.
While Leonard Fournette might be on this list, or Christian McCaffrey, if he was on an SEC-contending team, Cook is taking advantage of a slightly above-average season for the Seminoles to make the list.
Cook had yet another solid game in Week 12 against Syracuse. The highlight machine finished the game with 225 yards and four touchdowns on 28 carries. The Seminoles had no problem dismantling the Orange and that was a major reason why he didn't get any catches.
On the season, he has 1,467 rushing yards and 17 touchdowns as well as 27 receptions for 400 yards and another score. That's Heisman-worthy.
4
Jake
Browning
QB,

Washington
The Jake Browning hype machine was alive and kicking just a couple of weeks ago as he was probably my second-favorite Heisman candidate. He was looking like one of the best decision makers in the country and made very few mistakes.
However, he has thrown four interceptions in his last two games and his two against USC last weekend helped lead the Trojans to an upset victory. He will need to lead the Huskies to an 11-1 regular season record and a Pac-12 title if he wants to have a shot at the Heisman.
It's unfortunate that the trophy winner is decided before bowl season as Browning would have had an opportunity to improve his stock if he could lead the Huskies to the College Football Playoff and potentially a title game appearance.
Still, the sophomore quarterback has been impressive this season. He may be suffering through a rough stretch in which he has just three touchdowns to four interceptions after putting up 34 passing scores and three picks through the first nine games.
Browning will face a tough Washington State team this weekend and that could decide whether he stays in the race or not.
3
Deshaun
Watson
QB,

Clemson
People love to hate on Deshaun Watson lately for some reason. No, he hasn't been the same player who we saw last year in the Clemson Tigers' undefeated regular season and playoff run, but he turned things around from a mediocre start.
After completing 52-of-70 passes in a losing effort against Pittsburgh at home last week, Watson rebounded with a respectable performance against a surprisingly effective Wake Forest defense. The Demon Deacons have been a major surprise this season and have been holding their own.
Clemson went on the road to face the 6-4 Demon Deacons and came away with a relatively easy win thanks to Watson's clean play and three total touchdowns. The junior dual-threat completed 23-of-33 passes for 202 yards and a touchdowns and rushed for 47 yards and two scores.
Watson remains at No. 3 on the list just because his interception number has been way too high this season. Through 11 games, he has 28 touchdowns and 13 interceptions, but he still has a shot to surpass 4,000 yards and 35 touchdowns by the end of the postseason.
2
Baker
Mayfield
QB,

Oklahoma
Oklahoma might be the hottest team in the country that no one talks about. We always hear about Penn State's rise up the rankings and Alabama's dominance and even the steady play of Michigan and Ohio State, outside of one upset each. However, the Sooners are looking like true playoff contenders after starting the season just 1-2.
The main reason for the success lately? Baker Mayfield. The junior quarterback has been lights out for the past two months, leading Oklahoma to eight straight victories.
Since a 21-point home loss to Ohio State in the middle of September and the bye week to follow, the Sooners have been on a tear. In fact, they have an average win margin of 18.9 during that time while scoring 49 points per game. It's pretty clear that the defense isn't the reason this team is 9-2 right now.
Mayfield has been keeping the Sooners afloat while the defense continues to struggle. He's coming off a big 28-point win over West Virginia in which he was about as efficient as possible with the small opportunity he had to put up big numbers. He completed 9-of-15 passes for 169 yards and two touchdowns and rushed for another two scores.
This guy is rising quickly.
1
Lamar
Jackson
QB,

Louisville
Honestly, at this point it would take the worst game of a career followed by an even worse game to knock Lamar Jackson from the top of the list. The sophomore superstar has been atop the Heisman Trophy watch list all year and it's almost a foregone conclusion that he's going to come away with the coveted award.
There have been rumblings, mostly media-hyped, that Michigan's Jabrill Peppers should be considered a favorite, but if you actually looked at his numbers, you'd realize he's not Heisman-worthy. He's one of the best athletes in the country and a jack of all trades, but a master of none.
Against Houston last Thursday, Jackson finished with 211 passing yards and a touchdown on just 20-of-43 completions while only rushing for 33 yards, a season low. It was his second straight game with only one total touchdown as he's been stymied a bit in recent weeks, but he has an opportunity to close the season strongly against Kentucky.
Jackson is still the favorite to win the award, but he needs to have an impressive showing against the Wildcats to make up for the past couple of weeks and put the upset loss against Houston behind him.
This article originally appeared on