Heisman Trophy Race: In Week 2, Quarterbacks Can Make Strides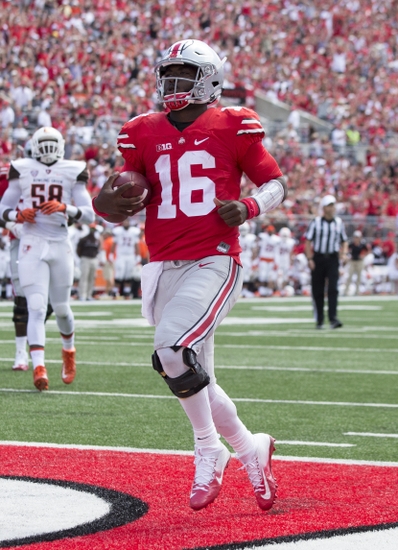 Which quarterback will make the biggest move in the Heisman Trophy race?
Four quarterbacks who were in contention to win the Heisman Trophy before the season started, have a chance to make big strides in week two. Three of these players improved their chances in the first game or at least held their position. One quarterback has slipped but has an opportunity to get right back in contention.
Betting lines and power rankings differ somewhat on the quarterback's rankings. I will stay with the people who actually back up their thoughts with cash, at least for the time being. Odds for the Heisman are according to Bovada.
Let's start with the frontrunner Deshaun Watson the Clemson quarterback.
Deshaun Watson:  9/2 Odds
Watson threw for under 200 yards in his first game, but led Clemson to a close win over Auburn. That was enough to keep him as the top quarterback in the Heisman race as far the betting public is concerned.
He should have a huge game against Troy which would probably solidify his status as the frontrunner. If he doesn't have a big game, this next quarterback could pass him by.
J.T. Barrett  11-2 Odds
J.T. Barrett is back.  If he is as effective against Tulsa as he was against Bowling Green, there is a possibility he will move to the front of the line in the Heisman Trophy race when it comes to quarterbacks.
I think that 379 yards of total yardage and 7 touchdowns will be enough. He will then have had outstanding games against two teams who went to bowls last season.
This next guy's stock is rising and it may improve after this week's game.
Greg Ward Jr.  10-1 Odds
Greg Ward Jr.'s performance in Houston's win over Oklahoma made him a bonafide contender in the Heisman Trophy race. In his second game he could move up even more in some people's eyes.
Ward should have at least 400-500 total yards against Lamar. A slip up by the two guys in front of him and who knows what his status will be next week. After all, he has the best win of any quarterback in contention for the Heisman Trophy.
Some people have cooled on the next quarterback, but don't count him out just yet.
Baker Mayfield  33-1 Odds
Baker Mayfield's statistics were similar to Ward's last Saturday but Houston came away with the victory. That makes a difference to Heisman trophy voters, and bettors.
Mayfield has a terrific opportunity to have a big game this week against Louisiana Monroe. And of course with his athleticism, he could have a Heisman moment that will show up on SportsCenter as well.
Then the following week, Mayfield goes head to head with J.T. Barrett and who knows how that will play out.
Things may change and other quarterbacks may be in the mix after the second game of the season. Three guys to keep your eyes on are Texas Tech's Patrick Mahomes, Notre Dame's DeShone Kizer and the Texas QB Shane Buechele.
But another guy you had better really pay attention to is Lamar Jackson of Louisville. If he comes back with something close to the eight total touchdowns he had in the first game, he is going to draw plenty of national attention.
There are a number of talented quarterbacks in college football this season. As the season progresses, it will be fun to watch them and see which players will end up being Heisman contenders by the end of the season.
This article originally appeared on