Heisman Trophy 2016: 5 Under-the-Radar Candidates after Week 7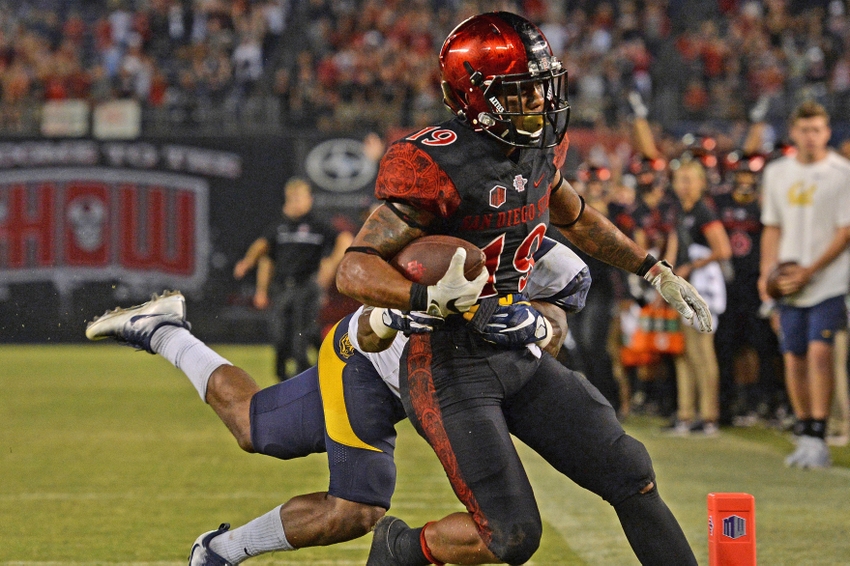 Which surprise Heisman candidates might manage to earn themselves an invite to the Downtown Athletic Club in Manhattan come December?
While it feels this year like the favorites at the top of the Heisman lists are locked in, it is always foolish to try to lock in the finalists this early in the season. While guys like Lamar Jackson and Deshaun Watson seem immovable from the upper reaches of the rankings, there are always bound to be a few surprises during the second half of the season.
So which under-the-radar candidates might manage to earn their way to Manhattan this season? There is still a lot of the regular season still to be played. Injuries and a shift in opponent quality can always have major impacts on the way that things progress in a seeming meritocracy, causing some hopefuls to rise and others to fall out of contention. One way or another, these five candidates have stood out as potential Heisman dark-horse threats once December rolls around.
5. Jeremy McNichols (RB/Boise State)
Junior tailback Jeremy McNichols has a few things working in the favor of his nascent Heisman candidacy. First, Boise State has reached the midway point of its season undefeated, keeping the spotlight on the Smurf Turf so that the nation can witness what McNichols does on a weekly basis. Furthermore, McNichols has been putting up the sort of eye-popping stats that are required for any Group of Five hopeful to even get an invite to the Heisman ceremony in December.
McNichols currently ranks third nationally in all-purpose yards, piling up 188.2 yards per game for the Broncos. The running back from Long Beach is fifth in average rushing yards with 129.2 yards each outing. He also catches an average of three passes per game for 44 yards and fields the occasional kick return as well. Most importantly for Boise State's dreams of reaching another New Year's Six bowl, McNichols also sits just behind Lamar Jackson in total points scored, accounting for more than 14 points per game by himself. If Boise State keeps winning, McNichols will earn himself a look from Heisman voters.
4. Myles Garrett (DL/Texas A&M)
Myles Garrett plays for an SEC West team that is currently undefeated and about to play the defending national champions. Garrett is a workhorse who has been integral to the Aggies' rise to 6-0 and their position as a top-25 scoring defense. But he is also a defensive lineman, and there is little Heisman love for guys in the trenches. Should he make it onto the list of finalists, Garrett would be just the eighth defensive linemen to make it into the final voting.
Most recently, South Carolina's Jadeveon Clowney finished sixth in the voting in 2012 after amassing 13 sacks and 54 tackles. Three years before that, Nebraska's Ndamukong Suh finished fourth in a year where he piled up 85 tackles, 12 sacks, and an interception. LSU's Glenn Dorsey and Virginia's Chris Long squeaked into the top ten together in 2007. Louisville's Elvis Dumervil was tenth in 2004. And Syracuse's Dwight Freeney and North Carolina's Julius Peppers were the only other defensive linemen to make the top ten in the 21st century. Garrett would be in rare company indeed if he makes it into the Heisman top ten in 2016.
3. Carlos Henderson (WR/Louisiana Tech)
The nation's top receiver plays in Ruston for a Conference USA team, and the projected Biletnikoff Award winner could also earn his way into a Manhattan invite. Henderson sat out the Bulldogs' game against UTEP with a minor ankle injury, but he nevertheless ranks third nationally in total receiving yards and averages more per game than anyone else. While receivers always seem to have a hard time gaining much traction in the Heisman race, Henderson's numbers could force voters to pay attention.
Last week the Louisiana Tech star caught 12 passes for 326 yards and five touchdowns. The week before that, Henderson finished with eight catches for 232 yards and three scores. He also went over 100 yards against Texas Tech in a close loss. The junior is also tied for first nationally with ten receiving touchdowns despite missing one game. If he can continue to post games with 200-plus receiving yards, Henderson could begin to threaten Trevor Insley's 17-year-old receiving yards record and catch 20 or more touchdowns.
2. Zach Terrell (QB/Western Michigan)
Like Jeremy McNichols at Boise State, Zach Terrell is one of the offensive stars on an undefeated Group of Five team. Terrell, a senior quarterback from Fort Wayne, Indiana, has been a key reason why Western Michigan is currently 7-0 and in the hunt for a New Year's Six bowl invite. He is currently ranked fourth in passing efficiency, tenth in passing touchdowns, and is the only quarterback with 100 or more attempts who has yet to throw an interception in 2016.
Terrell has added five more touchdowns on the ground, and he is responsible for over 19 points per game by himself.  There is some hope for the quarterback from the mid-major school, though. Last year Navy's Keenan Reynolds finished in the top five in Heisman voting. Northern Illinois' Jordan Lynch finished seventh in 2012 and in the top three in 2013. Fresno State's Derek Carr also made the top ten in 2013, finishing ninth in the voting. Case Keenum of Houston was seventh in 2011. Ultimately precedent shows that, among smaller schools hoping to land a surprise Heisman hopful in the pool of candidates, quarterbacks have the best shot of reaching Manhattan.
1. Donnel Pumphrey (RB/San Diego State)
Donnel Pumphrey, the nation's leader with 207 all-purpose yards per game, is beginning to show up on some people's Heisman radars. Pumphrey is averaging more than 185 yards per game just on the ground. Yet the senior back from San Diego State, who earlier this year broke Marshall Faulk's all-time school rushing records, remains under the radar for most of the country and to most voters. His candidacy is inextricably tied to whether or not San Diego State can rebound from a loss to South Alabama and repeat as Mountain West champs.
Pumphrey is tied with fellow MWC back Jeremy McNichols for second in rushing touchdowns with 11, while he is on pace to have the fifth-best season in terms of rushing yards that anyone has ever put up at the FBS level. He has compiled over 200 rushing yards in three of his six games this season, and while he is not much of a threat in the passing game Pumphrey has nevertheless managed to outgain every other player in the country. If San Diego State manages to win its conference, Pumphrey might very well make it to the Heisman ceremony.
This article originally appeared on