Healthy Sean White, Pettway Needed Against Hungry Georgia Team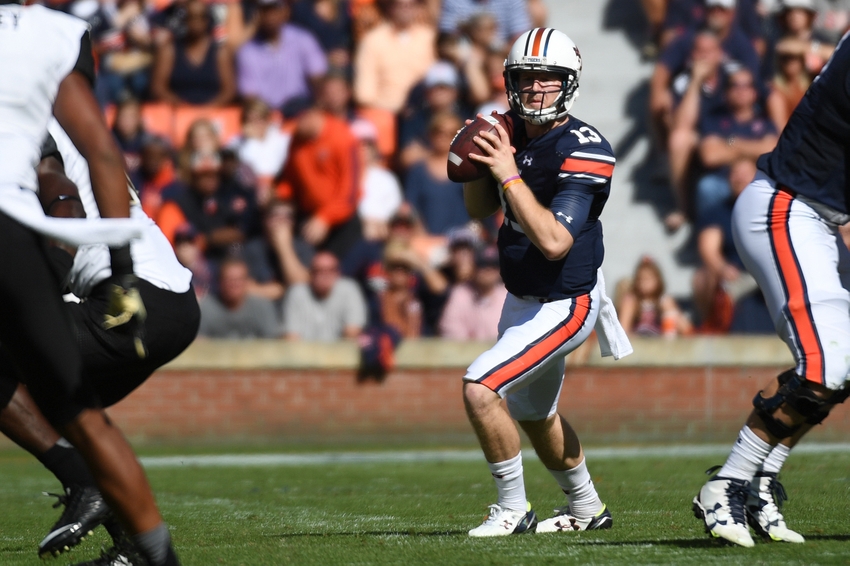 Despite Auburn–Vanderbilt not being the blowout many (ahem) expected — thanks in large part to the first-half absence of quarterback Sean White and being without starting linebackers Tre' Williams and Deshaun Davis for nearly the entire game — both the Tigers and their fans will gladly take it.
It's easy to see why.
With another SEC victory in the bank, coupled with Texas A&M's annual late-season tailspin, No. 8 Auburn (7-2, 5-1) moved within a defeat of Georgia (5-4, 3-4) from making the Iron Bowl a war for the SEC West title and — sorry, East — the de facto SEC Championship Game.
But it wasn't all jubilation when Joshua Holsey, for the second game in a row, sealed it with an interception.
The air went out of Jordan-Hare Stadium when 18-wheeler Kamryn Pettway blew a tire on the way to a sure-fire 72-yard touchdown late in the fourth quarter.
Auburn will need him to get healthy very fast, as he brings a physicality to the offense that would be greatly missed against the Bulldogs in Athens.
And while it was obvious the Tigers missed White in the first half, John Franklin III took a lot of undeserved heat on Twitter and elsewhere for his performance. People shouldn't compare a player who has had but a handful of drives all season and was making his first start to White, who has started all year in addition to five games in 2015.
Nothing that happened changes my opinion that, at the beginning of the season — and with Gus Malzahn calling the plays — Franklin was the correct choice to be the starter.
It was Malzahn — not Rhett Lashlee — who could no longer coordinate an offense with a pocket-passer in the SEC. And it was Malzahn — not Lashlee — who had proven to be a master at commanding a read-option offense.
As long as Lashlee is calling plays — and especially now that White has double-digit starts in the Auburn offense of which he has shown great command — he is clearly the correct choice.
Along with Pettway, White needs to be ready to go by Saturday, because as often seems to be the case, a mediocre Georgia team will be looking to save their season by knocking off the Tigers.
There were more than a few years where Mark Richt's coaching seat was getting warm, only for his pedestrian but talented Bulldogs to play their best game of the year against Auburn, quieting many of those who wanted him ousted.
While first-year head coach Kirby Smart is obviously in no danger of losing his job, 2016 has been and will be lackluster for Georgia, and he knows the surest way to apply some lipstick to that pig.
As for the Tigers?
Auburn has championship aspirations.
This article originally appeared on