Hawkeyes Football: Three Stars From Week One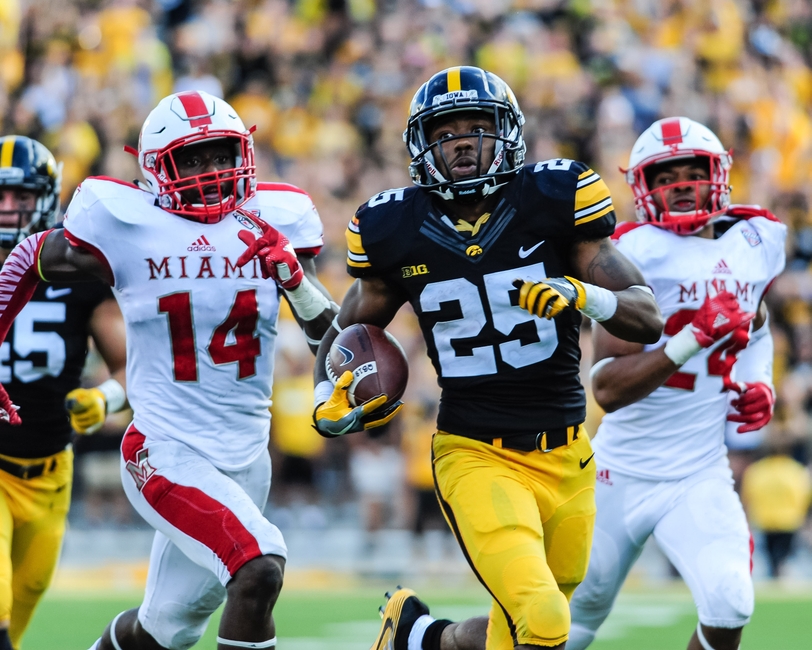 A look at which Hawkeyes shined during the week one win over Miami (OH)
Once the Iowa Hawkeyes jumped out to a 21-0 lead in the first quarter, the game already seemed put away and out of Miami (OH)'s reach. The Hawkeyes lead proved to be safe as they ended up winning 45-21. Although, whether Miami (OH) finally woke up or the Hawkeyes took their foot off the pedal some, a flip switch.
The Redhawks played much better the rest of the way and were only outscored 24-21 in the final three quarters. It wasn't the dominating effort that many expected from Iowa in week one, but it was still a win and the Hawkeyes are 1-0 to start the season.
Even though there are some major concerns following their week one victory, there's also a lot of positives. A lot of questions got answered and a couple of younger players stepped up. With Josey Jewell being ejected early in the first quarter, the Hawkeyes had to rely on their depth earlier than they expected.
Still, despite the ejection and better play from Miami than expected, the Hawkeyes stuck to their game plan and a raucous crowd at Kinnick Stadium helped. Before looking ahead to Iowa State next week, here are a couple of players that stood out in week one.
Akrum Wadley
Just as expected, Kirk Ferentz turned to the run game early on Saturday afternoon. With LeShun Daniels Jr healthy, many expected him to get the load of the carries. While he started out the game getting the first carry of the season, and eventually the first touchdown run from a yard out, Ferentz took advantage of his other running back, as well.
After being the third string running back last season, Akrum Wadley is finally in line to see a solid workload this year. He showed his explosiveness and big play ability against Northwestern in his only start in 2015, but in 2016 he's set to see consistent carries and will need to be able to churn out consistent chunks of yards.
Want your voice heard? Join the Dear Old Gold team!
Wadley did just that in week one. He saw 12 carries, compared to Daniels 10, and finished the afternoon with 121 yards and two scores. Daniels had the long run of the afternoon with a 43-yard touchdown run, however Wadley scored from five and 11 yards out. More importantly, the Hawkeyes showed that they weren't afraid to use either back.
It may have been due to the fact that it was week one, or that Wadley was averaging over 10 yards per carry, but the coaches were not afraid to go to Wadley more than Daniels. His elusiveness and solid running definitely instilled confidence in the coaching staff.
Plus, Wadley added three receptions for 21 yards. Jordan Canzeri was a big part of the Hawkeyes pass game last season, with Daniels needing to step up in 2016 to be a bigger part of the offense. Iowa may be leaning on a different back, though. Wadley's size, speed and quickness is more comparable to a prototypical pass-catching back.
It was only one week, however it doesn't seem like Iowa will favor either back this season. Both got touches in the red zone and Wadley is proving that he's more useful than a change of pace back this year. I would expect Daniels to continue to start, considering he averaged 8.3 yards per carry, but Iowa could have one of the most dynamic running back combos in the nation.
Jerminic Smith
With Tevaun Smith in the NFL now, the Hawkeyes needed someone to step up to help aid their receiving core. Everyone knew that C.J. Beathard would continue to be a game manager and have a strong connection with Iowa's leading receiver in 2015, Matt VandeBerg. Although, it was a new Smith that shined in week one, Jerminic Smith.
VandeBerg still led the team with four catches and 99 yards, although Jerminic Smith came out wanting to prove that he could be the second receiver Iowa is looking for. Coming into the game, Smith only had six catches and 141 yards during his freshman season.
The sophomore receiver had his coming out game in week one, though. He caught three passes for 51 yards and his first career touchdown. With George Kittle dropping an easy touchdown and being nonexistent for most of the game, someone else needed to step up.
It wasn't just his 38-yard reception on a flea flicker or his clutch 12-yard touchdown on fourth down, Smith flashed his versatility right away.
Following his flea flicker catch, LeShun Daniels scored on the next play with a 43-yard run. While it was Smith's reception that brought them in that position, his block on Daniels run helped set him loose. During just his fourth career game, he had a highlight catch, a touchdown reception and a key block that helped create the longest run of the night. Not to mention he also had a 10-yard gain on an end around.
It's just one game but with Riley McCarron dropping passes left and right, and George Kittle not recording one reception, Beathard needed someone to throw to. If Smith can continue being this versatile then he'll continue to see his role in the offense grow, and his speed utilized on end arounds more often. With a couple of more games until Big Ten play, Smith has a chance to cement himself as the team's second best receiver heading into Big Ten play.
Anthony Nelson
The defense was definitely the shaky side of the ball for the Hawkeyes on Saturday. They allowed sophomore quarterback Billy Bahl to throw for 266 yards and two touchdowns on them after being one of the worst quarterbacks in the MAC a season ago. With Josey Jewell getting ejected for targeting and Parker Hesse going out win an injury, Iowa's defense wasn't expected to be as stifling.
Not everyone had a poor night on the defense, but no one stood out more than redshirt freshman Anthony Nelson during his debut with the Hawkeyes. He got an expanded role during his first game due to Hesse getting hurt, and he took full advantage of it.
Nelson ended the night with six tackles, 2.5 sacks and two forced fumbles. He's a strong candidate to win the Big Ten Freshman of the Week.
Jack Hockaday forced the first fumble for the Hawkeyes, however Billy Bahl had a tough time holding onto the ball when Nelson hit him. On the third drive of the game, Nelson sacked Bahl and jarred the ball loose.
The Hawkeyes were up 14-0 at the time but the Redhawks just completed a 67-yard pass and were knocking on the door to make it a one score game. It stopped the drive and led to another Hawkeyes touchdown.
Nelson's second sack came at the end of the game. He sacked Bahl when the the Redhawks were at the 24 yard line when, with Iowa recovering it at the 18 yard line.
The Hawkeyes still had a 17 point lead, however following their 21-0 start the Redhawks outscored the Hawkeyes 21-17 up to that point. Therefore it was a nice confidence booster as Derrick Mitchell Jr ran it in for a five yard touchdown just a couple of plays later.
There are areas on the defense that the Hawkeyes need to address, but defensive end is not one of them. Led by the strong play of Anthony Nelson, Iowa held the Redhawks to just 3.9 yards per carry and forced an uncanny three fumbles, recovering all three. It was as good of a game as Kirk Ferentz could have hoped, now Nelson needs to build on his phenomenal debut.
This article originally appeared on