Hawkeyes Football: Grades for Week One Victory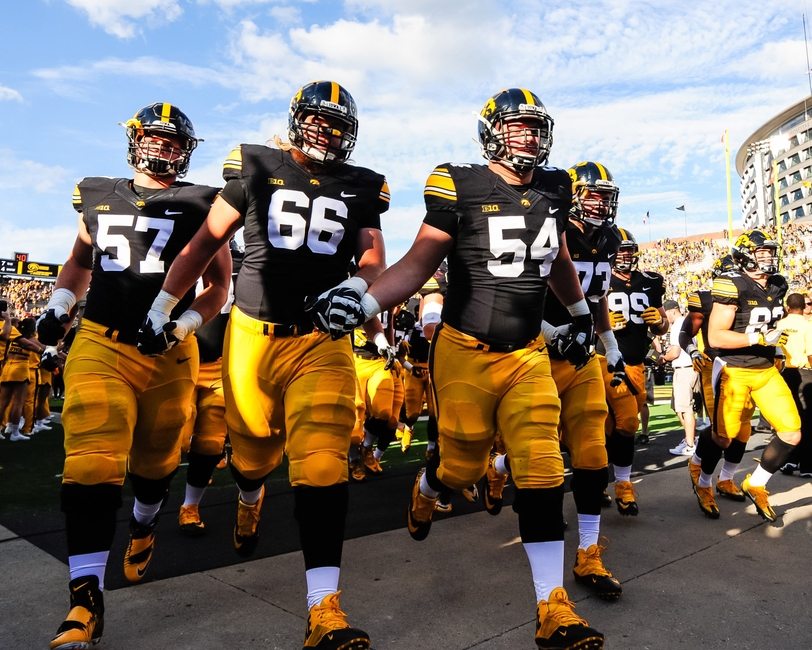 Grading each side of the ball for their performances against the Miami (OH) Redhawks in week one
There are many mixed feelings surrounding the Iowa Hawkeyes first victory of the season. It's hard to be unhappy with a 45-21 victory, but there were some areas for concern. The Hawkeyes still have a couple of weeks before Big Ten play starts to work on things, though.
For a week one against a mediocre opponent, the Hawkeyes did their job. They won big, their starters got to rest at the end of the game and they jumped out to an early lead. Once the Hawkeyes jumped out to a 21-0 lead, it was evident that the Redhawks were playing for pride rather than actually winning the game.
For the Hawkeyes, it was clear that it was hard to keep the same intensity throughout the whole game. The crowd was as loud as expected to start the game but it also died down as the game went on and Iowa pulled away. Just like many favorites who put away teams early, Iowa started to just go through the motions and make careless mistakes.
Either way, the Hawkeyes are 1-0 and have a good chance of moving up the AP Poll with #16 UCLA losing to Texas A&M yesterday. Here are grades for each side of the ball during the Hawkeyes 13th consecutive regular season victory.
Offense – A-
After only averaging 30.9 points per game a season ago, the Hawkeyes didn't wait to start scoring in 2016. The Hawkeyes clearly outmatched the Redhawks, therefore jumping out to an early lead was important. They scored a touchdown on each of their first three drives of the game before punting after their only three-and-out.
Sure, there were some things that needed work on, but for the most part Iowa was a well-oiled machine. They scored four rushing touchdowns in the first half, then opened up the field to start the second half and experienced the same success. The Hawkeyes know they can rely on C.J. Beathard's arm if they need to but they'd rather run the ball, and that's exactly what they did.
With five rushing touchdowns on the afternoon, including one from third-string back Derrick Mitchell Jr, it was evident that Iowa's running game should remain strong in 2016.
Sure, the Redhawks don't have the best defensive line in the nation, but the Hawkeyes only allowed two sacks and averaged 7.3 yards per carry. Plus, Akrum Wadley averaged 10.1 yards per carry and LeShun Daniels Jr averaged 8.3. The Hawkeyes have a great combination of speed and strength in the backfield, and Kirk Ferentz was not afraid to use it.
The biggest concern of the afternoon on the offensive side of the ball came through the air, though. Riley McCarron fumbled a should have been touchdown, that was later ruled an incompletion. Most people felt Iowa caught a break with that call, but McCarron wasn't the only Hawkeye to drop a pass in the end zone.
Senior tight end George Kittle also dropped an easy catch at the end of the game. McCarron only had eight catches coming into the game, however both players are seniors with experience and they each dropped very catchable balls.
Luckily Jerminic Smith stepped up and Matt VandeBerg continued being a reliable top option for Beathard to throw to.
Iowa's offensive line answered any questions surrounding them after Iowa ran crazy in week one. It's hard to really gauge how well they were able to move the ball and how dominating the line was, but only three punts in a game is impressive. The Hawkeyes capitalized on turnovers, didn't commit any and showed their game plan should be just as effective this season.
Defense – C+
Iowa is staying on pace with the 20.4 points per game they allowed in 2015. At the same time, the 21 points Miami (OH) scored on Saturday was better than the 17.9 points per game they scored last season. With the ejection of Josey Jewell for targeting and injury to Parker Hesse, the Hawkeyes had a slight disadvantage, however they weren't nearly as dominating as expected.
Besides Anthony Nelson who recorded six tackles, 2.5 sacks and two forced fumbles, the Hawkeyes defense was mediocre for the most part. Three forced fumbles and sacks and are always a good thing, but it seemed like the good barely outweighed the bad for the Hawkeyes defense.
The Hawkeyes did force three turnovers, but against a quarterback that threw 13 interceptions last season it was surprising to see Billy Bahl throw so well. Bahl did fumble twice but his pocket presence was extremely impressive. He went 19-29 through the air for 266 yards and two touchdowns.
Iowa got to the quarterback for three sacks, but when they didn't get pressure on him Bahl picked them apart. There were too many times on third and long that Bahl would scramble or throw a dump off pass to a running back and Miami (OH) would get close to the first down marker.
Want your voice heard? Join the Dear Old Gold team!
The Hawkeyes were able to hold their ground for the most part, holding Miami (OH) to 5-11 on third down conversions, however the Redhawks went a perfect 2-2 on fourth down. Holding a below-average offense to 45.5 percent on third down doesn't instill a lot of confidence for when they have to play top competition like Wisconsin and Michigan.
Plus, the Hawkeyes only forced one three-and-out and the Redhawks held the ball for 14:06 on two drives in the second half. They ran a total of 25 plays on those two drives and marched down the field for two touchdowns. It could have been due to the Hawkeyes playing a more prevent defense, trying to not give up the big play, but the Redhawks shouldn't have been able to march down the field with ease.
Once Hesse gets healthy and Jewell returns the linebacker situation will be much better, and hopefully so will the defense. With that being said, Greg Mabin continuously got burned on Saturday. He had a near interception off a tipped pass and a pass deflection early in the game, however wide receiver James Gardner had his way with the corner.
Trying to avoid Desmond King, Bahl connected with Gardner six times for 95 yards and two scores. Gardner was clearly superior to Mabin that afternoon, and upcoming teams on Iowa's schedule will watch that and know who to target. Desmond King adds a lot to a defense but Iowa will have problems if Mabin doesn't improve.
Overall, the Hawkeyes held the Redhawks to just 3.9 yards per carry and forced three turnovers. They were missing some key players but Miami (OH) marching down the field on multiple occasions was a surprise. Not many people thought the Hawkeyes would allow three touchdowns, especially if Bahl had no interceptions on the afternoon.
Special Teams/Coaching – A-
With the Hawkeyes scoring 45 points, not many opportunities arose for the kicking game. Keith Duncan made his lone 22-yard field goal and all six extra points. Punter Ron Coluzzi punted three times for 50, 36 and 39 yards. His first punt of 50 yards was impressive, although he never pinned Miami (OH) inside the 20. Still, he was very impressive in his Hawkeyes debut.
In the return game, Desmond King looks like he's ready to bring one to the house any week. He returned two kickoffs for 70 total yards and his only punt return went for 15 yards. Despite not having huge returns, King was electrifying. He made guys miss and put the Hawkeyes in good field position while exciting the crowd.
King also returned the first punt of the season to inside the red zone, but it was brought back due to a targeting penalty on Josey Jewell. It didn't only negate a long return, but it was just a stupid and malicious hit by Jewell overall.
Luckily for the Hawkeyes it didn't come in an important game because it was evident that their defense suffered without Jewell in the middle. The Hawkeyes can't commit dumb penalties, especially in the return game where King looks to thrive in.
Week one's are rarely a chess match between coaches. Kirk Ferentz stuck to his game plan and eventually let C.J. Beathard take a couple of shots down field in the second half after Iowa put the game away. Ferentz was smart by trying to put the Redhawks away early and then resting his starters for the final drive.
Despite there not being a lot of opportunities, the kicking game seems to have the potential to be a strong spot for the Hawkeyes in 2016. Kirk Ferentz handled week one perfectly, just as expected, and coached the Hawkeyes to a 45-21 win and 1-0 start to the season.
This article originally appeared on