Gus Malzahn Hot Seat Meter: 9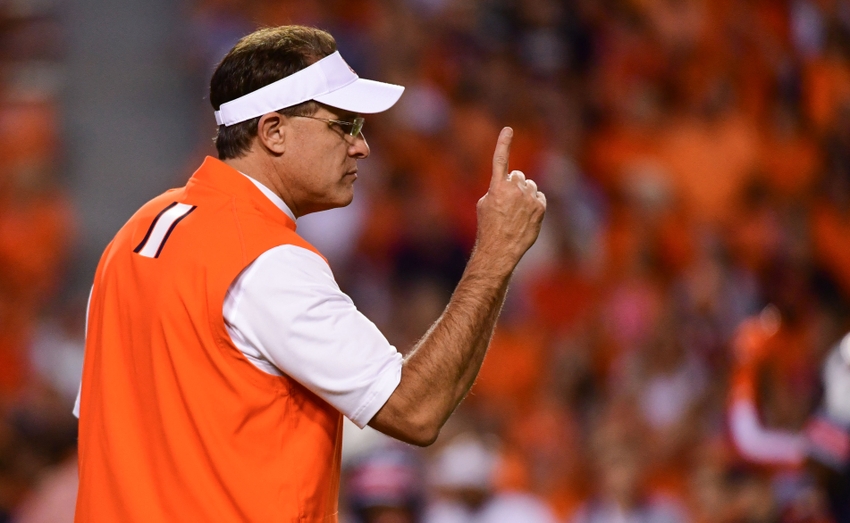 There is no questioning that Gus Malzahn is on the hot seat starting this season, and it only got hotter after the offense's poor performance against Clemson.
Going into the game, had you told me Auburn was only going to lose by six points I would have thought Gus Malzahn put together a great game plan on offense.
However, it was the lack of a good offensive game plan that prevented Auburn from winning the game against second ranked Clemson.
The defense did all it could do to hold down one of the best offenses in the country limiting them to just 399 yards of total offense and 19 points.
It was the offense that failed to pick up the slack.
From the very beginning you could see what a disaster the offense was going to be. Gus Malzahn immediately started rotating quarterbacks like this was a spring game.
It wasn't just the rotating of quarterbacks that was terrible, but the play calling was atrocious and nothing different than what we saw last year.
On the first possession they ran the ball twice with a wide receiver and set Sean White up with a 3-and-16. The very next possession we have John Franklin III in the game.
Jeremey Johnson comes in on the third offensive possession and leads the team down the field for a field goal. On the next possession he runs once and gets sacked twice. So what does Gus do on the next possession? He puts Sean White back in the game.
It is impossible for a quarterback to get into any kind of rhythm with that many quarterback changes.
And then there was the debacle with the running back situation.
Kerryon Johnson had 23 carries for 94 yards, which is great. But Jeremy Johnson got the second most rushing attempts with six. Stanton Truitt, Chandler Cox and Sean White all had four carries. Kameron Pettway, Malik Miller and Kam Martin – all actual running backs – receiver ZERO carries in this game!
That is just mind blowing to me, and very frustrating.
In the end the offense had 17 first downs, 262 total yards and 13 points. They averaged 5.8 yards per pass and 2.1 yards a carry.
For someone who is supposed to be an offensive genius, that's all he can muster with eight months to prepare?
I'm sorry, that's just unacceptable. All he had to do was come up with one big play on offense to give Auburn a chance to score a touchdown.
I hate to call for someone to lose their job, but Gus Malzahn clearly did not have his offense prepared to win this game.
We all held out hope that with an entire offseason Gus Malzahn could come up with a way to score points with the personnel he has, but that's clearly not the case.
With that said, his hot seat meter is at a steady nine after one game. Auburn fans are not happy with him at the moment, and if things don't pick up soon he could be on the way out sooner rather than later.
This article originally appeared on