Gridiron glory will no longer be the legacy of Art Briles era at Baylor
On the night of Dec. 6, 2014, Art Briles literally stood at the center of college football.
Standing at midfield of a brand-new stadium that never would have been built without him, surrounded by students celebrating a Big 12 championship-clinching win over Kansas State, Baylor's coach looked into the television cameras and made his case for why the Bears should be selected for the College Football Playoff.
Never mind that the selection committee the next day opted for Ohio State instead. A football coach at Baylor –€" a school that won 11 Big 12 games in the first 12 years of the league's existence — had his team on the brink of competing for a national championship. A little private school in Waco had overtaken the big football factory in Austin. The Oklahoma Sooners were now looking up the standings at the Baylor Bears.
As it turns out, Baylor's rags-to-riches story was too good to be true. It officially came to an end Thursday when the school fired Briles for his abhorrent handling of sexual assault claims against his players. Baylor football won 50 games over the past five seasons, all the while losing any strand of integrity or decency.
As it turns out, Baylor's rags-to-riches story was too good to be true.
This was no success story. It was a tragedy.
The school's summary of a report prepared by law firm Pepper Hamilton makes it clear in horrifying detail why Briles had to go. In a nutshell, "The choices made by football staff and athletics leadership, in some instances, posed a risk to campus safety and the integrity of the University."
Even as brilliant investigative work by ESPN's "Outside the Lines" revealed ever-more previously unreported incidents of alleged sexual assault by Briles' players, many assumed right up until the moment the news broke Thursday that the school's Board of Regents wouldn't dare remove its football savior.
On the contrary, in a press release that begins with the word "Board of Regents apologizes to Baylor Nation," the school finally took ownership of its repeated negligence and incompetence in its handling of sexual assault cases. It makes clear this was a university-wide breakdown, from a once non-existent Title IX reporting process to wholly unqualified Judicial Affairs officers to completely bungled investigations.
Per the report, 'The football program's separate system of internal discipline reinforces the perception that rules applicable to other students are not applicable to football players.'
But the last four pages of the 13-page document are devoted to athletics and football, and they confirm what previous media reports made clear –€" Briles and his staff made a mockery of the school's disciplinary process and actively discouraged alleged victims from seeking proper recourse. Football coaches "conducted their own untrained internal inquiries." In some instances they "affirmatively chose not to report sexual violence and dating violence to an appropriate administrator outside of athletics," instead meeting directly with the accuser.
Per the report, "The football program's separate system of internal discipline reinforces the perception that rules applicable to other students are not applicable to football players."
All those 63-35 blowouts and 700-yard explosions under Briles still happened. Don't expect the NCAA, burned by its handling of Penn State, to come in and start vacating victories. And no one is going to tear down two-year-old McLane Stadium, the glistening building on the Brazos that never would have been built if not for the renaissance he oversaw.
But gridiron glory will no longer be the legacy of the eight-year Briles era at Baylor. Instead, his program now becomes a cautionary tale for the rest of major college athletics.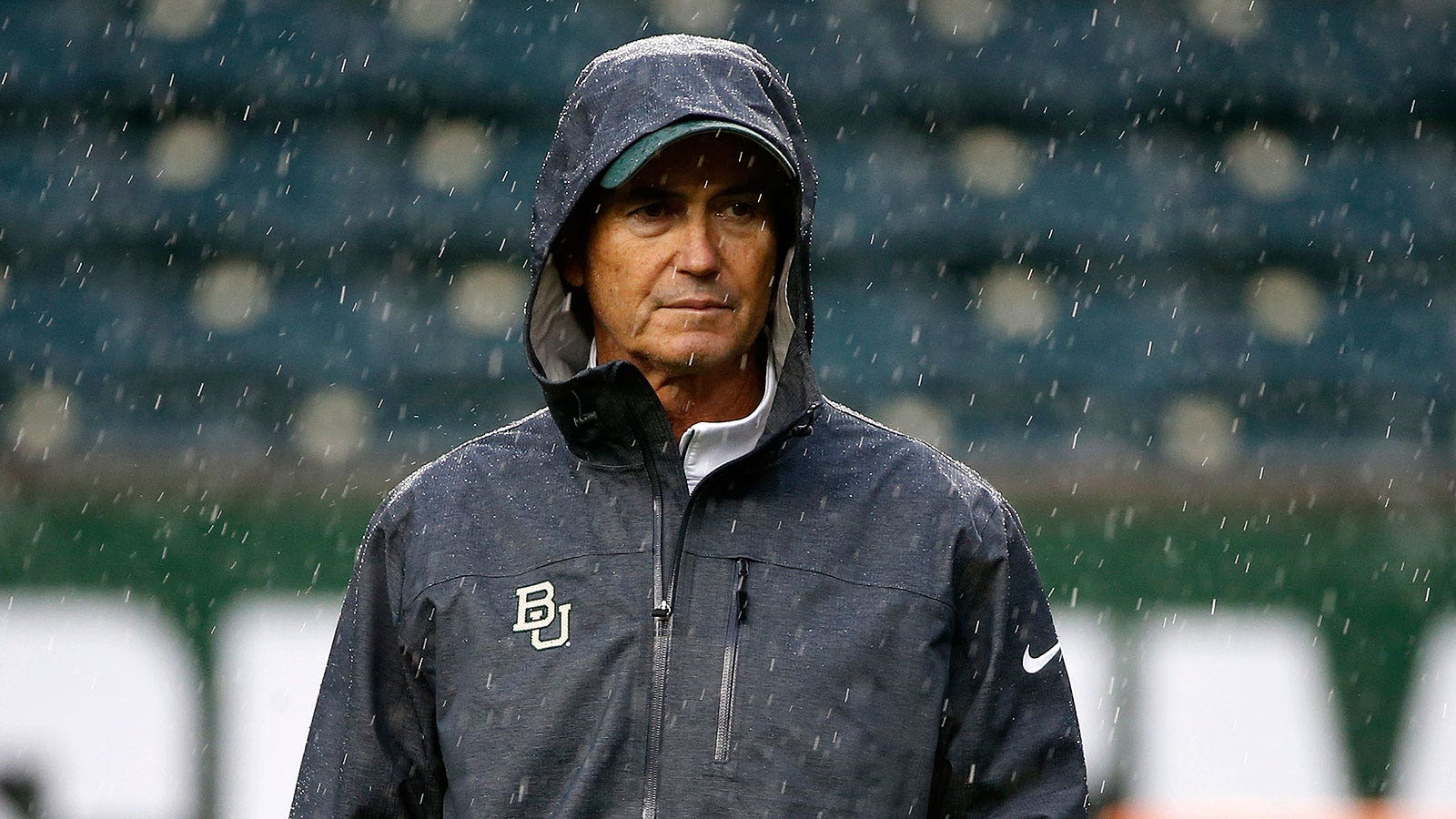 Every coach in the country should be sitting down today to read Baylor's release. (Note: The school could serve a greater good to academia by releasing Pepper Hamilton's full report.) Baylor is hardly the first place where sexual assault victims were discouraged and/or intimated into staying silent, but rarely has the public gotten to see in painful detail exactly how that occurs.
It starts in a football office, where single-minded coaches whose jobs generally depend entirely on winning and losing prefer not to suspend or dismiss a potential All-American if they can avoid it. Which may only be possible if they can convince his accuser to keep her story out of the news.
The head coach is further enabled by an athletic department and university too consumed by winning to press too hard on nuisance allegations. Because to hold on to a rock-star coach like Briles you not only have to pay him $4 million a year but coddle him and mostly leave him alone, lest he leave for another school that can pay him $5 million. To that end, it's baffling how AD Ian McCaw is escaping this mess with mere "probation."
And of course the buck stops at top, in this case the office of president Ken Starr, whom the school removed from his post. His near-total silence as the allegations mounted and largely superficial tones of remorse created the perception — apparently accurate, based on this report –€" that Baylor did not take violence against women seriously enough.
Perhaps he took his cues from Briles, himself defiant to the end. In hindsight, the beginning of the end for the coach came the morning of Aug. 21, 2015, following the rape conviction of defensive lineman Sam Ukwuachu. Questioned by reporters before practice, Briles downplayed his knowledge of the Boise State transfer's prior issues, prompting a retort from ex-Broncos coach Chris Petersen.
And then, in an exchange that seemingly sums up his attitude on the entire issue, tried to put a kibosh on that annoying line of questions. "Let's talk about football. I'm through talking about that."
The central element of Briles' folksy persona was the fact he still considered himself a Texas high school coach at heart. Which was largely seen as a virtue.
In hindsight, it might have been his downfall.
Perhaps in high school you can focus almost entirely on drawing up plays and coaching ball. In college you are part of a larger campus community. The report findings paint a picture of a coach completely isolated from the world outside the football building — i.e., the safety of its female students.
Briles likely won't be coaching college ball again any time soon — not that some ADs won't be tempted. He's all but guaranteed to deliver your school victories and excitement. But it's hard to imagine any conscionable university president is going to sign off on hiring a coach formally accused of endangering a campus.
Baylor, of course, will keep competing in football, but likely not at the stratospheric level of the past five years. His was one of those once-in-a-generation runs unlikely to be duplicated, and in fact the greatest turnaround of a program since Bill Snyder first came to Kansas State.
That doesn't mean Baylor will necessarily return to the conference basement. The next coach could well win his share of games. But he'll also be under far more scrutiny than Briles, a guy who seemed untouchable right up until Thursday.
May his downfall serve a greater good by becoming a wake-up call to coaches and schools across the country. Yes, there are more important matters than winning, and even someone as wildly successful as Briles must pay the price for neglecting them.