Grading Ohio State Offensive Units: 2016 Success Despite Passing Woes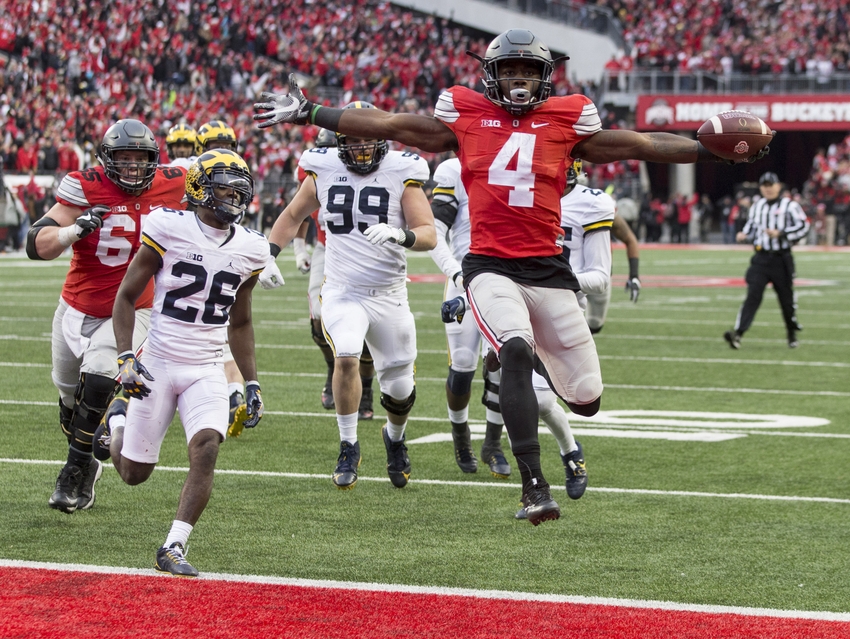 Grades for the Ohio State offensive units.
Now that Ohio State's regular season is wrapped up and another win over Michigan is in the books, it is a time to grade how each unit performed.
Of course, it might be a little early as there is still the playoff or a bowl game.  The body of work is not completed, but all of the season awards are handed out before bowl season anyway.
Here is how all four offensive units graded:
Quarterback:
What he lacks in accuracy, J.T. Barrett makes up for it by staying confident and calm when the pressure rises. He never lets the moment get too big and just when you scream why can't you deliver, he finds a way to win the game.
For the season, Barrett passed for 2428 yards with 24 touchdowns and five interceptions and had 847 yards rushing with nine touchdowns scored.
While Barrett's resiliency saved the day in wins over Wisconsin, Northwestern, Michigan State and Michigan, one has to wonder if these games would have been close had he been able to hit a pass beyond 10 yards more consistently.
Coach Urban Meyer can't make Barrett an accurate passer over the next month so the team will have to live with that in the playoffs or bowl game.
Backup Joe Burrow looked strong in mop up duty, but he may never see the field as a starter for Ohio State depending on Barrett's decision to stay or leave.
Grade:  B+
Running Backs:
Is there any position at Ohio State that carries more expectations based on legacy than running back?  From Janowitz to Elliott, running back is the coveted position with the brightest spotlight.
Meyer spent a lot of capital to get Mike Weber to Ohio State and all of the hard work over the last year paid off.
Weber split time with Barrett and Curtis Samuel and still managed to rush for 1072 yards and nine touchdowns.  That's an impressive debut season.
As a runner, Samuel is in a class by himself.  There is no one better than him in open space.  He finished with 704 yards and eight touchdowns, none more impressive than the last one against the Wolverines.
Grade: Champions
Receivers/Tight End:
Chicken or the egg?  Was the lack of production due to Barrett's inaccuracy or were the Ohio State receivers unable to get separation forcing errant throws and drops?
I am going to say a little of both, coupled with what seemed like questionable coaching.
If co-offensive coordinators Ed Warinner and Tim Beck know they have an inaccurate quarterback, which I believe they do, then why not call more slants, out routes and roll out plays to get better production?
Often it seemed that Barrett was determined to stay in the pocket just to be a pocket passer ignoring his best assets, speed and elusiveness.
I did not time every down this year, but it seemed that most pass plays took four seconds or longer to execute.  That's too long especially when there were consistent protection breakdowns on the right side of the line.
Samuel was by far the best receiving threat on the offense finishing with 822 yards and seven touchdowns.
Noah Brown was a distant second with 385 yards and seven touchdowns which may seem okay, but he had four in the game against Oklahoma.
He also had nine games with three or less catches.  If he's so good, why can't the coaches and Barrett find a way to get him the ball?
Marcus Baugh was not a frequent target for Barrett, but he did make critical catches in several games. He finished the year with 269 yards and two touchdowns which was more than Nick Vannett last year so there was progress.
Grade:  C-
Offensive Line:
With three new starters, expectations were tempered about the strength of SLOBS.  Having Pat Elflein and Billy Price back provided a strong nucleus, but breaking in two new tackles was daunting even for a veteran line coach like Greg Studrawa.
Depth and experience were so bad that Michael Jordan became the first true freshman to start on the line since Orlando Pace.
Until the Wisconsin game, it appeared that the line would perform as well as the units from the 2012/2103 and 2014/2015 seasons.
Then the cracks started to show, especially on the right side where Isaiah Prince would routinely have his head down while getting beat to the outside leaving Barrett vulnerable.  Jordan was unable to make up for the missed assignments.
Two bad games don't mean the SLOBS had a bad season.  They were up and down, but still paved the way for 3100 rushing yards and 33 touchdowns.
The coaches will have to find a way to strengthen the right side if the Buckeyes make the playoff.  If they don't, Alabama and Clemson will feast on Barrett.
Grade:  B-
Kicking:
Tyler Durbin won the fulltime job after Sean Neurnberger went down with a groin injury in preseason camp.
Short of a blocked kick against Penn State and two missed field goals against Michigan, Durbin had a great regular season making 63 out of 65 extra points and 17 of 20 field goals.
If he did not make the last field goal against Michigan, Durbin would have had to move into the witness protection program with Steve Bartman to avoid the wrath of Buckeye Nation.
He made it so all is well, but there is no doubt that 110,000 fans along with millions watching on TV were holding their breath.
Grade:  A-
Analysis:
Is it fair to compare the last two seasons with Tom Herman with the last two with Warinner?  In 2013 and 2014, the offense averaged 7400 yards-per-season and 45 points-per-game.  In 2015 and 2016, it averaged 5699 yards-per-season and 39 points-per-game.
That comparison definitely makes it look like the offense is underperforming, but it only tells part of the story.
This year's unit gained a little more than 600 yards over last year and averaged seven more points-per-game.  That's pretty impressive considering the number of new starters and a much more difficult schedule.
This does not excuse the lack of passing threat two years running, but the offense definitely improved finishing as the Big Ten's No. 1 scoring offense, No. 1 rushing offense and No. 1 in turnovers lost.
Meyer's not going to win Coach of the Year as that honor will fall to James Franklin or Paul Chryst, but steering this team to an 11-1 record demonstrates why he is the best coach in the college football.
This article originally appeared on