Glad This AP Voter Isn't A Playoff Committee Member?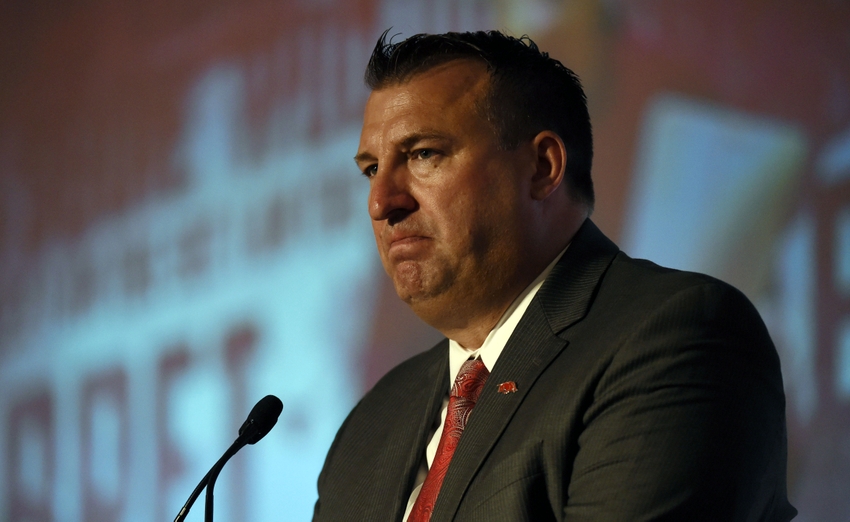 Anyone else curious about how AP voters think?
One voter ranked Michigan at No. 3 and Ohio State at No. 5 in the latest AP Poll. Aren't you glad he isn't a College Football Playoff Committee member?
Tom Murphy, a Razorback beat writer for the Arkansas Democrat-Gazette put Michigan ahead of Ohio State in his weekly AP Poll vote because he thought the referees spotted the ball incorrectly on J.T. Barrett's crucial fourth down run. He said because of that, and the fact that Michigan outplayed Ohio State on their home field, was the reason he ranked the Wolverines higher than the Buckeyes. Here is what he had to say about his decision in the Arkansas Democrat-Gazette:
Yes, I voted Michigan higher than Ohio State. The Wolverines essentially outplayed their arch rival on the road and I don't think the football reached the necessary 15-yard line on J.T. Barrett's fourth-down run in double overtime. As that was the game-decided play, I appointed myself as the replay official and deemed Michigan the winner. Now, if only the College Football Playoff selection committee would do the same. As a side note, while I admire Jim Harbaugh for speaking his mind after the game, he appeared to pin everything on the officiating, which isn't a good look.
Even though he was wrong with the way he voted, and his reasoning for doing so, I have to give Murphy credit for admitting his mistake. Here is what he had to say in a follow-up to the original story:
Dear College Football Fans,

I share your passion for our great game and the debates that are created by fantastic finishes like that of the Ohio State-Michigan game on Saturday.

I have heard from many of you over the last 24 hours. I have looked and listened. As I cast my ballot for this week's Associated Press Top 25 poll, I had not seen all the available angles of Ohio State's fourth-down run in the second overtime. If I had, I would not have been as definitive in my view of the spot on J.T. Barrett's run.

My error was in not having a greater appreciation for the well-trained game officials who spotted the gain and confirmed the call on the field. For that I apologize and confirm that I respect the decision of those officials and the outcome of the game.

Michigan and Ohio State remain two great programs who added another chapter to the colorful history of our game on Saturday.
I admire Tom Murphy for owning up to his mistake. We have all made many of them and he was man enough to own up to his. Not everyone has the courage to do that.
I'm not saying that I would necessarily want him as a College Football Playoff Committee member though, but I respect Murphy as being a stand up guy. Anyway, here is this week's AP Poll. Thanks to CBSSports.com for the info:
1. Alabama (61)
2. Ohio State
3. Clemson
4. Washington
5. Michigan
6. Wisconsin
7. Oklahoma
8. Penn State
9. Colorado
10. USC
More from Scarlet and Game
11. Oklahoma State
12. Florida State
13. Western Michigan
14. West Virginia
15. Florida
16. Louisville
17. Stanford
18. Auburn
19. Virginia Tech
20. Navy
21. LSU
22. Iowa
23. Nebraska
24. South Florida
25. Pittsburgh
Thoughts and prayers from those of us at Scarlet And Game go out to everyone at Ohio State with the tragic incident that occurred today. To everyone on campus, and those who have a loved one at OSU, please know that everyone in Buckeye Nation is thinking of you.
This article originally appeared on