Give Us USC/NCSU In The Birmingham Bowl!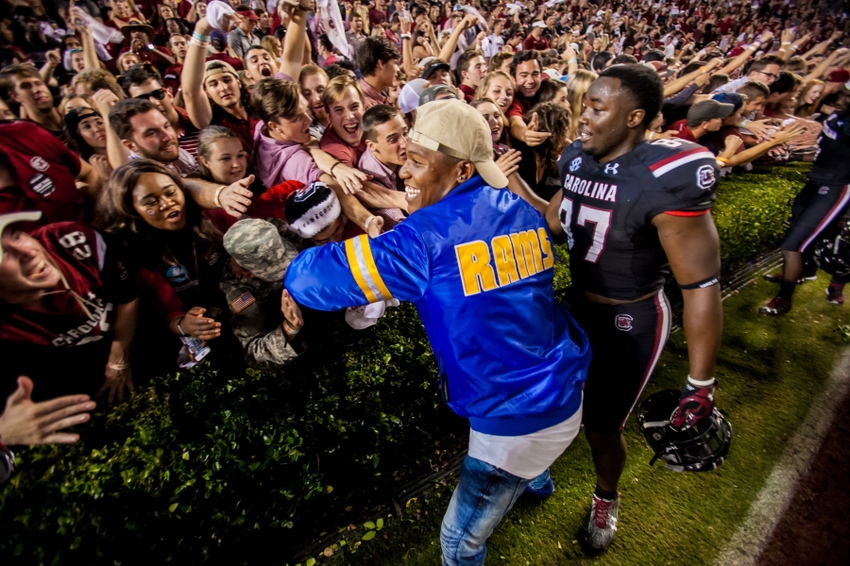 The South Carolina Gamecocks should take on the NC State Wolfpack in the Birmingham Bowl!
With the 2016 regular football season all but wrapped up, let's look ahead to bowl season. Will Muschamp accomplished something critics saw as impossible: getting South Carolina bowl eligible. Few thought USC would make it to the six win mark coming off a three win season. Yet first year coach Will Muschamp beat the odds and made the skeptics eat their words.
BIRMINGHAM BOWL
While not a playoff or New Year's Day game, USC have the opportunity to make 2016 a winning season with a bowl victory. Among the several low tier bowls the Gamecocks may be selected for is the Birmingham Bowl. South Carolina is no stranger to Birmingham; they lost to Connecticut there in 2010.
USC should return to Birmingham to take on North Carolina State. Both teams finished the regular season 6-6. Furthermore, these two schools face off in next season's opener. Similarly, back in 2015's edition to the Birmingham Bowl, Florida took on ECU. They faced off again in the second game of the next season. The Gators won both matchups.
These two .500 teams meeting in the Birmingham Bowl gives us a preview of next season. It gives both teams the opportunity to gear up for the potential rematch next September.
Even though many younger fans may not recall, the Gamecocks and Wolfpack have a heated rivalry. The two schools met annually during USC's time in the ACC. South Carolina narrowly leads the series 27-26-4. South Carolina and NC State have met only three times since 1992. The Gamecocks won the last two games, which were played in 2008 and '09.
USC and NC State in the Birmingham Bowl also gives Muschamp one last chance to show prospective recruits what he can do. In addition to spicing up next year's season opener, it would help the SEC save some face in cross-conference matchups.
More from Garnet and Cocky
This article originally appeared on