Georgia vs Ole Miss Recap: 3 Things We Learned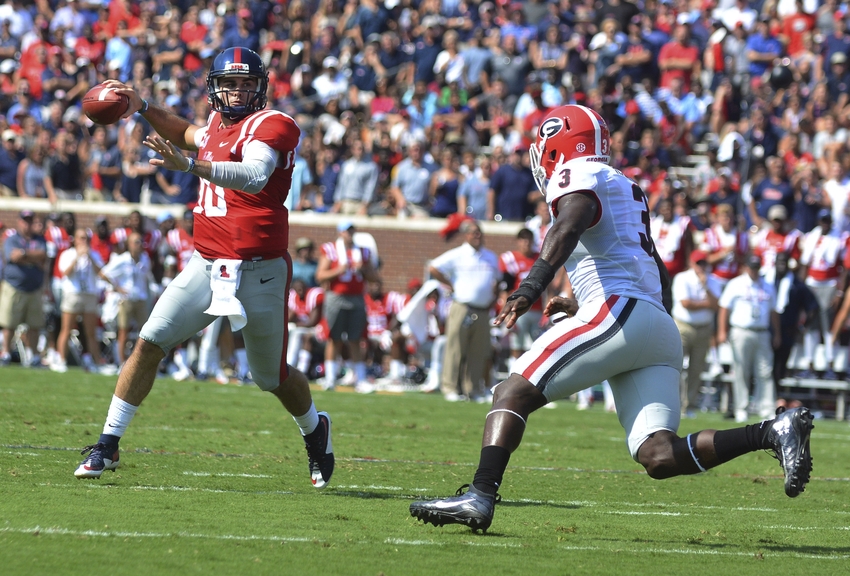 What did we learn from Saturday's game between the Georgia Bulldogs and Ole Miss Rebels?
The Georgia Bulldogs came into Saturday's game against the Ole Miss Rebels expecting to compete and stay undefeated. Chad Kelly and company had other plans in mind.
It was a rough start for true freshman quarterback Jacob Eason. Down 3-0 in the first quarter, Eason felt the pressure and got drilled before throwing an interception to Derrick Jones, who took the pick all the way to the house for a touchdown.
The Rebels kept piling it on in the first half, first with a 10-play, 84-yard drive that was capped off by a one-yard touchdown. Ole Miss then started the second quarter with a 55-yard bomb from Chad Kelly to DaMarkus Lodge for another touchdown to go up 24-0. The Rebels would take a 31-0 lead into the locker room at halftime.
Things didn't get much better in the second half. By the time the Bulldogs finally scored their first touchdowns late into the third quarter behind Brian Herrien's back-to-back scores, the Rebels had already taken a commanding 45-14 lead.
The Rebels wound up winning the game by that margin in what was a dominating victory. They'll take on Memphis next week looking to move to 3-2. Meanwhile, the Bulldogs suffered their first loss to go 3-1 and will have to recover quickly with a game against Tennessee next week.
After such a dominating performance from Ole Miss, here are a few things that we learned from Saturday's game.
VS.
| | | | | | |
| --- | --- | --- | --- | --- | --- |
| | 1 | 2 | 3 | 4 | T |
| Rebels | 17 | 14 | 14 | 0 | 45 |
| Bulldogs | 0 | 0 | 7 | 7 | 14 |
Jacob Eason is Still Learning
True freshman quarterback Jacob Eason is still going through some growing pains. Despite being the No. 1 quarterback coming out of high school, he's still trying to adapt to the college game.
This was a tough opponent for Eason, and it showed. At halftime, the Bulldogs quarterback had gone just 7-of-21 through the air for 64 yards and that interception that turned into a pick six. Eason finished the game going 16-for-36 with 137 yards and a couple of turnovers.
Eason is only 18 years old, so he's naturally going to make some mistakes against an elite program like Ole Miss. However, Bulldogs fans are still disappointed to see him struggle as much as he did.
On the bright side, this will be a great learning experience for Eason as he continues what Bulldogs fans are hoping will be a long and successful college career.
Chad Kelly Can Sling It
While Eason struggled, Ole Miss quarterback Chad Kelly looked like a future NFL gunslinger with some of the plays that he made on Saturday.
It was a relatively quiet start for Kelly, but he showed why he is considered one of the best quarterbacks in college football in the second quarter with this impressive 55-yard touchdown. Kelly avoided the pressure before launching a bomb into the end zone for DaMarkus Lodge.
Kelly was eventually benched, but not before he put up some monster numbers. The Ole Miss QB finished the game going 18-of-24 for 282 yards (that's 11.8 yards per attempt!) and two touchdowns while adding another 53 yards and TD on the ground thanks to a 41-yard scramble and score.
He may not be getting the draft hype that guys like DeShone Kizer and Deshaun Watson are getting, Kelly can still sling it.
Ole Miss is Still a Top-Tier Team
The schedule has been rough to start the season for the Ole Miss Rebels, but they haven't been complaining. Instead, they came into Saturday's game against the No. 12 team in the country and punched them square in the teeth.
Sure, the Rebels are only 2-2. However, let's not forget that those two losses came two then No. 2 Florida State and No. 1 Alabama. Let's also not forget that the Rebels were leading in both of those games but fell due to a pair of shaky second half performances.
With upcoming games against teams like Mississippi State, LSU, Arkansas and Texas A&M, the Rebels still have a chance to prove that they're one of the best teams in the SEC, even if it is too late to make a run at the College Football Playoff.
This article originally appeared on