Georgia vs. North Carolina: 3 Things Recap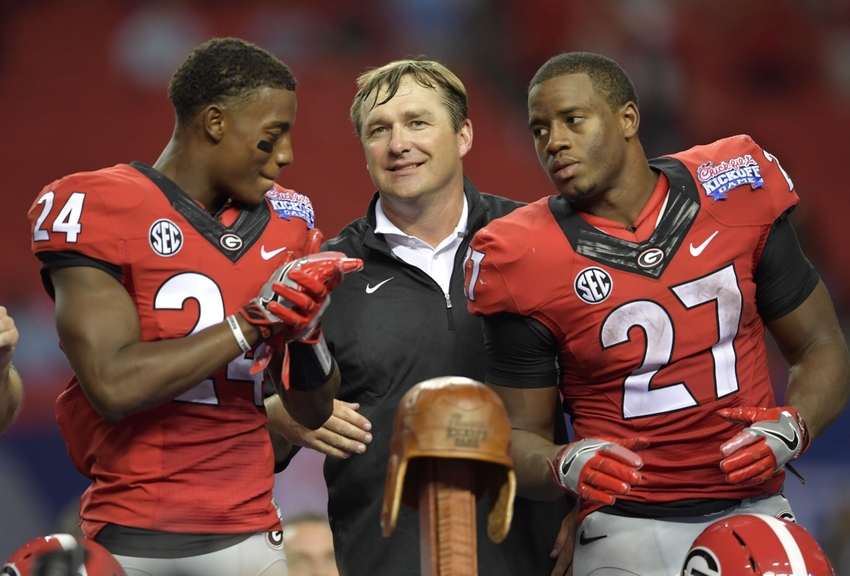 We gave you three key things to focus on during Alabama's game against USC. Now we will recap how those things played out and how they affected the game. Off we go.
1. Who Will be the Quarterback?
Greyson Lambert got the start, but it soon became clear that he doesn't have what it takes to be the long-term solution. When the Bulldogs fell behind 24-14 in the second half, freshman sensation Jacob Eason was inserted into the game.
Eason promptly completed eight of his 12 passes for 131 yards and a touchdown. And, most importantly, he led the Dawgs to a nice comeback win. The sky is the limit for Eason moving forward.
2. How Healthy are the Running Backs?
Sony Michel missed the game with a broken arm. It didn't matter. This game might as well have been called "The Nick Chubb Show." Chubb left no doubt that he is 100 percent recovered from the gruesome knee injury that sidelined him last season.
More from

South Bound & Down
For the game Chubb gained 222 yards on 32 carries and scored two touchdowns. There wasn't much depth behind him, but it didn't matter. Once Michel returns, Georgia will have one of the top one-two punches in the country.
3. How Will the Rebuilt Front Seven Perform?
Not too well. The secondary was great, but the front seven struggled. North Carolina averaged an incredible 8.4 yards per carry as a team. That type of performance won't cut it against Tennessee or Florida.
The pass rush was also nothing special. The Dawgs only got one sack despite the fact that Carolina's quarterback, Mitch Trubisky, dropped back to pass 40 times. Again, that simply isn't good enough for the Dawgs to win the East. The Dawgs are young and inexperienced, so hopefully they will improve over the course of the season.
Conclusion
Thank you for reading. What were your takeaways from the game? Let us know in the comments below. Also, be sure to "like" us on Facebook and "follow" us on Twitter. Check in next week to see which three things to watch for as the Commodores face off against Middle Tennessee State and the Gamecocks take on Mississippi State.
More from Southbound and Down
This article originally appeared on