Georgia Tech Q&A With FromTheRumbleSeat's Joey Weaver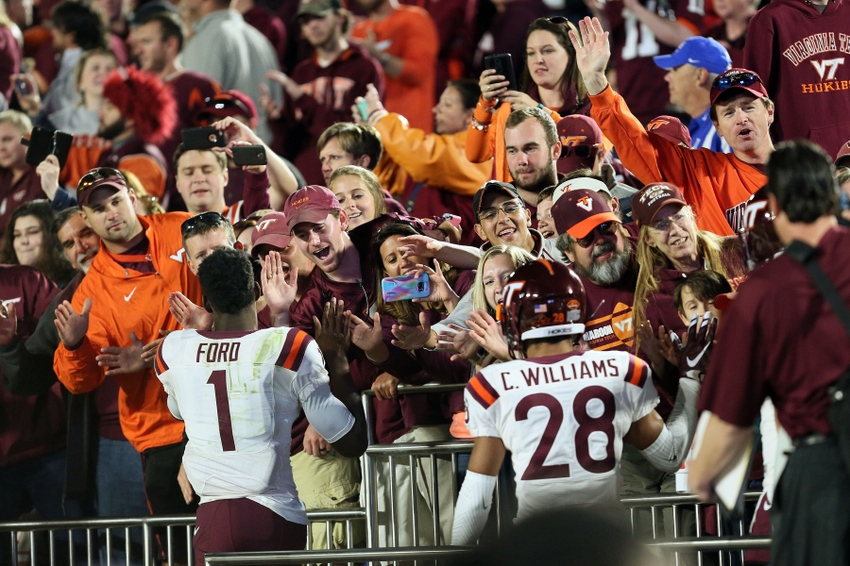 FromTheRumbleSeat.com helped breakdown the match-up between the Hokies and Yellow Jackets this weekend.
The #14 Virginia Tech Hokies are preparing for their second-from-last home game of the year on Saturday afternoon against Georgia Tech. The Hokies are looking for their eighth victory of the season and a chance to secure their spot in the ACC Championship Game in December.
To help continue our coverage here at Fighting Gobbler leading up to kickoff, I spoke with Joey Weaver of Georgia Tech's SB Nation affiliate, FromTheRumbleSeat.com, to help preview this weekend's opponent. A huge thanks to him for sharing his insight, and you all should go follow him on Twitter @FTRSJoey.
Q1) How is the health looking for Justin Thomas on Saturday? Even if he plays, will he be 100%? If he's limited who are the other players to watch on offense?
Weaver: Thomas left the UNC game with an injury and didn't return, but it doesn't seem like it was actually anything serious. Word was that he took a shot to the head/jaw, but that there were no concussion-related symptoms and that he should be playing on Saturday.
Being that it wasn't an injury to his legs, arms, or torso, I don't see it affecting his play. The only thing that you might see as an after-effect is some mildly more tentative running, but even then it shouldn't be a big deal.
Other players to watch on offense are Marcus Marshall and Clinton Lynch. Marshall (younger brother of former UGA running back Keith Marshall) will start at B-Back for the Jackets after Dedrick Mills received a two-game suspension
on Wednesday
.
Marshall was the team's leading rusher last year as a true freshman, splitting starts with a couple of others, but really displaying some excellent big-play ability in the open field. He's not the traditional "bruiser" type of B-Back that can really wear down an opposing defense when running between the tackles, but his speed and size make him a huge problem for opposing defenses when he does get into the open field.
Lynch, on the other hand, has been reeling off big plays this year like nobody's business. On 40 carries and receptions this year, Lynch is averaging 17.2 yards per play, and has gone for at least 79 yards in 6 of Georgia Tech's 9 games so far.
That may not sound like a ton, but in an offense where the ball gets distributed to a lot of players, Lynch is showing that he can really make an impact in his limited touches. (He's yet to have double-digit touches in a game.)
Q2) It's been a struggle for GT defensively this season. What has contributed to the woes so far, and where is the defense most vulnerable?
Weaver: It would be easy to look at the defense and claim there's a talent issue, but the issues are far deeper than that, and I generally don't think that there's a glaring lack of talent on that side of the ball.
The issues on defense are largely of the coaching variety, with a scheme that's unbelievably conservative sometimes, and only pretends to be aggressive other times. Georgia Tech is currently dead last in the country in third down conversion percentage (just shy of 52%), and it's driving the fan base CRAZY to watch.
The secondary is playing so far off of the line, hoping to prevent a big play, that the simple underneath passes are just too easy. The pass rush isn't creating much pressure with the personnel up front, and so to supplement, apparently Ted Roof has decided to send the same exact blitz (both linebackers through the A-gap) about 10 times per game.
There's zero creativity and zero intention to actually be aggressive. They can't create negative plays, they can't create turnovers, and they're making it nearly impossible for the team to win games without an outstanding performance from the offense.
If something doesn't drastically change in short order, Ted Roof might be out of a job before bowl season.
Q3) Which player on offense and on defense should the Hokies be most concerned about on Saturday?
Weaver: Offensively, if it's not Justin Thomas, it's Clinton Lynch. He's not the fastest or strongest guy, but he's got excellent vision, excellent hands, and generally has been very reliable and consistent.
Defensively…you're really pushing me to come up with one. I'll say the safeties, A.J. Gray and Corey Griffin. They're the team's two leading tacklers, and Gray in particular could be a star in the making (if the scheme would bother to make proper use of his talents).
Q4) Who concerns you most on the Virginia Tech offense?
Weaver: Everyone's going to give a bunch of attention to Jerrod Evans and Isaiah Ford, but the one that concerns me the most is probably Bucky Hodges. He's a total matchup nightmare for most defenses, and that doesn't change for Georgia Tech's defense.
At 6'7″, with the ability to run and jump that he has, I have no earthly idea how Georgia Tech plans to defend him. With 6'3″ Jalen Johnson suspended right now, the tallest LB/CB/S available in this game is going to be 6'2″ (there are several options at that point).
Not to mention that apparently Lance Austin, who's all of 5'9″, was tasked with periodically defending the 6'5″ Bug Howard last week when Howard lined up to the field side of the formation.
The results were as you'd imagine.
If that matchup weren't enough to alter the coverage scheme, I'm terrified to think that he might be covering Hodges at times this week — which is convenient for Hodges, if he's looking for some NFL Draft highlights.
Q5) Score Prediction?
Weaver: I've thought for a month or more now that the Hokies are probably the best, most complete team in the ACC Coastal, and I've been mentally preparing for them to win this game.
I mentioned on Basketball Conference this week that I think Virginia Tech wins this game and covers the 14-point spread. I've seen nothing in the past month that suggests Georgia Tech can stop the Hokies' offense with any sort of consistency, and I've seen worse Bud Foster defenses stifle better Paul Johnson offenses.
Combine those with the fact that the game is in Blacksburg, and I think Virginia Tech runs away with this one. I'll be shocked if Georgia Tech finds a way to win here.
Hokies 38, Yellow Jackets 17.
More from Fighting Gobbler
This article originally appeared on