Georgia Tech Football: A Look Back at the Highest Rated Georgia Tech Recruits Since 2000
Dylan Callaghan-Croley/FanSided via Yellow Jacked Up

Fansided
With the Georgia Tech coaching staff putting it's finishing touches on the 2017 recruiting class with just two weeks till national signing day, there's no better way to look at the Yellow Jackets top ten recruits since 2000.
National Signing Day is just two weeks away which means soon 14 young men will sign their letters of intent of playing football at the Georgia Institute of Technology.
The following is solely based off the recruiting ratings of Georgia Tech's recruits since 2000. Therefore players such as Demaryius Thomas will not be featured in this article, but will have their own article in the upcoming days about recent "diamonds in the rough" that the Yellow Jackets have found.
That being said, this article will take a look at the top ten player's career as Yellow Jackets and decide if they were a HIT or a MISS for the Yellow Jackets coaching staffs.
Before getting started here are Georgia Tech's 20th to 11th best recruits over the course of the last 17-years.
Tied for the 18th through 20th overall are three recruits. Strong-side defensive end Jason Peters was a 4* in 2007 class and was tied with fellow 2007 recruit offensive tackle Nick Claytor. Also tied with the 2007 prospects was defensive tackle J.C Lanier who was a four star in the 2009 recruiting class.
Tied for 16th and 17th overall are a pair of 2002 recruits. Four-star tight end George Cooper and four-star kicker David Jordan were both highly rated recruits coming out of high school. At 15th overall is 2010 four-star cornerback Ryan Ayers.
The 14th and 13th positions belong to four-stars Shamire DeVine, an offensive tackle in the 2013 class and cornerback Louis Young of the 2010 Yellow Jackets recruiting class. The last two spots for the 12th and 11th spots is another tie.
The tie is between strong-side defensive end Francis Kallon who was part of the Yellow Jacket's 2012 recruiting class and four-star quarterback Joshua Nesbitt who was a part of the Yellow Jacket's tremendous 2007 recruiting class.
Now without further adieu, the top ten highest rated recruits for the Yellow Jackets over the last 16 years.
#10. OLB 4* Bruce Jordan-Swilling – 2017
The highest ranked member of Georgia Tech's current recruiting class, Jordan-Swilling is the highest rated commitment for the Yellow Jackets since 2012. Currently, the Georgia Tech legacy is committed to the Yellow Jackets but has a scheduled visit to USC coming up.
A U.S Army All-American, Jordan-Swilling is considered the 190th best player in the nation as well as the 13th best outside linebacker.
Only time will tell where Jordan-Swilling will end up and how we will eventually play. The only thing for certain is, if Jordan-Swilling is as good as his father, Pat, Paul Johnson and his coaching staff have a hit.
Hit or Miss: It's obviously way too early to tell if the 2017 linebacker is going to be a hit or miss.
#9. WR 4* Morgan Burnett – 2007
Before moving to safety at Georgia Tech, Morgan Burnett was recruited by most out of high school as a wide receiver and safety/defensive back.
Part of the 2007 recruiting class, Burnett was considered a top-100 player in the nation and a top 15 wide receiver coming in at 100 and 14 respectively.
Born in Atlanta and an alumni of North Clayton High School, Burnett chose to stay at home and play at Georgia Tech despite a strong assortment of offers.
Once at Georgia Tech, Burnett was transitioned into a safety full time. A move that paid off greatly for the the now 28-year old.
During his career for the Yellow Jackets, Burnett was stellar. In his three career seasons at Georgia Tech, Burnett was responsible for 235 tackles, 13.5 tackles for loss, and 14 interceptions.
In 2008, Burnett was awarded First-Team All-America honors by Pro Football Weekly while being considered Second Team All-America by Rivals, Sports Illustrated and Sporting News. In total, he received seven All-America honors during his three year career and four All-ACC honors.
Burnett would go onto be drafted by the Green Bay Packers in the 3rd round of the 2010 NFL Draft. During his seven year career, Burnett has started every game of the 90 games he has played in. He has nine career interceptions and seven force fumbles to date to go along with one Super Bowl victory.
Hit or Miss: Burnett was nothing less than a force when he played on The Flats. One of the best Yellow Jackets to play on the defensive side of the ball over the last 16-years easily. HIT.
#8. ATH 4* Justin Thomas – 2012
At one point, Justin Thomas wasn't going to be a college quarterback. He was also not going to be a Yellow Jacket, he was going to be a cornerback at Alabama. Now, four years later Thomas will be remembered for his stellar career on The Flats.
The top recruit of the 2012 recruiting class, Thomas was considered the 148th best player in the country and the 10th best athlete in the country according to 247Sports's composite rankings.
Wanting to play quarterback in college, many chose not to offer the 5-foot-10, 176-pound Alabama native due to being undersized as a quarterback. Therefore, Thomas chose to commit to play at Alabama to be a cornerback. Then, Paul Johnson and Georgia Tech came and told Thomas that they wanted him to play quarterback for the Yellow Jackets.
For Thomas, the dreams of playing quarterback at the FBS level was too much to pass up as he decommitted from Alabama and committed to Georgia Tech just one month following his original commitment.
In the 2013 season, his freshman season as a Yellow Jacket, Thomas saw is very limited time, appearing in seven games. Over those seven games he made of 17 passing attempts and 33 rushing attempts.
In 2014, Thomas officially made his mark at Georgia Tech and showed the nation he could play quarterback. In an offense focused mainly around the run, Thomas was able to throw for 1,719-yards and 18 touchdowns in his sophomore season. Add on his 1,086 rushing yards that season and eight rushing touchdowns and Thomas had one of the greatest single seasons in Georgia Tech history.
That season, Thomas would lead the Yellow Jackets to an Orange Bowl victory and top ten ranking. While his junior and senior seasons weren't as spectacular as his sophomore season, Thomas provided the Yellow Jackets with strong leadership and strong play.
Thomas finished his career at Georgia Tech with the following rankings;
Passing Yards: 6th – 4,754
Passing Touchdowns: 5th – 40
Rushing Yards: 9th – 2,412
Rushing Touchdowns: 9th – 22
Total Offense: 4th – 7,166
Total Touchdowns: 4th – 62
In the end, Thomas will be remembered as one of the best Yellow Jackets to ever step on the field at Bobby Dodd, not just for his play but for his leadership and sportsmanship that sets the bar at Georgia Tech for standard moving forward. Replacing Thomas going forward will be a major hurdle for the Yellow Jackets.
Hit or Miss: When a player ends up being one of the best in your program's history, he's an easy HIT.
#7. 4* RB Rashaun Grant – 2003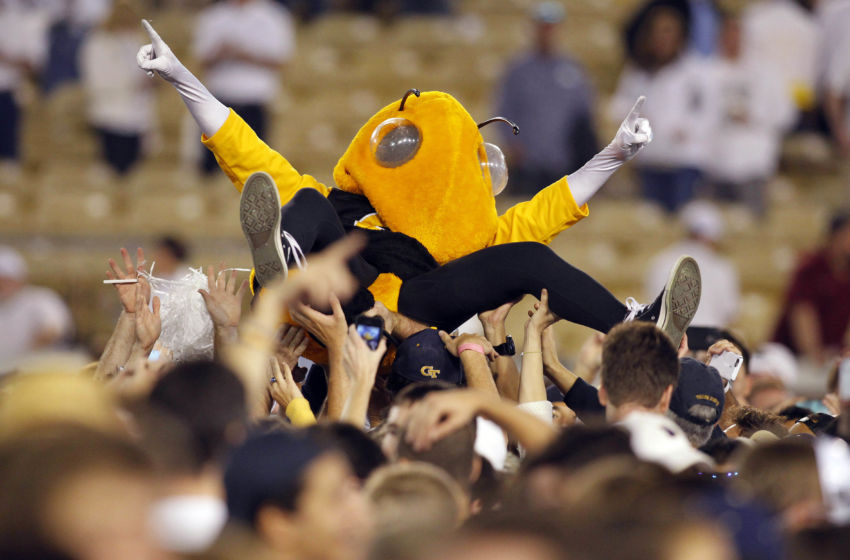 Coming out of high school, Grant was considered the 102nd best player in the nation and the 10th best running back.
One of the best players to come through Georgia Tech in the last ten years based off pure talent alone, Grant biggest issue as a Yellow Jacket was staying on the field.
After redshirting his true freshman season, Grant began his career in the 2004 season. That season Grant appeared to live up to a lot of the hype surrounding his playing style and overall talent.
In his redshirt freshman season, Grant was a Freshman All-ACC selection by The Sporting news and finished as the Yellow Jacket's second leading rusher. Unfortunately, the injury bug began to bite Grant that season as he missed the Champs Sports Bowl against Syracuse after suffering an injury against Georgia.
In the following season, Grant saw time in just six games after suffering injuries prior to and during the season. He would finish the season with just 44 rushing yards. In 2006, Grant was able to stay healthy but was buried in terms of usage in the Yellow Jackets offense. Despite seeing time in all 12 games that season, Grant only had 36 carries that season.
In 2007, Grant got off to a better start over the Yellow Jackets first six games, collecting 231-yards on 39 rushing attempts. A full-yard better per attempt than the prior season. Unfortunately for Grant, he suffered a season ending injury against Army as he enjoyed a career-day.
Grant finished his Yellow Jacket career with 179 rushing attempts for 877-yards and two touchdowns. The one impressive stat that Grant did have during his time however was that he did not fumble the ball once during his career despite 210 career touches.
While it's hard to say what Grant could have been without an injury plagued career at Georgia Tech, Grant without a doubt had the talent to be a huge playmaker for the Yellow Jackets. However due to his injuries, Grant was never able to become a consistent part of the Yellow Jackets offense following his freshman season even when he was healthy.
Hit or Miss: If Grant was able to stay healthy this may not even be a question, however due to his injuries, Grant's production suffered which makes him a huge MISS for the Yellow Jackets.
#6. 4* SDE Derrick Morgan – 2007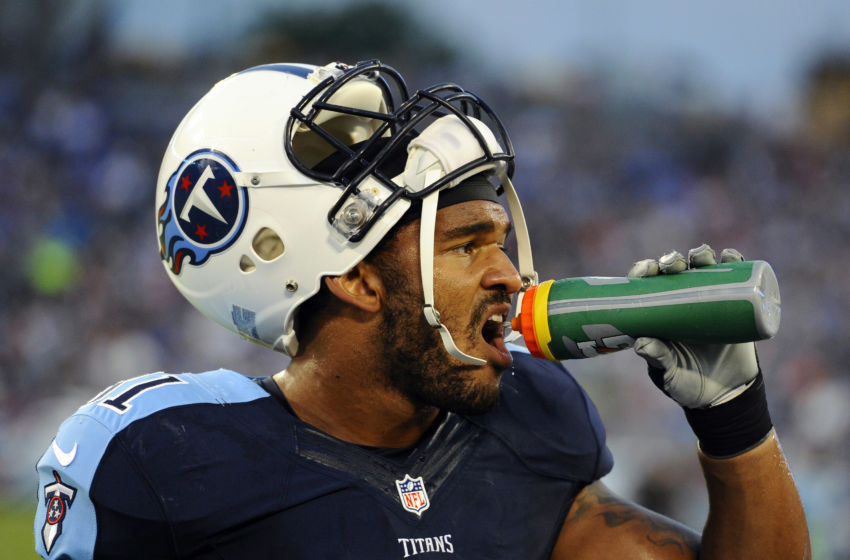 The second highest rated recruit of the 2007 recruiting class, Morgan was considered a top-100 player in the nation and the ninth best strongside defensive end in the country.
Morgan saw the field immediately at Georgia Tech seeing all time in all 12 games in 2007. While the stats don't add up to all that much with just nine tackles and one and half tackles for a loss, Morgan had an impact in his first season on The Flats.
His sophomore season Morgan made a bigger impact both on the field and in the box score. That season he collected 51 tackles including nine and half for a loss and seven sacks. Following the 2008 season he received honorable mention All-ACC honors as well as honorable mention Sophomore All-America honors.
His junior season was even better than his sophomore season. In 14 games in 2009, Morgan collected 55 total tackles including an outstanding 18.5 tackles for a loss and 12.5 sacks. He finished his career with 19.5 sacks, which ranks him eight all-time in the Yellow Jackets sack leaders.
His tremendous junior season earned Morgan the ACC Defensive Player of the Year award as well as a consensus All-American and first team All-ACC.
Morgan went onto be drafted by the Tennessee Titans in the 2010 NFL Draft in the first round with the 16th overall pick.
Hit or Miss: Morgan came into Georgia Tech and lived up to the expectations immediately. In his sophomore and junior seasons he proved to be an offenses worst nightmare. Becoming a first round pick doesn't hurt either, Chan Gailey's staff definitely had a HIT with Derrick Morgan.
#5. 4* CB Kenny Scott – 2003
Considered the 81st best player in the country and the 7th best cornerback in the country during his high school senior season, Scott was riding high expectations as he enrolled at Georgia Tech in 2003.
Scott saw playing time from day one as he was the team's kickoff returner in his true freshman season. During the season, he showed glimpses of his explosiveness which helped lead to exciting plays later on in his career. His biggest play of his freshman season however was a blocked punt against BYU which would result in a Yellow Jackets touchdown.
In his sophomore season, Scott saw time on defense and tried to make the most of it. That season he made 43 tackles including two and half for a loss as well as one fumble recovery and one interception. That lone interception was returned for a touchdown against NC State.
Scott's junior season turned out to be his breakout season. That season he recorded 56 total tackles, as well as two interceptions including one for a touchdown. He also broke up an additional five passes that season.
For Scott, the old adage "save the best for last' rang true. In his senior season, Scott was a force to be reckoned in the secondary recording 0 tackles, including four fora loss, two interceptions and ten pass breakups.
Hit or Miss: Scott's career at Georgia Tech was full of excitement, he was responsible for two touchdowns over his career and had numerous other exciting moments. He played strong defensively and was able to be a big part of the mid-2000s defenses for the Yellow Jackets. HIT.
#4. 4* RB Jonathan Dwyer – 2007
Coming out of Marrietta, Georgia, Dwyer was considered the 65th best player in the nation and the eight best running back in the 2007 recruiting class. He was also a Parade High School All-American coming out of high school in 2007.
Dwyer was expected to come into the program and be a game changer on the offense, an offense looking to make up for the loss of Calvin Johnson.
Dwyer made an immediate impact in his freshman season. That year he played in all 13 games, rushing for 436-yards on 82 attmpts and collected nine touchdowns. That season allowed him to collect ACC All-Freshman honors.
Heading into the 2008 season, Dwyer was considered a preaseason candidate for the Doak Walker Award. While he didn't win the Doak Walker that season, Dwyer finished the season with 1,395 rushing yards and 12 touchdowns on 200 attempts. An outstanding seven yards per carry. Following his sophomore season, Dwyer received numerous accolades including ACC Player of the Year, Pro Football Weekly first team All-American selection and a consenus first-team All-ACC.
A preseason All-American heading into his junior season, Dwyer looked to make a huge impact hoping to improve his draft stock. His junior season was a near replicate of his sophomore season rushing for 1,395-yards and 14 touchdowns on 235 carries.
Following his junior season, Dwyer announced his intention to enter the NFL Draft and was initially considered a top prospect and a top three running back in the draft. However, due to concerns about if he can fit in a pro style offense, as well as his overall physical abilities his draft stock fell. He would eventually be drafted in the sixth round of the 2010 NFL Draft by the Pittsburgh Steelers.
Hit or Miss: Dwyer finished his career at Georgia Tech as the sixth all-time leading rusher in Yellow Jackets history with 3,226 yards. He also holds two of the top five best rushing seasons in school history, with 1,395-yards in both 2008 and 2009. His 35-career rushing touchdowns are good enough to be tied for third in program history. Overall, Dwyer was a tremendous player for the Yellow Jackets and was a sure fire HIT.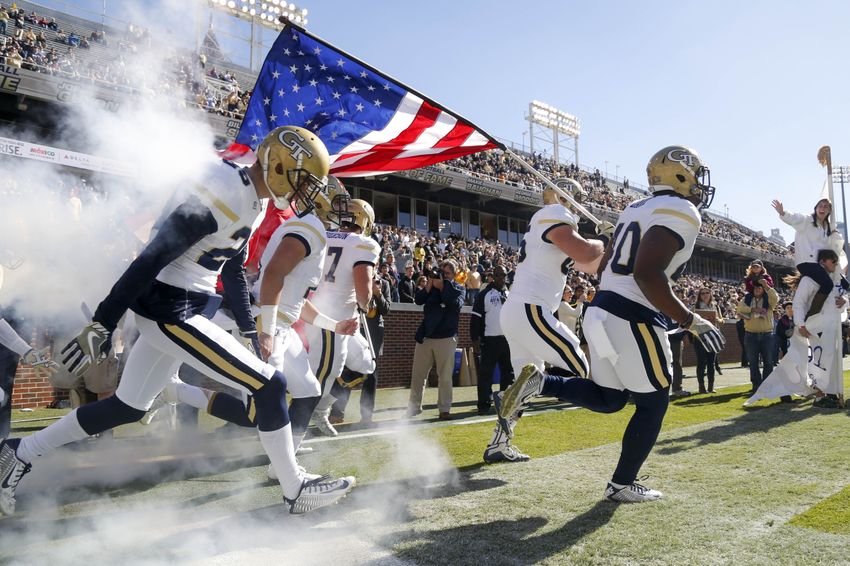 Nov 19, 2016; Atlanta, GA, USA; Georgia Tech Yellow Jackets players run onto the field before a game against the Virginia Cavaliers at Bobby Dodd Stadium. Mandatory Credit: Brett Davis-USA TODAY Sports
#3. 4* QB Brandon Sumner – 2000
Coming out of high school, Sumner was considered the tenth best quarterback in the country and a top-100 player overall. That being said, there was a ton of pressure and hype around Sumner just based off the fact that both Joe Hamilton was coming a tremendous year in 1999.
Sumner however would never see the field at Georgia Tech as he transferred out of Georgia Tech shortly after the start of fall camp. Sumner would end up playing two year at UCF where he had just 16 completions on 41 attempts for 177 yards, one touchdown, and two interceptions.
Hit or Miss: Keep this short and sweet, he's a MISS. #2. 4* OLB Hobbie Holiday – 2000
Unfortunately for Georgia Tech, their second best recruit in the last 17-years was also their biggest bust. Once an Alabama commit, Holiday decomitted from the Crimson Tide and later committed to the Yellow Jackets over the Tide and in-state rival Georgia.
At the time when he enrolled, Holiday was expected to be a major player in the Yellow Jackets defense. Once arriving on campus, Holiday was transitioned by then George O'Leary's staff to defensive end.
The move to defensive end however did not suit the role for Holiday well and he would quickly get lost in the mix of the Yellow Jacket's defensive line. While he did see the field over time at Georgia Tech, Holiday was never able to get the ball rolling.
Overall, Holiday was a bust for the Yellow Jackets and now is just another name in Georgia Tech history.
Hit or Miss: The 2000 recruiting class was exciting on paper for Georgia Tech and it's fans but it did not turn out to be as it's top offensive player (Sumner) was a miss and it's top defensive player in Holidaay was a MISS.
#1. 5* WR Calvin Jonhson – 2004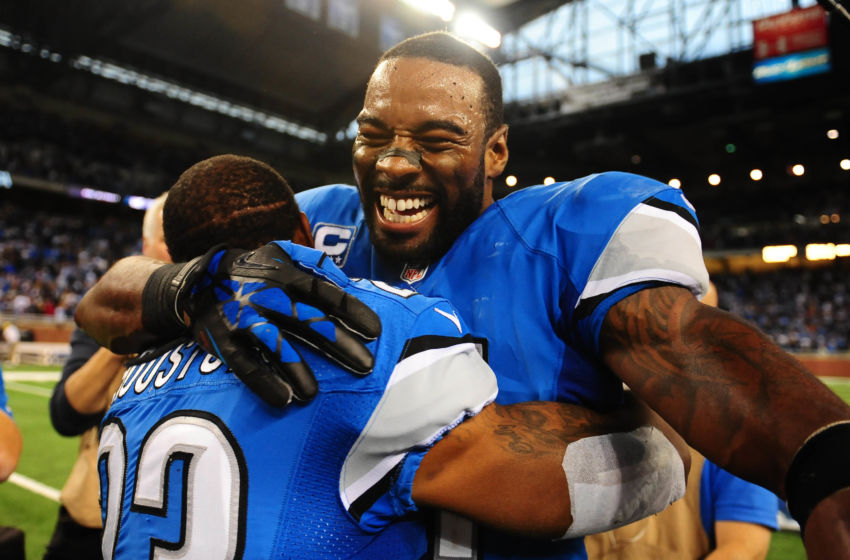 When it's all said and done Calvin Johnson might be the greatest Yellow Jacket of all-time but easily the best in the current millennium.
Johnson, was a five-star recruit coming out of high school and considered the 23rd best prospect in the 2004 recruiting class. Johnson was also ranked as the fifth best wide receiver prospect and the third best in the state of Georgia.
As soon as Johnson stepped on campus he was a force to be reckon with. In his freshman season, Johnson had 48 receptions, 837-yards, and seven touchdowns. His sophomore numbers were very similar with 54 receptions, 888-yards, and six touchdowns. HIs junior season however proved how great Johnson could truly be.
In his junior season, Johnson made 76 receptions for 1,202 yards and 15 touchdowns. Following his junior season at Georgia Tech, Johnson declared for the NFL Draft. He would go onto be selected with the second overall pick by the Detroit Lions.
By being the second overall pick, Johnson became and still remains the highest selected Yellow Jacket in the history of the NFL Draft. As well as only one of three Yellow Jackets to be selected in the first round since 2000.
The other two selected in the first round? Defensive end Derrick Mason (2010 Tennessee – 16th overall) and wide receiver Demaryius Thomas (2010 Denver – 22nd overall).
Once Johnson was selected by Detroit, he would go onto have one of the greatest wide receivers careers ever seen. In his short nine-year career, Johnson had 731 catches, 11,619-yards, and 83 receiving touchdowns. He recorded 1,000-yard seasons all but two years and holds the record for most in a season with 1,964. He also holds the second greatest receiving game of all-time with 329-yards against the Dallas Cowboys in 2013. Johnson retired from the NFL following the 2015 season.
Johnson's illustrious career at Georgia Tech landed him in the school's all-time receiving leaders;
Receptions: 2nd – 178
Receiving Yards: 1st – 2,927
Receiving Touchdowns: 1st – 28
Johnson was inducted into Georgia Tech's Hall of Fame in October of 2016.
Hit or Miss: This is a pretty easy one. The top Yellow Jacket recruit of the last 16-years is also their biggest HIT.
This article originally appeared on