Georgia Football: Why the Bulldogs Lost to Vanderbilt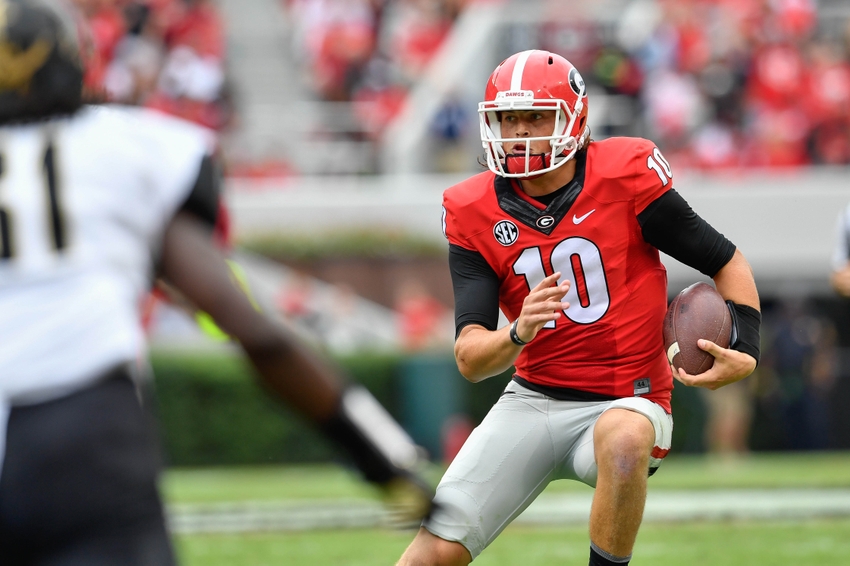 Georgia football is reeling, there's just no nice way to say it, and the loss to Vanderbilt was as bad as it gets.

16

17
Not much went right but plenty went wrong for Georgia football in their 17-16 loss to Vanderbilt.
From penalties to kick returns, Georgia faltered in many areas of the ball game. It's impossible to point to one thing that led to the Bulldogs let down against Vanderbilt.
Here are just a few areas where Georgia failed the worst in the loss.
Special Teams
Kicker Rodrigo Blankenship made all three of his field goals including one from 45 yards. Marshall Long also pinned two punts inside the 5-yard line.
Georgia's top five freshmen after six games
They weren't the problem but nearly everyone else was. Vanderbilt returned the opening kickoff to Georgia's 5-yard line. Two penalties (more on that later) put Vandy at the 1-yard line and the Commodores scored two plays later.
Before Saturday, the kickoff coverage was always pretty solid, but they when they gave up big returns they were always huge. Against Vanderbilt was the same story, with one long kickoff return and three touch-backs.
It's hard to say that something needs to be fixed when the coverage is so good most of the time. But when they collapse in kickoff coverage it's always severe.
Conversely, Reggie Davis caught the kickoff to open the second half out-of-bounds at the 3-yard line. Georgia went three-and-out, and Vanderbilt kicked a field goal after being given a short field.
The kick return game on the other hand is normally pretty good. They haven't returned many kicks this year because of the quality of the kickers Georgia has played so far, but that's been a mostly mistake free area.
Against Vanderbilt Davis tried to create some kind of spark in the return game, but he let that cloud his judgement on a ball that would have gone out-of-bounds.
Those two mistakes gave Vanderbilt 10 points. Without those two blunders, Georgia likely wins the ball game.
Penalties
About those penalties, Georgia had eight of them and not one of them didn't lead to a disaster of some kind.
For starters, on the opening kickoff, Georgia lined up off-sides. That moved Vanderbilt from Georgia's 5-yard line to the 2-yard line. Then Georgia had 12 men on the field when Vanderbilt broke their huddle. That penalty put Vanderbilt on the 1-yard line.
A quarter of the Bulldogs penalties led to a game opening 7-0 deficit.
Throughout the rest of the game, Georgia penalized themselves in crucial moments. Most of the last six penalties came from the offense line (More on them later). One holding call negated a long first down scramble by Jacob Eason. Others turned Second or third-and-short and turned them into long yardage situations.
The guilty players ended their own offenses momentum and ruined otherwise good offensive drives. There's no doubt that points were left off the board because of those penalties.
Georgia run offense vs. Vanderbilt run defense
After two great games against Tennessee and South Carolina, there was a steep drop-off today.
Nick Chubb was held to 40 yards on 16 carries. Michel had only 28 yards on 13 carries. As a team the Bulldogs only had 75 yards for a yards per carry average of 2.1 yards.
The holes that the offensive line opened up last week were all plugged up today. They were also guilty of a few holding penalties. The offensive line had high expectations today and they didn't live up to any of them.
Earlier in the week, Dawn of the Dawg had a story touting this match-up as one that would make clear to fans just how much the offensive line had improved in the last two weeks. Judging by this performance, there was no actual improvement at all.
Vanderbilt's defense was the test that Georgia's offensive line had to pass to win over fans, become consistent and create momentum. They flunked that test.
More from Dawn of the Dawg
This article originally appeared on