Georgia Football: What went wrong in the loss to Georgia Tech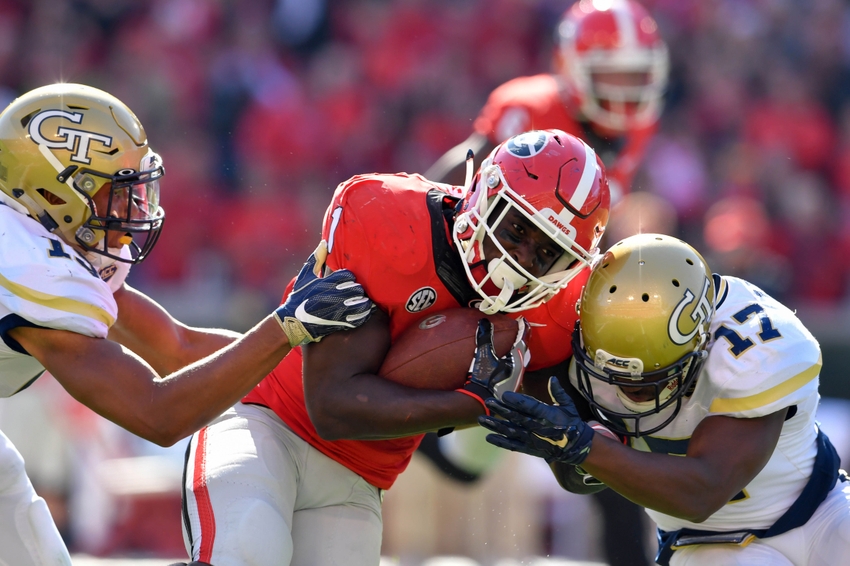 Georgia football lost to Georgia Tech 28-27 Saturday. The Bulldogs led 27-14 before giving up the 14-unanswered points.
Saturday was not a good day for Georgia football. The senior class was supposed to end their careers in Athens with a 3-1 record over Georgia Tech. Instead they are the first class since 2002 to go 2-2 against the Yellow Jackets.
But at one point the Bulldogs led 27-14 and everything was going fine. But after failing to start the fourth quarter with a touchdown, Georgia Tech marched 94 yards to the end zone to make a 27-21 score. Georgia Tech then scored with 30 seconds remaining to win the game 28-27.
Here's what exactly went wrong in Georgia's 28-27 loss to Georgia Tech:
Defense
Georgia couldn't stop the pitch-man
Georgia Tech ran for 226 yards Saturday and most of those yards came from slot-backs Clinton Lynch, Marcus Marshall and company. Georgia did fine against the fullback, and they didn't allow Justin Thomas to run free.
But no one consistently covered the pitch-man and Georgia didn't just give up first downs, they gave up big plays. Lynch opened the game with a 42-yard touchdown run. Later Marcus Marshall had a 19-yard run to give Georgia Tech a first and goal, the Yellow Jackets scored to make the score 27-21 two plays later.
To stop the option, you need to have a man on all three runners, Georgia failed to do that Saturday.
Offense
Timid play calling
There's no other way to put it, Jim Chaney just lacks any kind of killer instinct. He's dial-up deep passes for 45 minutes of football, but when the fourth quarter comes, and has a chance to put games away, he looses all aggressiveness.
After David Marshall's tackle to force a turnover on downs at midfield, there was an opportunity to go for the knockout shot. A play action pass to Javon Wims or Riley Ridley may not have been complete, but it would have stretched the defense allowing for an easier second down for Sony Michel.
Instead, Chaney made it easy for the Yellow Jackets. They didn't want Jacob Eason to throw a deep pass and Chaney called exactly what they wanted.
More from Dawn of the Dawg
Sure the players didn't always execute, there were several dropped passes and Eason threw an interception. But none of that would have mattered if Chaney had kept his foot on the gas. A 27-14 lead early in the fourth quarter, is not time to be passive, it's time to put the game away. Chaney just doesn't have the killer instincts that the best play callers have.
This article originally appeared on