Georgia Football: Top 5 freshman and newcomers in 2016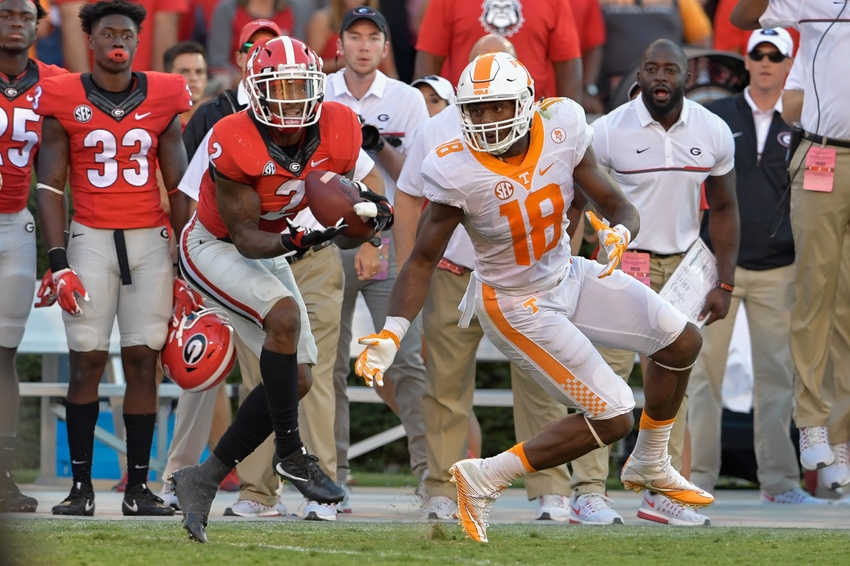 Georgia football had numerous freshman and transfers step up to contribute this season.
Plenty of familiar faces saw action for Georgia football in 2016. But some of the best players this season were new players, whether they be freshmen or transfers. Here are the top five fresh faces to play for Georgia in 2016.
Honorable Mentions
Some newcomers didn't make the cut for the top five, but they still played well enough to be mentioned.
WR-Javon Wims
Wims is a junior who transferred to Georgia this year. He ended 2016 with 14 catches for 179 yards. But he began the season with very little playing time. In October he began getting more time on the field.
RB-Brian Herrien
Herrien played a lot more earlier in the season. But as Nick Chubb and Sony Michel began to like their old selves, Herrien's playing time diminished. He still finished with 362 yards on just 61 carries with three touchdowns.
DE-Tyler Clark and David Marshall. DT-Julian Rochester
The defensive linemen should be mentioned together. Rochester has gotten a few starts, while Marshal and Clark have been playing off the bench. But all three freshman played very well for their first seasons in Athens
5. Rodrigo Blankenship
It took a while, but Georgia's place kicking game finally got figured out by November. Or was it before that? Blankenship became a cult hero in Athens after his game winner against Kentucky (and the post game interview).
However, Blankenship ended the regular season 13-of-16 on field goals and a perfect 22-of-22 on extra points. He needs to improve from long-range, but since he took over field goals duty from William Ham, he's been a pretty solid kicker.
4. Riley Ridley
I still feel bad for Ridley because of that Tennessee game. The true freshman made one of the biggest catches for Georgia in recent memory and he had his glory stolen by a hail mary.
Besides that, he has himself in a good place going into 2017. Like Wims, he started 2016 as a back-up behind Reggie Davis and Micheal Chigbu. But as games went on, neither contributed much. Davis wasn't getting targeted and drops became a problem for Chigbu.
After September Ridley stepped up and by the end of the regular season he had pretty much taken their place. He'll be one of Georgia's top four receivers going into 2017.
3. Maurice Smith
Unfortunately Georgia only gets one year with Smith, but it was quite a year.
he made a great first impression in the Georgia Dome against North Carolina by breaking two deep passes where he was initially beaten by the receiver. And near the end of the season he scored the only touchdown in the 13-7 win over Auburn.
He played all of the 2016 at the star position, meaning he was tasked with pass coverage, blitzing, or run stopping every other down. It's a difficult position to master, but he played it very well.
2. Isaac Nauta
Nauta is a monster. He is 6'4 tall and weighs 246 pounds, yet he's very fast and agile. That is why he's become one of Jacob Eason's favorite targets. He ends the regular season with 27 catches for 353 yards and three touchdowns.
His breakthrough performance came in his five-catch game against Tennessee that saw him catch a pass over the middle, and outrun every Tennessee defender for a 50-yard touchdown.
Nauta came to Georgia as a 5-star tight end according to most recruiting sites. 5-star tight ends are very rare, most years there isn't even one. Obviously this placed a lot of hype and expectations on Nauta. But he has lived up to that hype and then some.
1. Jacob Eason
Who else was it going to be. Eason didn't need to be great in 2016. He is a true freshman starting at quarterback in the SEC. As long as he kept his mistakes down he would be alright. But Eason went above and beyond.
Right now he has 2,266 passing yards with 14 touchdowns and only eight interceptions. For comparison, Georgia's last true freshman to start at quarterback, Matthew Stafford, only threw for 1,700 yards with seven touchdowns and 13 interceptions.
Eason took over the starting job in week two against Nicholls and never relinquished it. He led game winning drives against Missouri and Kentucky, and another against Tennessee which was squandered by the defense.
The future is bright for Jacob Eason and the Georgia Bulldog offense.
This article originally appeared on