Georgia Football: the Bulldogs recent history as underdogs against Auburn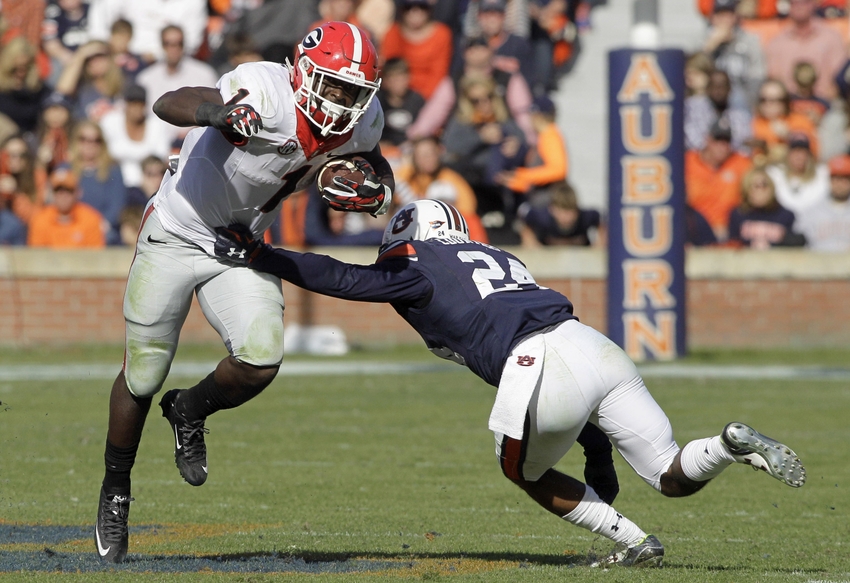 Georgia Football comes in as the underdog in the 2016 edition of the Deep South's Oldest Rivalry.
Of the last 20 meetings of the oldest and most even rivalry in the deep south, Both teams have come in even with neither being a consensus underdog or favorite. More often, its Georgia that is the heavy favorite.
But there are four meetings in which Auburn came in as favorites and Georgia as the underdogs. In those four games, the record is dead even. Georgia won the first two of those games in 1996 and 2006. Auburn won the last two in 2010 and 2013. Here's a quick look back on those four games.
1996: Georgia 56, Auburn 49
Probably the most memorable game and the one with the best moments in the history of the rivalry. It's known as the game where Uga V pounced on an Auburn receiver after he scored a touchdown. The picture and moment are so famous that it overshadows one of the most unbelievable touchdown in Georgia history, but more on that later.
Georgia came in 3-5 and had just lost to no. 1 Florida 47-7. Auburn on the other hand was 7-2 and was ranked no. 20 in the country. Auburn should have whipped the Bulldogs that day, and they did for two quarters.
At halftime Auburn lead 28-7, but Georgia came back to make the score 28-21 with mere seconds on the clock. As time expired, Mike Bobo threw a long pass to Corey Allen who caught a touchdown pass and landed in a sitting position on the goal line with the ball in the end zone.
The extra point sent the game into overtime, the first overtime game in SEC History to be exact. The game didn't end for almost another hour. After six overtimes, Georgia's defense stopped Auburn after a touchdown by Torin Kirtsey to upset the Tigers in Jordan-Hare, 56-49.
2006: Georgia 37, Auburn 16
It doesn't get much lower than what Georgia was at going into the 2006 edition of Deep South's Oldest Rivalry. Georgia had just lost four of their previous five games to fall to a 6-4 record. The previous week, Matthew Stafford turned the ball over five times in a loss to Kentucky.
Auburn, however, was 9-1 and ranked no. 5 in the nation. Once again, Auburn was expected to crush Georgia. Their run game with Kenny Irons was unstoppable and quarterback Brandon Cox rarely made mistakes. Georgia's defense was the worst it had been under Mark Richt at that point. They were solid against the run, but struggled against the pass.
Tiger head coach Tommy Tuberville tried to exploit Georgia's defense by having Cox pass the ball to set up Irons. To say that backfired is an understatement. Cox threw four interceptions that day, including three by Tra Battle. One of Battle's interceptions went for a touchdown.
Stafford and Kregg Lumpkin also rushed for 100 yards each that day, while Irons never got going. Georgia was able to shock the SEC in a lopsided upset.
2010: Auburn 49, Georgia 31
The worst and only losing season of Richt's time in Athens, the Bulldogs played the eventual National Champions very tough. At one point they even lead 21-7. But then Cam Newton happened.
The Heisman winner had 148 yards passing, 151 rushing and four total touchdowns. Aaron Murray played a wonderful game, passing for 273 yards with three touchdowns but it wasn't enough because the Bulldogs defense couldn't stop Newton for the final three-quarters.
Georgia only trailed 35-31 going into the fourth quarter. But they ran out of gas late and Auburn played their best late in games as they had all year.
2013: Auburn 43, Georgia 38
The Prayer in Jordan Hare as it's affectionately known by Auburn fans. Georgia came in 6-3 to Auburn's 9-1. Georgia had a chance to once again spoil Auburn's championship hopes while helping salvage their own season.
Early on everything went in Auburn's favor. The Tigers led 27-10 at halftime after a field goal by Georgia's Marshall Morgan to end the second quarter. Then Georgia found a defense in the third quarter but were still down 34-17 going into the fourth quarter.
In the final quarter, Georgia's offense exploded. After a field goal by Auburn to extend the lead to 37-17, Murray hit Rantavious Wooten for a 5-yard touchdown. Then he connected with Arthur Lynch for a 24-yard score. And with 1:49 left on the clock, Murray took a risk and ran into the end zone from 5 yards out to take a 38-37 lead.
But then the Prayer in Jordan-Hare happened. Nick Marshall threw a long pass down field and when it looked like it was going to be broken up, Georgia safety's Josh Harvey-Clemons and Tray Matthews collided. The ball bounced off Harvey-Clemons hands and into the hands of Ricardo Lewis who ran in for the score.
More from Dawn of the Dawg
Once again the Bulldogs come into a game with Auburn as underdogs. Georgia is 5-4 and has looked atrocious on offense at times. Auburn is 7-2, but very much in the race for the SEC West, their defense is also one of the SEC's best.
Auburn should crush Georgia. But if these four games are any indication, all eyes should be on the Deep South's Oldest Rivalry this weekend. Georgia might just shock the nation again. At the very least, they'll give the heavily favored Tigers a scare.
This article originally appeared on