Georgia Football ranked No. 9 in latest polls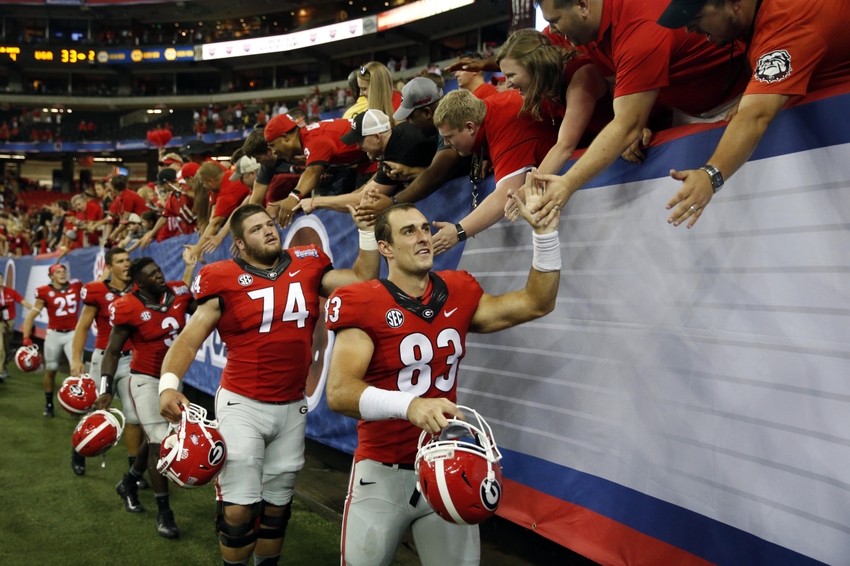 Georgia Football has risen up the rankings thanks to a big Week 1 performance.
The USA Today's Amway Coaches poll and the AP Top 25 Poll were both released today and had the Georgia Football team rated as the No. 9 team in the country. The Bulldogs rose from No. 18 in both polls because of a solid victory over No. 22 North Carolina in Week 1 and also because several upsets occurred elsewhere in the college football world.
Among those upsets were then-No. 3 Oklahoma falling to then-No. 15 Houston, 33-23, then-No. 5 LSU being upset by then-unranked Wisconsin and then-unranked Texas beating then-No. 10 Notre Dame, 50-47 in Austin, among others. Safe to say, this was the greatest and most exciting opening weekend of college football ever.
Alabama stayed at the top spot in both polls after their dominant win over then-No. 20 USC, 52-6. Clemson also kept their pre-season No. 2 ranking as they survived and beat Auburn by six points.
The AP Top 25 Poll's top ten finishes out with Florida State, Ohio State, Michigan, Houston, Stanford, Washington, our own Georgia and Wisconsin. The USA Today's Amway Coaches Poll rounds out their top ten with Florida State, Ohio State, Stanford, Michigan, Houston, Michigan State, Georgia and Iowa.
While the SEC only has two teams in the top ten, they have a total of six teams in the AP Top 25 Poll. However, the USA Today's Amway Coaches Poll has seven SEC teams in their top 25. (The SEC had the most teams of any one conference in the two polls).
The rankings finish out like so: AP – Texas, Michigan State, Louisville, Oklahoma, TCU, Iowa, Tennessee, Notre Dame, Ole Miss, Texas A&M, LSU, Oklahoma State, Baylor, Oregon and Miami (Fla.); Coaches – Washington, TCU, Oklahoma, Tennessee, Louisville, Wisconsin, Oklahoma State, Ole Miss, Baylor, Texas, Notre Dame, LSU, Oregon, Texas A&M and Florida.
The college football polls were definitely shook up this weekend as it was pure madness. Georgia fans have to be happy about their team moving from No. 18 to No. 9 in both of the major polls, but they should take into account that it's only the first week.
More from Dawn of the Dawg
This article originally appeared on