Georgia Football: Comparing Greyson Lambert and Jacob Eason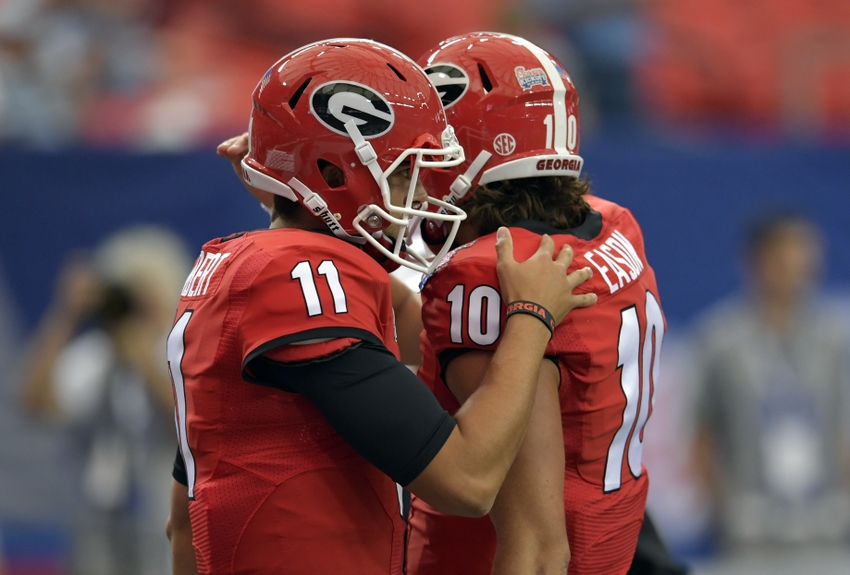 Both Greyson Lambert and Jacob Eason played about half a game this past Saturday versus North Carolina.
While it's easy to say that Eason outshined Lambert with his superior stats, people must remember that two of Eason's passes were a screen and a jet sweep. If the jet sweep is designed as a hand-off, Isaiah McKenzie's touchdown is recorded as a 17-yard run instead of a 17-yard completion from Eason.
Those were passes Lambert could make just as easily. But Eason did, however, have the 51-yard, perfectly placed pass to McKenzie when Georgia was down 24-23. Lambert did not have such a pass. His long was a 25-yard pass to McKenzie in the first quarter.
In fact, Lambert did not sling many passes downfield; most were short to mid-ranged throws. Eason had four deep throws; one was completed, one was overthrown on purpose and the other two drew pass interference penalties. It is in those three non-catches where we begin to see what really sets Eason apart from Lambert.
Lambert was sacked three times because he held on to the ball too long. Where Eason launched balls to preserve yardage and drew two penalties, Lambert lost yardage and put drives in jeopardy.
Another play that stands out was another incomplete pass by Eason. On Georgia's first touchdown drive of the third quarter, there was a play where the pocket began to collapse on Eason. Instead of keeping his feet planted, he made a very subtle move to his left and found a receiver.
The receiver dropped the pass, but it showed a lot about Eason that the four passes mentioned earlier show as well. Eason does not take sacks the way Lambert does. The one time he was sacked he was hit just a second after taking the snap.
More from Dawn of the Dawg
By not taking sacks, Eason preserved the yardage and was able to move Georgia downfield with the pair of aforementioned pass interference calls.
Lambert is still the starter, but his grasp on that role is slipping. A lot of the issues he had last year. As the announcers pointed out on one of his sacks, his eyes stayed on one receiver, and he never looked for a check-down.
He received praise in the off-season because he only threw two interceptions last year. But is that because he protected the ball or because he just did not throw the ball. The sacks he takes shows that it might be the latter.
Protecting the ball is a good thing, but it should not be done at the expense of offensive progression. That is Lambert's biggest issue, and it is where Eason has already surpassed him.
This article originally appeared on