Georgia bowl projections: Pittsburgh likely opponent in Jacksonville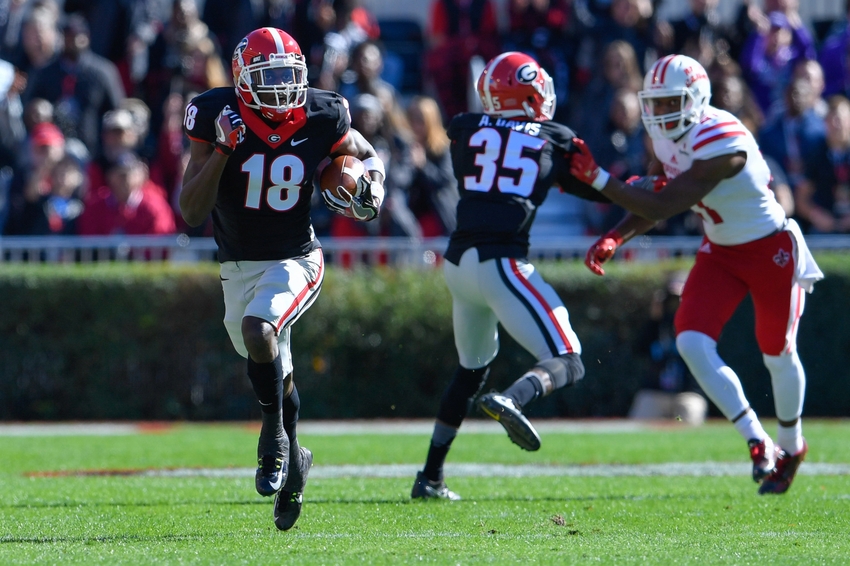 The Georgia Bulldogs are 7-4 going into their season finale with Georgia Tech. The Georgia bowl projection should intrigue many fans, especially older ones.
247 Sports released their bowl projections yesterday for all bowl eligible teams as well as those with good a good APR. In the projections, Georgia is predicted to travel back to Jacksonville to play the Pittsburgh Panthers in the TaxSlayer Bowl.
This is an interesting match-up for Georgia especially from a historical perspective. Georgia is 0-3-1 versus Pittsburgh and all three of those losses were devastating in their impact on Georgia's season.
Georgia's offensive coordinator Jim Chaney held that position at Pittsburgh last year. He took their offense which was run heavy when he arrived, balanced it and developed Nathan Peterman into a pretty good quarterback. But their offensive production has been better since he left.
Georgia's Losses to Pittsburgh
In 1975, Tony Dorsett and the Pittsbugh came to Athens and beat Georgia 19-9. The Bulldogs ended that season 9-3 and ended the season with a 31-10 loss to Arkansas in the Cotton Bowl. A win over the Panthers would have meant a 10-win season for Georgia.
In 1976, Georgia lost to Dorsett in the Sugar Bowl after he won the Heisman trophy. The Panthers went on to win the National Championship. Georgia finished the year 10-2 and they did win the SEC Championship. But a win over Pittsburgh could have meant a National Championship for Georgia in 1976.
Georgia and Pittsburgh met again in the 1982 Sugar Bowl. The Bulldogs won their second straight SEC Championship but a loss to Clemson kept the Sugar Bowl from deciding being a National Championship game.
Pittsburgh beat Georgia that night 24-20 and Clemson won their bowl game to claim the consensus National Championship. But had Georgia defeated the Panthers and Clemson had lost, Georgia may have been crowned National Champions for the second straight year.
So if you're a Georgia fan with a bit of a vindictive side, you have reason to want Pittsburgh. You'll be even happier knowing it's in the Bulldogs home away from home in Jacksonville.
The Setting
Georgia fans have no problems filling out Everbank Field, they do it every year in the Georgia-Florida game. It would be more of a true road game for the Panthers, Pittsburgh and Jacksonville are separated by over 800 miles.
Georgia has made five appearances in the TaxSlayer/Gator Bowl and two since 2013, their record is 3-1-1. Pittsburgh in 2-1.
Georgia won last years TaxSlayer Bowl 24-17 against Penn State, who was another team that Georgia lost to in a Sugar Bowl to end the 1982 Bulldogs National Championship hopes.
Pittsburgh's last Gator Bowl appearance was in 1980. They beat South Carolina 37-9 and ended the season ranked no. 2.
The Match-Up
Offense
Georgia and Pittsburgh are both 7-4 and both happen to have quarterbacks coached by Jim Chaney. Jacob Eason has excelled as much as you could expect from a true freshman pocket passer. Eason has 2,127 yards with 13 touchdowns and six interceptions.
Nathan Peterman was recruited and eventually committed to Tennessee while Chaney was their offensive coordinator. Chaney left Knoxville to coach Arkansas, but he left to go Pittsburgh in 2015. Peterman left Tennessee as a graduate transfer that June and reunited with Chaney.
He passed for 2,287 yards last year with 20 touchdowns and eight interceptions. This season, without Chaney, he has 2,351 yards with 22 touchdowns and five interceptions so far.
Both teams also feature very good running games. The Bulldogs have the duo of Nick Chubb and Sony Michel who have 900 and 583 yards respectively. They've combined for eight touchdowns.
Pittsburgh has workhorse back James Conner who has 945 yards with 14 touchdowns. Conner had over 1,700 yards with nearly 300 carries two years ago as a sophomore, but he was injured last year. This year with Peterman being a reliable quarterback, the Panthers haven't needed him to carry the entire team.
Georgia and Pittsburgh are very similar on offense. They have reliable passing games and great running backs who they are able to keep fresh throughout ball games.
More from Dawn of the Dawg
Defense
Defensively it's a different story. Georgia's defense has kept them in ball games. They dominated Auburn for zero first downs in the second half and their lowest point total under Gus Malzahn. And they kept the Florida game close despite the offense playing poorly.
Pittsburgh's defense however has not been as good. They've only surrendered less than 20 points twice this season and one of those games was against a FCS school. In eight of their 11 games, Pittsburgh allowed their opponent to score at least 30 points. Georgia's defense has only done that twice.
Both teams have good offenses, but Georgia's defense has a much better shot at stopping Pittsburgh's offense than the Panthers defense has at stopping the Bulldogs defense.
This article originally appeared on