Gators – Vols: 5 Points to Winning a Rivalry Game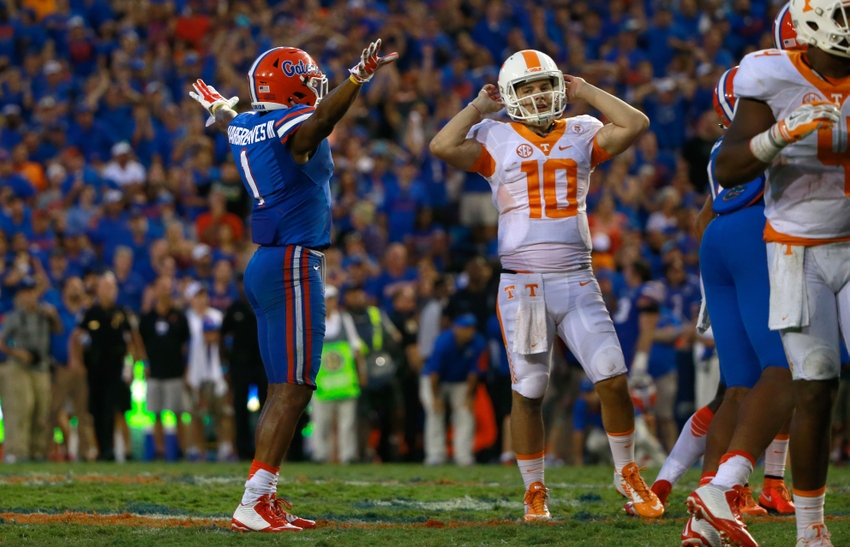 The No. 19 Florida Gators will play their first away game of the season today at 3:30 p.m. in Knoxville, Tennessee against the No. 14 Volunteers. The Gators go into Neyland Stadium having won eleven straight games verse the Vols but Vegas still see's them as five point underdogs in this matchup. Here are five things that need to happen in order for the Gators to come out victorious.
Look for Coach McElwain to protect Appleby with a heavy ground attack and short, intermediate passing, with the occasional long ball. I am not saying Appleby needs the protection but the quarterback does have a tendency to let her rip – into double coverage and opposing defensive backs. Appleby will be fine, don't be worried.
Florida's kicking game HAS to be great! Eddy Pineiro seems to be the kind of guy that will thrive with 100,000 fans screaming at him to miss a kick with 5 seconds left on the clock. If it does come down to the kicking game, I have all of the faith in the world in Eddy!
With Luke Del Rio sidelined for the game, Florida's offensive line will have to step up for Appleby and company. If the boys up front can win the war in the trenches and allow one of our four running backs to get loose a few times, our passing game will open up.
The bread and butter of Florida Gator football over the last few years has been the defense. Nothing changes on Saturday. Our defensive line will need to contain Dobbs; we have to make him throw the football. Dobbs is classified as a "dual-threat" quarterback but honestly, he isn't much of a passer. Make him throw the football and test our elite secondary.
Being better than your opponent
The Gators are overall more talented and a more complete football team than Tennessee is. The rankings and Vegas might not show it this week but the Gators are the superior football team. The Gators need to work with what they have on offense this week, compete and feed their horses. On defense, win the trenches and force Dobbs to throw, our secondary will eat!
Florida 24 Tennessee 10
More from Hail Florida Hail
This article originally appeared on