Game Awards: Iowa Hawkeyes 91, Kennesaw State Owls 74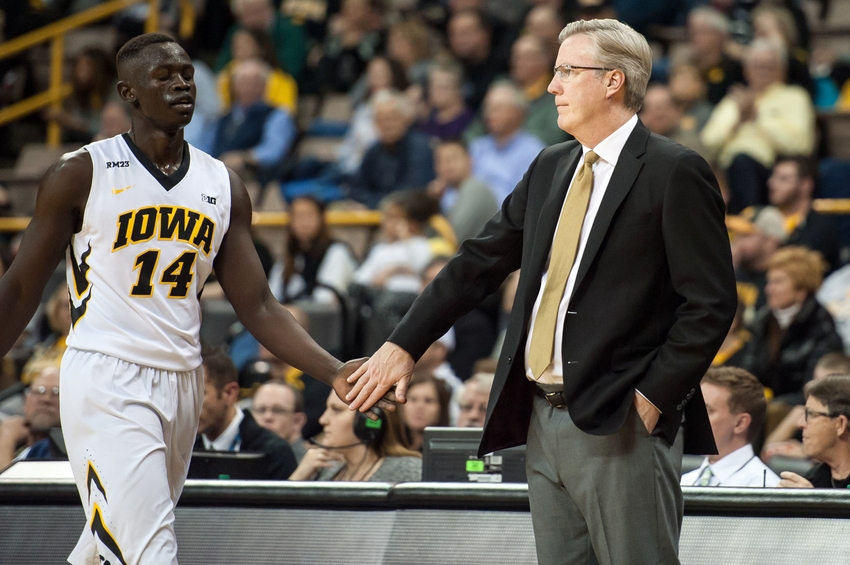 A look at who played well and who didn't in Iowa's season opener
The Iowa Hawkeyes will get better. The important thing is that Iowa started the season 1-0 and put Kennesaw State away early, while also never letting them get back into the game. Iowa won the season opener 91-74 to start the season 1-0.
In a game filled with fouls (46) and turnovers (38), it was hard for either team to gain any momentum. That being said, Iowa jumped out to a quick 9-0 lead before Kennesaw State played Iowa tough and kept it around there for most of the first half.
The Hawkeyes eventually pulled away to end the half up 18, 43-25. Although, the Owls surprisingly came out of halftime with renewed energy and played Iowa tough. The Hawkeyes didn't dominate the game from start to finish like many expected, and it shows that they can't just go through the motions.
In the end, though, Kennesaw State didn't have the talent to upset the Hawkeyes on the road. Nick Masterson had a game-high 29 points for the Owls, but Kendrick Ray only scored 12 on 6-of-16 shooting, and Aubrey Williams chipped in a mere seven points and eight rebounds.
Still, the Owls shot an impressive 53.3 percent from deep and gave the Hawkeyes problems in the paint. The Hawkeyes only shot 50 percent from the field and had a hard time finishing through contact when there wasn't a foul called.
However, Iowa gave Kennesaw State a lot of problems when they started to full court press on defense. The Owls had a hard time breaking the press and it resulted in a lot of turnovers, whether it be them throwing it out-of-bounds or getting stripped.
The Hawkeyes will be back in action on Sunday against Savannah State at Carver-Hawkeye Arena.
After every game, Dear Old Gold will have a 'Player of the Game', 'Bench Player of the Game' and 'Please Be Better' award. Here's a look at the results from the season opener.
Player of the Game: Peter Jok
27 Points, 4 Rebounds, 2 Steals
For much of the game, Iowa had a hard time scoring with Peter Jok on the bench. Many might have underestimated Jok's importance to Iowa, which seemed impossible. Even with three other players on Iowa scoring in double-digits, Jok proved to be the only consistent scorer for the Hawkeyes, as well as being able to consistently create for himself.
His team-high 27 points came on 11-of-19 shooting and 3-of-8 from three. While Jok scored efficiently against the Owls, the only time he got to the free-throw line was when the refs gave Al Skinner a technical foul.
Preview: Iowa Hawkeyes Open Season Against Kennesaw State
Jok can't rely on his outside shooting as much this year because that will leave Iowa in a big hole when his shot is not falling. That being said, his ability to create space and hit shots with a hand in his face is an encouraging sign.
The most impressive play on offense wasn't a Jok three, rather an alley-oop pass from Jok to point guard Christian Williams in transition.
Jok's most impressive feat of the night was stopping Kendrick Ray, though. Jok guarded Kennesaw's leading scorer from a year ago for most of the game, and Ray didn't gain any momentum.
Ray shot a horrid 37.5 percent from the field and missed both of his three-point attempts. Plus, a couple of his baskets came in transition, therefore Jok held Ray to under 10 points in half-court situations.
Nick Masterson stepped up for the Owls, although it was evident that they missed Ray's offense. The bigger Jok gave him problems and Ray's struggles ruined the Owls' chances of beating Iowa before the game even started.
Bench Player of the Game: Ahmad Wagner
12 Points, 5 Rebounds, 4 Assists, 4 Blocks, 2 Steals
First, Cordell Pemsl deserves a lot of credit for his 10 points, six rebounds and two blocks on the night. Although, outside of Peter Jok, Ahmad Wagner had the best game of the night for the Hawkeyes. Considering Tyler Cook's struggles, Wagner stepped up and played a huge role in Iowa's win.
He finished second on the team with 12 points, and he didn't miss a shot. Wagner shot 4-of-4 on the night and even made 4-of-5 free-throws. The Hawkeyes struggled from the line, shooting a measly 70.6 percent, and Wagner's solid free-throw shooting will instill confidence in Fran McCaffery late in games.
Although, Wagner's impact was felt the most on defense. While he pulled down five boards and recorded two steals, his rim protection is an aspect to his game that Iowa will appreciate a lot this year after losing Jarrod Uthoff.
Wagner had four blocks on the night, and it seemed like Kennesaw State could never get an open look at the rim in half-court situations. His defense is a big reason why he saw 24 minutes against Kennesaw State, and it will make McCaffery think about his starting lineup.
With an undersized front court, Wagner's athleticism, especially on defense, is something McCaffery might want to add if Nicholas Baer or Dom Uhl struggle. It's one game, against Kennesaw State, but Wagner showed a lot coming off a bench that had a lot of question marks before the game.
Please Be Better: Tyler Cook
6 Points, 10 Rebounds, 4 Turnovers, 3 Fouls, 1-of-7 FG
Tyler Cook received a huge ovation at the start of the game, but he struggled in his first career game with Iowa. He scored six points on 1-of-7 shooting, also missing his only three, and had a team-high four turnovers and three fouls.
Sure, many expected Cook to dominate Kennesaw State, but there is still nothing to panic about when it comes to the freshman standout. Cook simply looked like a freshman in his first game.
He didn't handle contact well in the paint, didn't play great defense, made silly turnovers and fouls, and took questionable shots. To be fair, McCaffery called a couple of designed post-ups for Cook to try to get him going, although, as previously mentioned, he couldn't fight through contact at the rim.
The positives about Cook's first career game is that he dominated on the glass from the get-go. He had a game-high 10 rebounds, including five offensive boards. That's great production in 21 minutes, and something the Hawkeyes will desperately need this season as even Kennesaw State out-rebounded them 41-39.
Also, Cook didn't lose focus or confidence and kept trying to find his shot. Cook will have games where his offense just isn't there, but he continued to rebound, moved well on offense and attacked the basket. It led to four free-throws, in which he made all four, and decent looks at the rim.
There's a reason Cook played three fewer minutes than Ahmad Wagner, but it wasn't all bad in the highly touted freshman's first career game. There's no panic, Tyler Cook will be better. It wouldn't be surprising to see a double-double against Savannah State.
This article originally appeared on