FSU vs. Syracuse: Q&A With Inside The Loud House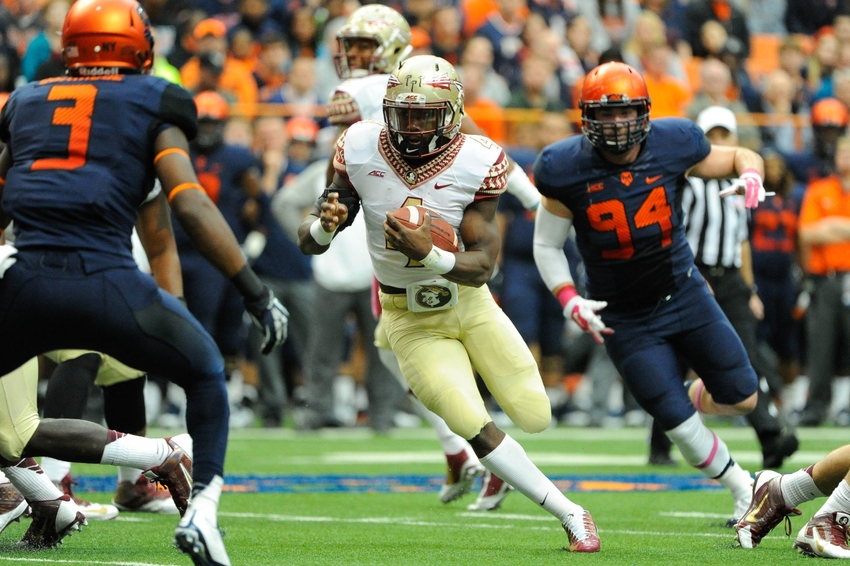 FSU football will travel to the Carrier Dome and take on Syracuse Saturday afternoon. We chat with Syracuse expert Paul A. Esden Jr. about the upcoming game.
Chop Chat: Syracuse is almost one year into the Dino Babers era….how would you rate this season thus far? Has Babers exceeded expectations and are there any red flags going forward?
Inside the Loud House: First off for #OrangeNation and this program, this season was never about wins and losses. Dino Babers came in and was playing with someone else's toys and trying to make it work in his system. On top of the fact in a perfect situation it would take 1-2 years to fully get the system. So I would rate this season a moderate success, but ultimately at the end of the day we're 4-6 right now. You can't be too impressed from that standpoint, but a question I asked our fans is what would they prefer, a "skin" on the wall but you miss out on a bowl game or the latter. Syracuse got their "skin" against VA Tech, but this week as unlikely as it seems, they've a chance to get another. The only red flag to fully answer your question is that has Babers impressed too early? The way he's kind of gathered the troops could have sent red flags to rival openings in college football and perhaps he could be allured to another location with the promises of money and fame. That is our only concern and unfortunately we've seen that song and dance before.
Chop Chat: Starting quarterback Eric Dungey is injured and will miss the FSU game. I like Dungey and think he's talented. How will the Syracuse offense be different with him out of the lineup and how do you expect to attack FSU's defense?
Inside the Loud House: Well we all knew inside and outside the organization that Eric Dungey compared to the next guy on the depth chart, there was a significant drop off. And that was palpable last week when Zack Mahoney came into the lineup. The problem is Mahoney can't run Babers system as efficiently as Dungey. So you saw on the game film last week that he adapted the system to fit his quarterback. A lot of read options and zone reads to simplify the offense. The way to attack the FSU defense is going to involve a lot of Amba Etta-Tawo the grad-transfer out of Maryland. Outside of a 81 yard reception last week, Etta-Tawo was contained last week. Was it because of a quarterback deficiency or double-teaming on Etta-Tawo? We may not find the answer to the question this week, but the Orange should look to give him a bunch of chances.
Chop Chat: The Syracuse defense has not been good at all. I know Babers is an offensive minded coach. Do you think he will be able to bring the defense around in due time? What would be 2-3 keys areas he's need to improve?
Inside the Loud House: Your analysis is spot on, the defense hasn't been good, they've been terrible. Mostly because as I alluded too earlier Babers has been operating with a half-full cupboard. So we knew coming into the season this defense was going to be awful. When he starts getting his recruiting classes in, we should start to see tangible changes in this Tampa-2. If I was going to list some key areas of improvement it would be play-calling. It's too wishy-washy and the Orange have to realize their identity. This running game needs to find a way to be successful for the Orange to realize their potential. Plus on defense they just need experience to start the season they didn't have one defensive lineman that had prior starting experience. 
Chop Chat: I know wide receiver Amba Etta-Tawo is having a great season. Who are some other Syracuse players FSU fans may not be aware who could have an impact on the game Saturday?
Inside the Loud House: Depending on his health, Steve Ishmael could have a huge impact on this game. The SU running game has been non-existent all year long and there's no hope of it turning around this season. Which means we're going to see a cheaper version of this high-octane offense with Mahoney at the helm. Hopefully the weapons around Zack can help elevate his game. Erv Phillips is a secret weapon who is a reception machine for the Orange. So a lot of options on offense for SU to work with at the receiver position.
Chop Chat: Syracuse are huge betting underdogs against FSU. Aside from pulling the improbable upset, what would you like to see from this Syracuse team on Saturday against FSU?
Inside the Loud House: This SU team is fighting for their bowl lives at this point and they're on life support. This is going to be Senior day and this team is playing their last home game of the season. I'd like to see a fight, we thought we'd see one when we played Clemson but 54-0 later the SU fan base was shook. Not that we necessarily thought we were going to win, but at the very least lets see a game. The deck is stacked against SU competing for very long, but stranger things have happened.
We'd like to thank Paul for taking the time to speak with us. Be sure to give him a follow on Twitter @BoyGreen25 and to follow Syracuse sports at @LoudHouseFS. Tune into the game at 3:30 pm on ABC/ESPN2.
This article originally appeared on