FSU Football vs. USF: Halftime Highlights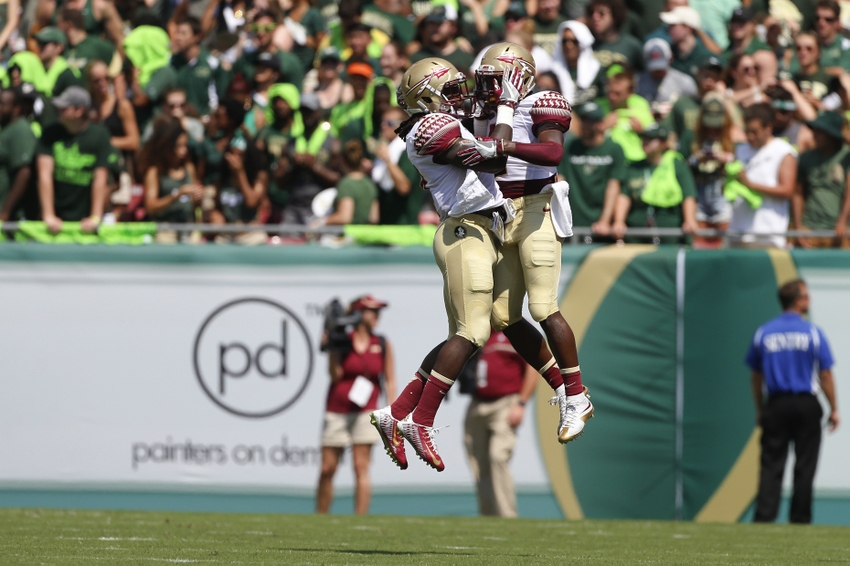 Here's a look at all the moments from FSU football's first half against the South Florida Bulls this Saturday in Tampa, Florida.
After their first loss in the month of September since the 2011 season, FSU football is back on the field Saturday for another showdown with the USF Bulls.
One of nine games in the regular season the Seminoles will play inside the state of Florida (road games against USF and Miami, plus the opener against Ole Miss), FSU is looking to stay in the conversation for both the ACC title and the College Football Playoff – with the national title game being played in the same stadium FSU plays in this afternoon.
It couldn't have started any worse for the Seminoles, as USF threw for an 84 yard touchdown pass on the very first offensive play of the game:
FSU football responded right back when Dalvin Cook – who had just 54 yards last week in the loss to Louisville – went 75 yards on the first offensive play for the 'Noles and tied the game:
Proving that defense would be at a premium on the day, the Bulls marched down field with an offense that looked a heck of a lot like what Louisville did last weekend, punching it in for the lead. The Seminoles responded with a quick drive, including a long pass from Deondre Francois to Auden Tate, that finished with Cook getting his second score of the first quarter:
The defense would finally stop the Bulls, giving FSU great field position and getting the lead on a quick plunge from fullback Freddie Stevenson, later padding it with a touchdown pass from D12 to Bobo Wilson:
The second quarter was much more about the defense, with Tarvarus McFadden coming up with another interception that set up a FSU score that made it 38-14:
USF wasn't able to get a score before the break, thanks to some great defense by FSU. In the first 30 minutes, the Seminoles outgained the Bulls 391 to 201 to go along with leading the first down battle, 15 to 9. The MVP of the first half is Dalvin Cook – who has 185 yards in the first two quarters, just 43 yards less than what he had in the first three games combined.
This article originally appeared on