FSU Football vs. Florida: Halftime Recap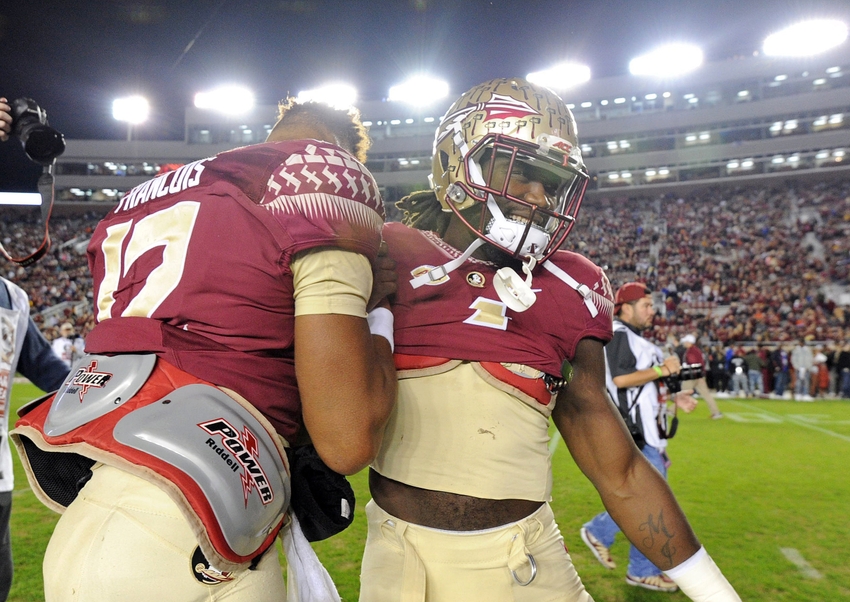 Here's a look back at the first half of action from FSU Football's latest game as they take on the Florida Gators in Tallahassee.
For the 61st time in series history, the Florida State Seminoles and Florida Gators meet on the field – with FSU football going for their fourth straight win in the series for just the second time ever.
Florida would get the ball to start the game and use a mix of run and pass to get inside the 10 yard line – but the Seminoles' defense came up solid with a fourth down stop on the two yard line to get the ball back:
FSU football would drive down the field with some nice running by Dalvin Cook, but come up short when Ricky Aguayo missed his sixth field goal attempt this season. The Seminoles defense would do their job and get the ball right back when Josh Sweat forced a fumble and DeMarcus Walker, playing his final game in Tallahassee, recovered the ball:
Two plays later, Dalvin Cook punched it in from 17 yards out to give the Seminoles a 7-0 lead and set the school's all-time rushing touchdown record:
FSU's defense would force a three and out, then drive down inside the five yard line to end the first quarter. At the start of the second, Florida would keep the 'Noles out of the end zone, giving Aguayo a closer attempt to extend the lead to 10-0.
The Gators would drive down the field – aided by two fourth down conversions – on a 16 play drive, finishing with a 38-yard field goal to get on the board. Florida would force a punt from the Seminoles, but FSU's defense would get a big stop when Brian Burns came up with yet another sack, his ninth of the season.
After a roughing the passer call and long run by Cook, the Seminoles got a 44-yard field goal attempt blocked, keeping the score at 10-3 entering the half.
Through the first 30 minutes, the Seminoles have outgained the Gators 162 yards to 123, while having nine first downs to Florida's seven. Cook finished the first half with 96 yards on 11 carries with one touchdown.
This article originally appeared on